Ever since the success of Windows 10 that has been installed in over 90% of computers around the world, there has been a lot of buzz for the latest Windows update, Windows 11. However, Microsoft has announced that Windows 10 will be the last of the Windows update and there will be no Windows 11. This news seems to be disappointing to some of the audience, however, Microsoft has confirmed that Windows 10 being the last version of Windows, they are still working on making Windows 10 a better and a faster version.
Mostly Searched: Windows 11 OS New Features
Instead of developing a totally new version for desktops and mobiles, Microsoft is taking a step like Apple, where they won't release any new update, rather work and make the previous update a better version. Regular improvements in Windows 10 will be provided through software updates.
Trending in Technology: Google Duplex Release Date and Features
Earlier Windows Operating System
Previously, Windows were complicated because the user had to go the store, purchase a copy and then install it in their computers. However, Windows changed its way of approach this summer, with the release of Windows 10. They made Windows 10 update free for all Windows 7, Windows 8 and Windows 8.1 users that started from July, 2017 for the first time ever. Therefore, making it the only upgrade for the first time ever to be available to the users for free.
Free service will be continued with all the frequent updates of Microsoft 10. Windows decided to move a step further by providing new methods for downloading the upgrades. Users can avail the new upgrades of Microsoft 10 through stores or connected computers which already have the latest update installed. Therefore, multiple ways have been introduced by Microsoft to avail the new upgraded features of Windows 10 from time to time.
Must Read: WhatsApp – Picture in Picture Mode, Private Replies, New Invite all set to roll out soon
Windows 11 Release Date (Yes/No/Maybe)                                     
This seems to be disappointing to a lot of Windows user, that there will be no more upgrades to their favourite iconic system. In the field of computer, Windows have delivered a great service and seems to have fully satisfy their customers. The concept for Windows 11 seems to be quite appealing and the Start button would have a coloured logo. However, as there will be no Microsoft 11 update, there will be constant upgrades in Windows 10. If there is any possibility for the release of Windows 11, the new features in it would include: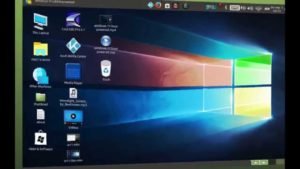 Newly designed Start Menu
The concept for Start buttons would change in case of Windows 11. They would be more user-friendly because in Windows 10, the start button was not easy to use both in tablets and touch screens. If the picture mentioned below is seen carefully, there has been a change in the design of start button for Windows 11 in desktops and laptops.
Better Cortana
Just like iPhone's Siri and Android's Google, Microsoft too has a voice recognizing feature that is called Cortana. Microsoft users will work more towards making it a better and user-friendly. There are also chances of starting up your mobile phone by saying "Hey Cortana".
Task Bar redesigned
Apart from updating the start button, if ever there is any Windows 11 there are chances of a better designed. The newly designed task bar would feature more apps available on the screen making it more user-friendly and easy to use.
Mobile-friendly update
However, the new upgrade of Windows 10 would feature a more mobile friendly User Interface. A lot of phones operated based on Windows Operating system, but the users faced certain difficulties when it came to gaming and others. Windows aims to fix this bug by taking a cloud-first, mobile-first approach. All the in-built apps and start menu would be unbundled from the main Operating System to ensure that one gets fast updates. Windows would even go a step further to provide a standalone app feature that would deliver small updates and would also feature Technical Preview for Mail and Calendar apps.
With the unbundling feature, apps like camera, gallery and mail would be soon updated without having to wait for a larger and better version of the upgrade. Subscription of Windows 365 would offer a faster and most up-to-date feature for Office users.