It would help to change the platform. With this update, Microsoft added a number of major big features and with the help of Timeline feature; you would be able to resume all the things you left back in the multiple machines of windows 10. Apart from it there are other features too like easy sharing, quick Bluetooth pairing, dictation and mute tabs feature across Microsoft edge.
Mostly Searched: Windows 11 OS Concept and Features
Microsoft is also working towards improving the Fluent Design system, which was introduced in Fall Creators update. This update will also add many new features to your start menu and notification center. The blur effect would also be added on the taskbar. Some of the prominent updates of Microsoft 10 April update are mentioned hereby.
Windows 10 Update: Timeline
Timeline is one of the major updates in Windows 10 and is similar that replaces Task View button which indicates what apps are running on the background. Timeline would guide you through which apps are being run. It also allows you to see what apps and activities you had done in the past using the Windows 10 PC for the previous 30 days. These apps as well as activities join across the various machines therefore, if you had been using a pc or a laptop, you can easily get signed into the activity from the PC you were signed into. You can also use Timeline for joining your Microsoft Edge with iOS and Android, and get the history of your smartphone available in the PC.
Microsoft will also update the mobile apps of Edge to help the feature and can be a major reason why you will use Timeline. To secure the privacy, it will also disable the sync of the device and you can also disable the activity if you wish to. The privacy can be related to that for the documents, apps and history of the Task View.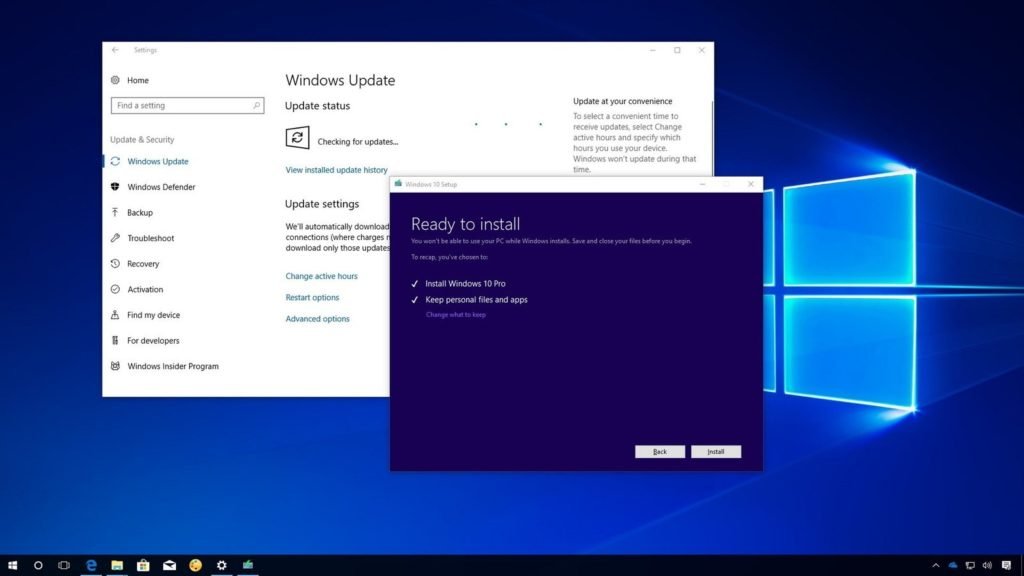 Windows 10: Dictation
Over the years, Windows had updated the tools for dictation, but with the update of April 2018, it is working more towards updating the tools. This update will make it easy for you to access the built-in version. To access the updated version, you can press windows key + H for a shortcut. This will help you to get power over the apps. You can also use the Dictation tool via the mics.
Trending News: Windows 11 Release Date
Microsoft Edge Tab Muting and PWAS
The muting feature has been added to its extension recently by Chrome. Now, it is Microsoft. Microsoft is launching the same muting feature in Edge. With this feature, you can mute many loud as well as disturbing websites. This will also help you to clear up the audio via the speakers. Microsoft also improved the functioning as well as the design of Edge. Therefore, Edge will be an ideal browser to use with the help of this update. However, it still needs to make up a lot of improvements in order to compete with Chrome.
With this update, it will also add the Progressive Web Apps (PWAs) feature. These are basically the web apps, but they can completely support Google, Apple and access to Microsoft in the operating systems of mobile and desktop. This will be beneficial for enhancing the app condition in Windows 10. They will work more towards improving the PWAs feature, of Windows 10 in May during the Microsoft's Build conference.
Corrects Blurry Apps
Measuring the desktop apps, have always been a difficult task for Windows, but the update would bring in a solution for fixing the blurry apps. It will easily find out the blurry app in case you change a monitor or dock up the laptop. It will also work towards improving the apps. It will prevent it from becoming blurry and from measuring it to be too small.
Audio Preferences Per App
This update for Microsoft will see introduction of some really new features. You can use the input as well as the output devices as per the uses. You can play loud music with the speakers, but then the sound of the browser would be playing through your headphones only. This new update will allow you to select the input as well as the output function according to the use. Therefore, you can use numerous microphones with the help of different apps.
Quick Bluetooth Pairing
One significant feature that the new update for Microsoft would provide is that of easy and quick way to pair up through Bluetooth accessories. It will present a new way to connect the Bluetooth peripherally and also help in pairing it. It will also let you have access over Surface Precision Mouse, and it is also working towards improving that for Logitech and the other apps. It will work more towards improving them to make sure that it adds more hardware that would allow pair up Bluetooth in the future.
Windows Defender Notification Reduction
You may easily get disturbed with all the notifications appearing for defending your computer against any virus. Now, with the update of April 2018, you can easily get rid of these notifications. Therefore, with this update you would not be annoyed anymore. You can easily get away with it.
Nearby Sharing
Through the nearby sharing feature, you can share websites, documents and photos with the nearby available Windows 10 machine. Although, you may not use it very often, but you may sometimes use it and will easily use it via Bluetooth and AirDrop feature of Apple. This would prove to be a far more easy option to use compared to that of emails, either with your friends or colleagues. Though, it is disabled by default, you can enable it and use it anytime as per the use. It is still expected that Microsoft will be adding more features in the coming future to let the customers easily customize and use the app.
Focus Assist
Microsoft is evolving and it will update the do-not-disturb mode in the April 2018 update. Earlier it was named Quiet Hours, but this time Focus Assist, will be a proper way to prevent the popping up of notifications, if you are busy. It will easily prevent the notifications an mute them when you are either playing any game or preparing any presentation. It will also prevent the notifications from popping up in mid of game sessions and presentations. You can easily disable it with the help of focus assist.
With the help of this update, you can allow some apps to break through and allow the notifications. This will help you to get the important message and notifications to pop up. This update will allow you to see the important notifications that you may want to see if you are engaged in some work.
Changes in Gaming and Xbox Game Bar
Microsoft is working towards making updates towards a more game-focused orientation. It will provide a neat change for making Microsoft more game focused. You can customize and design the performance according the game and allow setting the high programs or even in power saving mode. This will be more helpful if you use any laptop, that has the capability of gaming and will help to save the battery life in case if you're playing high power games. It will be available in the main setting apps as "graphics settings". It will also be optimizing the Xbox game bar , and this update provides a black and white theme.