Well, who isn't aware about Oprah Winfrey? Oprah Winfrey is an American media proprietor who has won hearts worldwide. She is a talk show host, actress and a producer who is loved and appreciated worldwide for her extreme courage and varied speeches.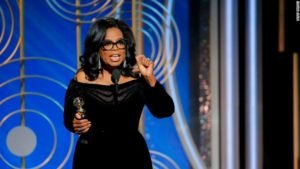 Born on 29th January, 1954 Oprah Winfrey is a philanthropist who has had a very tragic past life. Her child, Canaan was born in the year 1968 and died the same year. She is best known for her movie, The Oprah Winfrey Show. She is the supporter of the Democratic Political party.
However, the latest news that is roaming around the globe is Oprah Winfrey may contest for the Presidential elections in the year 2020. Possibilities are that she would be representing the Democrats.
Oprah's speech
Oprah Winfrey's electrifying speech at the Golden Globes on Sunday night against sexual abuse inspired a lot of people. Her speech probed a threat to all the sexual abusers stating that their "time is up". Her speech was very much appreciated by a lot of people because it represented true facts.
Oprah's speech stated that not only Hollywood stars but all other Olympians, soldiers, scientists, factory workers and other people belonging to the cast strata have been a victim to sexual abuse. These people need to fight against it.
The speech of Oprah touched the heart of many people. The solidarity message of Oprah showed dignity, poise and hopefulness towards the people. The speech of Oprah was very much unfamiliar within the year of Trump's presidency. Therefore, her speech hit a lot of people with the idea that she might contest the Presidential elections in 2020. She might be the ideal candidate that Democrats have been looking for since years.
Oprah's Supporters
Celebrities all over the world from Sarah Silverman to Aasif Mandvi have been expressing their support for Oprah as the President for 2020. Even Bill Kristol tweeted the hashtag #imwithher to express his support towards Oprah's candidacy expressing that she has a bipartisan appeal.
Even NBC seemed to extend their support for Oprah Winfrey. They tweeted, "Nothing but respect for OUR future president." This tweet was favorited by almost 20,000 people, but this tweet was deleted the next day.
The technique by Democrats
Most of these supports came in a joking manner. The enthusiasm for Oprah contesting the Presidential elections expresses the hypocrisy of Democrats.
During 2016 Presidential elections, Democrats talked about qualifications and their ideological and political views but all these reflected their choice of candidates. Oprah's professional and financial success can be taken into consideration like that of Trump for her political prowess. But, insiders reflect their doubt, "Would Americans really choose a TV star as president twice in a row?"
For the time being, it is just a political talk which has yet not been confirmed. But, Oprah's fans are already swooning over the idea of her being selected as the President. Stedman Graham, Oprah's close associate stated, "It's up to the people. She would absolutely do it." Maybe now, this is the time when America makes the decision of having a female President.