After the success of season 1, Shark Tank India is back with Season 2. After being in news for a few months, we finally got to know that Ashneer Grover won't be part of the judges panel this season. Lets look the judges in Shark Tank India season 2,
That's not it, Rannvijay Singha, the host of season 1 was replaced by the stand-up comedian, Rahul Dua. The second season continue on Sony TV and SonyLIV but with a new timing, the show can now be watched, Monday to Friday at 10:00 PM IST. Lets look at the Entrepreneurs on the show so far along with the investments done by the Sharks.
Shark Tank India Season 2 Entrepreneurs List
The Shark Tank India season 2 started on January 2, 2023 on Sony TV and Sony LIV. The repeat telecast can be seen on SonyLIV anytime, if you have the subscription. The show started with some brilliant ideas including,
Hoovu Fresh – Fresh Pooja Flowers
Hoovu Fresh started by Yeshoda and Rhea Karuturi from Bangalore. Their business is keeping the flowers fresh and they were able to increase the shelf life of flowers from 2-3 days to 15 days. Their ask was,
1% Equity for Rs. 80 Lakhs which is a valuation of Rs. 80 Crores
Growth rate month on month is 11.1%
Vineeta and Namita began by offering, Rs. 40 Lakhs in equity for 4% of the business and Rs. 40 Lakhs in debt at 12%, taking the valuation to Rs. 10 Crores. Aman and Peyush offered them Rs. 1 Crore for 2% equity which is a valuation of Rs. 50 Crores. Namita counter offered to their original offer with the same valuation, but the change was, Rs. 50 Lakhs for 1% equity and Rs. 30 Lakhs debt at 12%.
Yeshoda and Rhea went with Aman and Peyush's offer and added some good partners. What do you think?
Dorje Teas
The business started by Ishaan Kanoria and Sparsh Agarwal was presented beautifully. All the Sharks appreciated the fact how the entire story was presented by Sparsh. We loved it too! Their ask was,
5% equity for Rs. 30 Lakhs which is a valuation of Rs. 6 Crores
The Indian Market for Tea is Rs. 1.2 Lakh Crores
The Market for Darjeeling Tea is Rs. 1500 Crores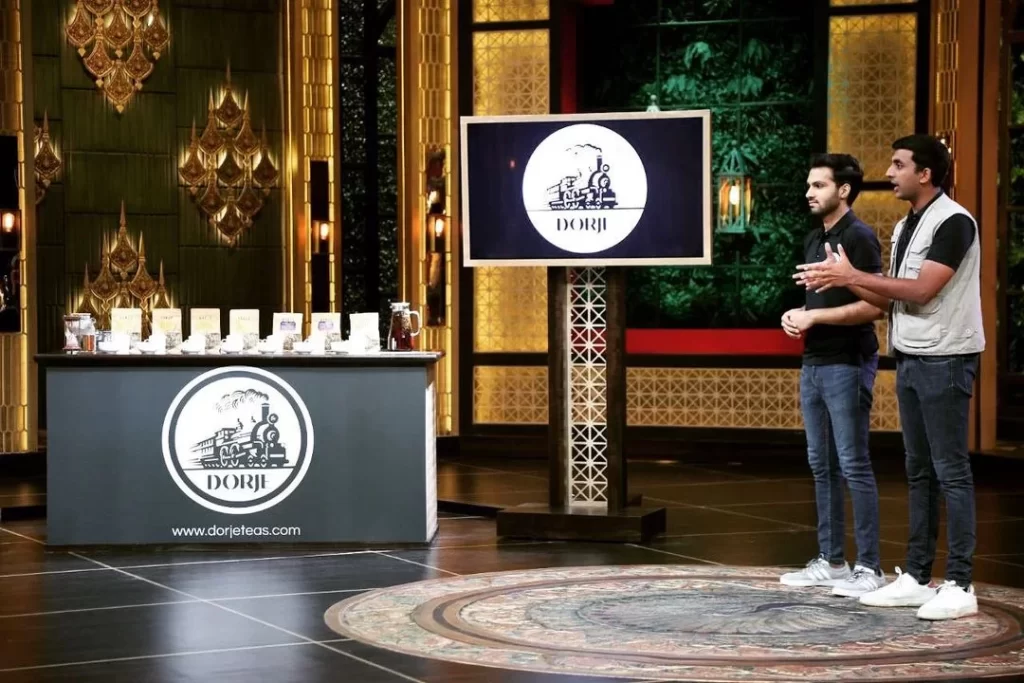 One problem that Anupam highlighted was that their dreams are big but they do not know the steps to reach their goal. Their previous funding included raising an amount of Rs. 8.5 Crores under a valuation of Rs. 32 Crores on a convertible note. Though the Sharks didn't appear interested initially, but then Vineet started by offering, Rs. 30 Lakhs for 10% equity which is a valuation of Rs. 3 Crores. Anupam and Peyush looked interested and came on with another offer including Vineeta, offering, Rs. 30 Lakhs for 15% equity. And the answer was yes, deal closed and they went with, Anupam, Peyush and Vineeta.
Recode Studios
Started by Dheeraj Bansal and Rahul Sachdeva, Recode Studios, the brand is available across PAN India in about 250 shops. They also mentioned about opening up their franchise in Faridabad, Delhi and Raipur along with a marketplace that sells over 60+ brands. Their initial ask was,
1% equity for Rs. 1 Crore which is a valuation of Rs. 100 Crores.
Here to offer more economical makeup keeping the quality of international brands.
Last year sale was Rs. 15 Crores and Year to Date sale of Rs. 11.5 Crores.
Last year Profit after Tax was 6% which is a profit of about Rs. 65-70 Lakhs.
All the Sharks appreciated the numbers but weren't really interested in investing in the business. Anupam mentioned,
The Chemistry and quick decision making is really risky and thus he was out!
The entire episode saw 3 entrepreneurs with some interesting businesses and customer acquisition ideas for the Sharks. Stay tuned with us as we come tomorrow with the recap for the second episode.
Do let us know through comments, who was your favorite entrepreneur from the 3 above.