With the tagline "Entrepreneur ki Leher Ek Baar Firse," Shark Tank India has returned with its second season on Sony Entertainment Television and Sony LIV.
Rahul Dua, a comedian, serves as host, and six judges, sometimes known as "sharks," are present.
Vineeta Singh, Co-Founder-CEO of SUGAR Cosmetics
Peyush Bansal, Founder-CEO of Lenskart.com
Amit Jain, Co-Founder-CEO of CarDekho Group and InsuranceDekho.com
Anupam Mittal, Founder-CEO of Shaadi.com – People Group
Aman Gupta, Co-Founder-CMO of boAt
Namita Thapar, Executive Director of Emcure
Lets See the Pitches!
Very Much Indian
Today's first pitching squad represents the Very Much Indian saree brand, an authentically made in India product. The most reputable brand of traditional sarees in India is what they aspire to achieve with their handmade saree brand in the future. The pair gives out genuine Paithani sarees and invites their 63-year-old weaver to show visitors how the handloom operates.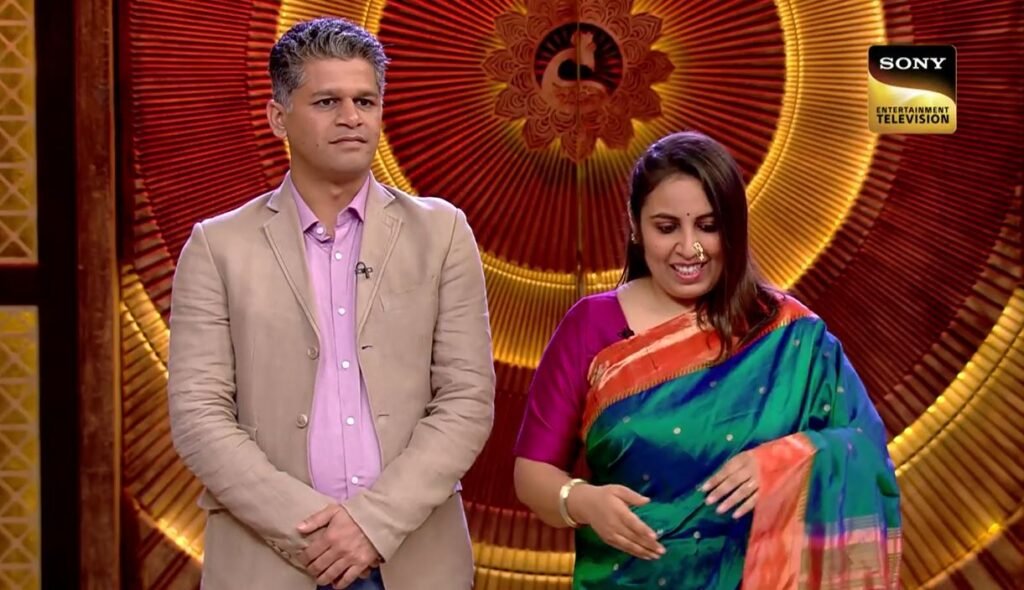 Their offer for the company is Rs. 50 lakh for 3% stock, and they provide data showing that in 2018, sales were recorded at Rs. 17 lakh, and that they increased to Rs. 1.5 crore in the cycle between 2021 and 2022. Namita Thapar makes the sole offer of Rs. 50 lakhs for 10% stock, which Aman Gupta joins, with the average ticket size being 10,000 and the gross margin being 35%. The pair's latest demand for Rs. 75 lakh for 10% stake was challenged, but after a few exchanges, the pitchers decide to accept the sharks' offer.
Watchout Wearables
The founder, Abhisek, joins Divyajeet, a young child, to introduce Watchout Wearables during the following pitch. Their next generation smart watch for kids has three key features: connectivity (video and audio calls), safety (GPS), and curiosity (inbuilt object scanner).
It is intelligent and safe, and it supports many other technical features that are tailored to a child's needs.
It was created as an independent device that can be used without SIM cards.
For 5% equity, Abhisek requests Rs. 2 crores from them.
After being questioned, he reveals that this technology is necessary for the safety of children because there was a fatal tragedy at home. Abhisek has a prototype ready for a similar watch that Anupam advises be made for elderly people.
The watch costs Rs 10,000, which is quite expensive, which greatly worries the sharks. The inventor of Watchout Wearables estimates that the company would generate annual sales of Rs. 1.4 crore between 2021 and 2022, with a net margin of 25%, and sales of Rs. 30 lakhs are expected in September. Despite not having an experience in coding, Abhisek was determined to create the watch.
Vineeta and Anupam's offer of Rs. crore for 10% equity and Rs. 1 crore in debt with 15% interest is the only one that he accepts. As parents, they recognise the vision's potential but also hold the ideas of repetition and limitation, as it only targets a particular demographic at a certain age. They make a non-negotiable offer because they see it to be a dangerous wager, and Abhisek reluctantly accepts it after much deliberation.
SoupX
Priyank and Uttam are the third and last pair of pitchers for the day. Through their business SoupX, they want to promote the idea of a healthy living in India, particularly in the wake of the pandemic's emergence.
Their goal for the company is to establish itself as the leader in the market by creating the first customised soup-based meal to replace full-fledged meals.
Mission Statement: To promote wholesome food at reasonable prices.
Established in December 2021, today they offer 99 or more soup variations that are all free of any artificial ingredients, and their products are accessible both on demand and through subscription.
They are asking for 6% equity and Rs. 75 lakhs. Offering both hot and cold soups, they have selected 14 bases for the chefs to utilise in the soups, each of which has a six-month shelf life. Their lunch includes "healthy" sides like garlic bread and other items, with the soup serving as the focal point. Anupam Mittal immediately criticizes this and challenges their "superficial" understanding of health-related issues.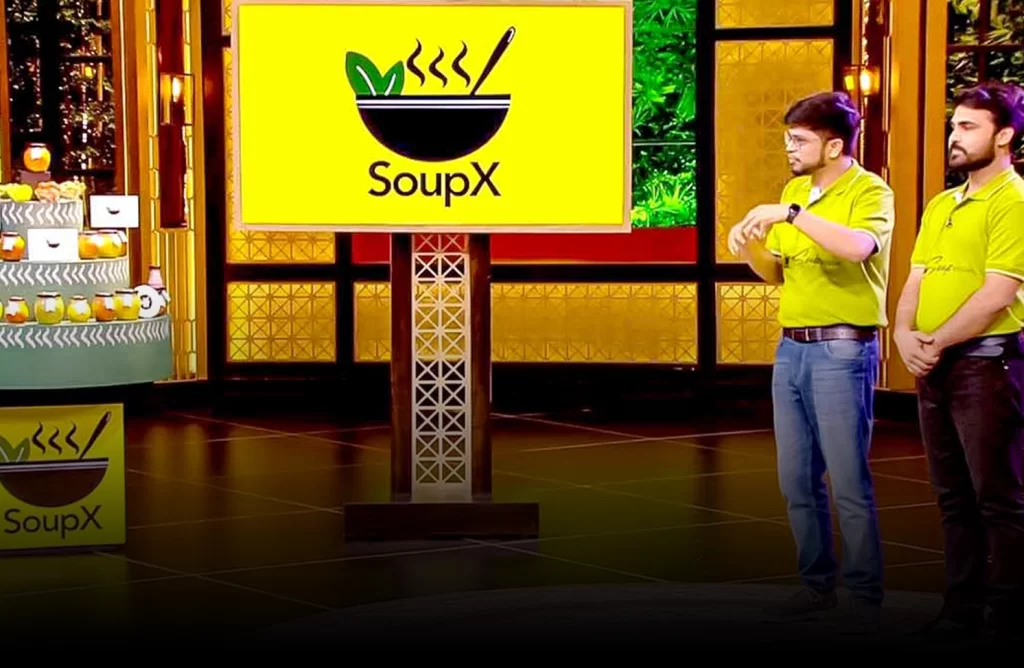 After sampling the soup, Vineeta inquires about its composition and nutritional worth but doesn't get a satisfactory response. Anupam and I were very clear with him that they needed to understand the fundamentals in order to work in the health industry.
The company's sales for August were Rs. 8 lakhs, with a gross margin of about 45%, and monthly burning of Rs. 1-1.5 lakhs. When they also admit that they are working part-time and supporting the cause by moonlighting, Namita counsels them to have a more thorough grasp of what they are dealing with. While some sharks consider it a disadvantage, others admire their tenacity. In the end, Vineeta is convinced by their assurances of a better and more committed future, and she makes them an offer of Rs. 50 lakhs for 20% equity and Rs. 25 lakhs in debt at 12% interest, with the stipulation that they both begin working on the mission full-time.
The team proposes a counter offer of Rs. 50 lakhs for 18% equity and Rs. 25 lakhs in debt with 12% interest. Vineeta completes the transaction by agreeing to it.
Review of Episode 2 of Season 2 of Shark Tank India
Anupam Mittal is today's star, regardless of what anyone says. He not only deserves but also skillfully grabs the MVP award. Due to a competitor brand being rejected by the sharks on yesterday's show, there was some anger. The same subdued undertone is seen in Aman Gupta's response to the pitch in the second episode, when Watchout Wearables is featured. However, everyone continues to focus on Anupam Mittal and his mastery of knowledge in every discipline.