Sugar Cosmetics is now a big name in cosmetics industry and the face behind creating is a powerful woman Vineeta Singh. She is the one who has created a revolution in creating digital first cosmetic brand in the year 2015.
Sugar has developed its across multiple channels offline and online.. Sugar has millions of users on app and large no of users on Instagram and Facebook. Sugar cosmetics super successful strategy is to be present everywhere – local shops, online sites like Nykaa , Shoppers stop in order to be to be easily available for the customers. Sugar cosmetics is present in more than 130 cities in 2500+ outlets.
Vineeta  became India's youngest woman to reject an offer of Rs 1 crore to start her own venture. She was featured in WEEK at the age of 23.  In her social media, Vineeta posted for her curious fans the reason why she rejected the offer:
Honestly, at the time of making this decision I thought I was going to be a millionaire by 30 (which didn't happen just to be clear😅).

But in hindsight, this made so much sense, because our best shot at unlocking the unimaginable power of compounding is by switching to doing what we love as early on as possible!

So all you hustlers out there putting your heart & soul into passion projects wondering when the rewards will come, BELIEVE in the power of compounding & in the meanwhile, don't forget to enjoy your rollercoaster ride!"
Vineeta Singh Net Worth
In the initial years of product launch, sugar cosmetics sale was about Rs 2 crore a year and it is more than 2 crore per day. Sugar cosmetics value is more than 750 crores after getting funding from venture led by Elevation Capital.
Vineeta Singh's net worth is approx $8 million.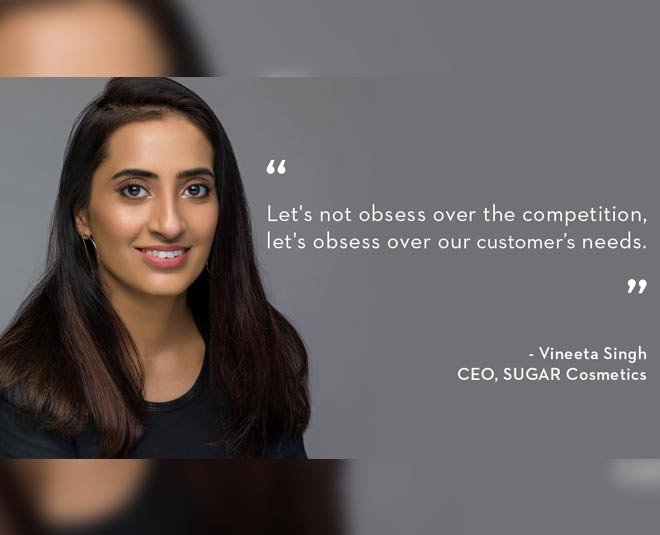 Vineeta Singh Career
Sep 2007 – May 2012 : Vineeta worked as a director for Quetzal Verify Private Ltd. She started Quetzal with one of her IIM classmate. The The company provided HT services for recruitment, pre-employment background verification. Vineeta decided to move on to pursure her fashion when the company did not scale up.
April 2012 – Present : Vineeta then founded FabBag that offers members an opportunity to try 3-4 top global brands every month. Fab Bag is associatd with more than 50+ international brands.
July 2017 – Present : In another three years of opening FabBag.com, Vineeta co-founded another venture Sugar Cosmetics. The brand is a big name in cosmetic industry today competing at par with already established brands like loreal, lakme..
Vineeta Singh Education Qualification
Indian Institute of Technology Delhi– After completing her schooling from DPS RK Puram Delhi, Vineeta did her B.Tech in electrical engineering and passed out in the year 2005. She had always been the front leadingface of the curricular activitiesfrom being PR head to Tech fest coordinator.
Indian Institute of Management Ahmedabad – He completed his masters MBA in from IIM Ahmedabad in the year 2007.
Vineeta Singh Family
Vineeta is married to Kaushik Mukherjee who is also a co-founder of Fab Bag and Sugar Cosmetics . They have 2 sons namely – Vikrant & Ranveer.