Are you a devoted follower of the singing reality show Indian Idol? Then, we have got some exciting news for you. The popular TV show is returning on the streaming service SonyLiv. So, if you are interested in participating, register for the Indian Idol Auditions 2023 for Season 14. Lets look at the audition date and registration procedure for Indian Idol Season 14.
Indian Idol Season 14 Audition 2023 Start Date
Candidates can now simply register for the upcoming Season of Indian Idol, beginning in July 2023.
The Indian Idol 2023 On Ground application window begins on July 8, 2023, and ends on August 27, 2023. Those who want to participate in the Indian Idol 2023 Live Auditions must know the basic standards and protocols for applying for the Indian Idol Season 14 online registration and the Indian Idol Audition 2023 final date. Let's look at how to register for Indian Idol 2023 online.
Indian Idol Season 14 Audition Eligibility Criteria
The eligibility criteria for Indian Idol include the following –
Participants must be between 18 and 35 at the time of registration.
The participant must be a citizen of India and have legal identification proving citizenship.
All candidates should be in good physical and mental condition.
The contestant needs to be a good singer and should be able to perform in Hindi.
The participant should not be under contract with any record label or production company.
The individual should be free of any felony convictions or legal cases.
The participant must have the necessary documentation, including a birth certificate, identification, and proof of address.
Indian Idol Season 14 Registration Process
The registration process for Indian Idol 2023 is very simple. Candidates just need to fill up an application form and upload a recent photograph and video displaying their singing talent for the registration procedure. But, before the registration, make sure you have the following documents with you.
Aadhaar Card/Voter ID Card/Or Any Other Form of Identification
Pan Card
Date of Birth Certificate (Birth certificate or educational evidence)
Proof of residency (Aadhar Card/ Pan Card/ Voter ID Card)
Address Proof (Candidate's Residence/Aadhaar Card)
Photographs in Passport Size
The registration process for Indian Idol Season 14 is outlined below:
Visit Sony Liv's official website
On the homepage, click the registration link and enter your personal details, such as your name, DOB, email address, phone number, and city.
Upload a recent photo of yourself as well as a video of yourself singing. Make certain that the video is of high quality and highlights your talent.
Read and accept the registration terms and conditions.
Finish and submit the form.
The Indian Idol Authority will go over all of the submitted audio and video clips and choose the final names for the audition.
(The online registration has not started yet) Please follow the below ground audition details.
Indian Idol 14 Audition Locations
| | |
| --- | --- |
| Date | City |
| 11/08/2023 | Guwahati |
| 13/08/2023 | Kolkata |
| 16/08/2023 | Lucknow |
| 18/08/2023 | Chandigarh |
| 20/08/2023 | Delhi |
| 22/08/2023 | Jaipur |
| 22/08/2023 | Bhopal |
| 27/08/2023 | Mumbai |
Here are the officially confirmed locations with details of the audition,
Indian Idol Auditions in Guwahati
Date: 11th August 2023
Location: Nerim Group of Institutions
Indian Idol Auditions in Kolkata
Date: 13th August 2023
Location: Sister Nivedita University
Indian Idol Auditions in Lucknow
Date: 16th August 2023
Location: Shri Ram Global School
Indian Idol Auditions in Chandigarh
Date: 18th August 2023
Location: Shivalik Public School
Indian Idol Auditions in Delhi
Date: 20th August 2023
Location: Sri Venkateshwar International School
Indian Idol Auditions in Jaipur
Date: 22nd August 2023
Location: Mahatama Jyoti Rao Phoole University
Indian Idol Auditions in Bhopal
Date: 22nd August 2023
Location: GVN – The Global School
Indian Idol Auditions in Mumbai
Date: 27th August 2023
Location: Nahar International School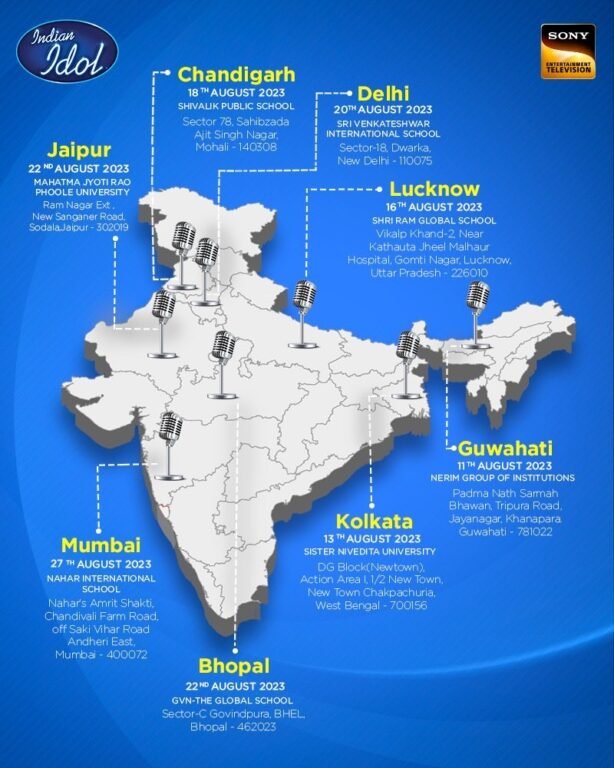 Bookmark the page and give your best shot! Happy auditioning. 🙂