The drama inside the "Bigg Boss 17" house continued to unfold as the third day brought new revelations and heated arguments, turning the spotlight on relationships and emotions. Here's a glimpse of what happened on Day 3 of BB 17:
Morning Ritual: A Dance of Emotions
The day started with contestants dancing enthusiastically to the new anthem of "Bigg Boss 17." The lively atmosphere set the stage for a day filled with emotional highs and lows.
Abhishek's Transformation and Tehelka Bhai's Generosity
In an unexpected turn of events, Abhishek Kumar engaged in a deep conversation with Tehelka Bhai in the garden area. Munawar Faruqui noticed a significant change in Abhishek's demeanor after his nomination for eviction.
Tehelka Bhai, on the other hand, impressed his fellow contestants by sharing his extravagant possessions. He promised to gift Mannara Chopra an expensive T-shirt and revealed his footwear's astounding value of Rs 35 lakh. Mannara was left awestruck when she learned that Tehelka Bhai owned T-shirts worth a whopping Rs 29 lakh.
Firoza Khan's Challenge to Abhishek
Meanwhile, Firoza Khan informed Tehelka Bhai about her recent conversation with Abhishek. She expressed her intention to challenge the "Udaariyaan" actor in a game, setting the stage for a potential clash.
Abhishek's Unwavering Feelings for Isha
Emotions ran high as Abhishek opened up to Munawar, confessing that he found it impossible to control his feelings whenever he saw Isha Malviya. Abhishek's emotions were evidently still connected to his ex-girlfriend as he admitted he was ready to marry her.
Aishwarya Sharma and Neil Bhatt's Date Therapy
Later in the day, "Bigg Boss" introduced a unique twist by sending Aishwarya Sharma and Neil Bhatt on date therapy. A beautiful garden of roses awaited the couple, where they were advised by "Bigg Boss" to discuss and strategize their future game plan. The date took an emotional turn, with Aishwarya shedding tears and questioning the format of the show.
Reality Check for Aishwarya and Neil
In a surprising twist, "Bigg Boss" delivered a reality check to Aishwarya and Neil. The "Ghum Hai Kisikey Pyaar Meiin" actors were informed that they were not perceived as threats on the show, and they were encouraged to up their game.
Ankita and Abhishek's Fiery Exchange
Tempers flared in the kitchen area as Ankita and Abhishek engaged in a heated argument over food wastage. Harsh words were exchanged, with both calling each other 'stupid' and 'mad.' However, the actors eventually reconciled and apologized to one another.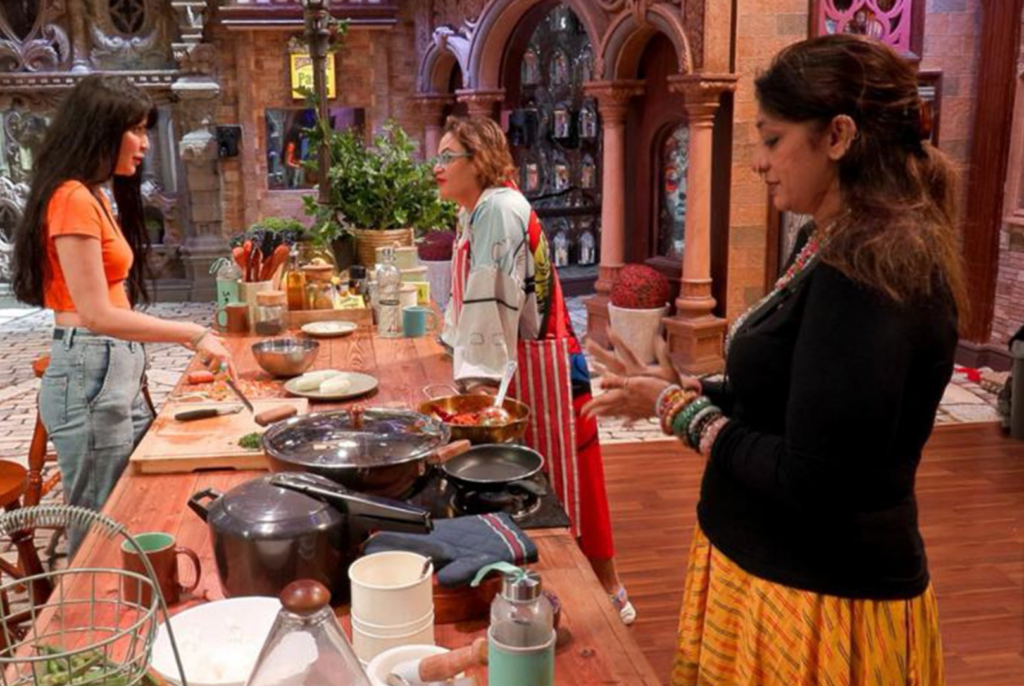 Aishwarya's Burst of Emotions
Aishwarya had a significant confrontation with Anurag Dobhal over household duties, marking the first time she lost her cool at a fellow contestant in three days.
Ankita's Valuable Advice to Vicky
The episode concluded with a moment of wisdom from Ankita, who provided valuable advice to her husband Vicky. She advised him that he needed to focus and regain his footing in the game.
Firoza Khan's Heated Clash with Isha
In a heated argument during her conversation with Abhishek, Firoza Khan passed a remark that triggered a sharp exchange with Isha.
The dispute escalated, and Firoza labeled Isha as the 'ugliest.' Abhishek stepped in to defend his ex-girlfriend, urging Firoza to refrain from making such remarks. The drama inside the "Bigg Boss 17" house is far from over, and viewers can expect more twists and turns in the days to come. Stay tuned for further updates from the "Bigg Boss 17" house.