In the latest developments from the Bigg Boss house, emotions ran high as contestants faced the challenges of Day 4. With the season in full swing, contestants are starting to reveal their true personalities and dynamics within the house.
Bigg Boss 17 commenced with a grand premiere on Sunday, 15 October 2023, hosted by the ever-charismatic Salman Khan. This year, the show features 17 contestants, including notable names like Munawar Faruqui, Ankita Lokhande, Vicky Jain, Aishwarya Sharma, Neil Bhatt, Isha Malviya, Mannara Chopra, Navid Sole, and more. Salman Khan, as always, continues to charm the audience as the host.
In the previous episode, Aishwarya Sharma and Neil Bhatt received a wake-up call from Bigg Boss, urging them to display their true selves to the audience. But it was the cracks in Ankita Lokhande's relationship with her husband Vicky Jain that took center stage. Ankita seemed upset, expressing her frustration with Vicky for what she perceived as his over-involvement in various matters.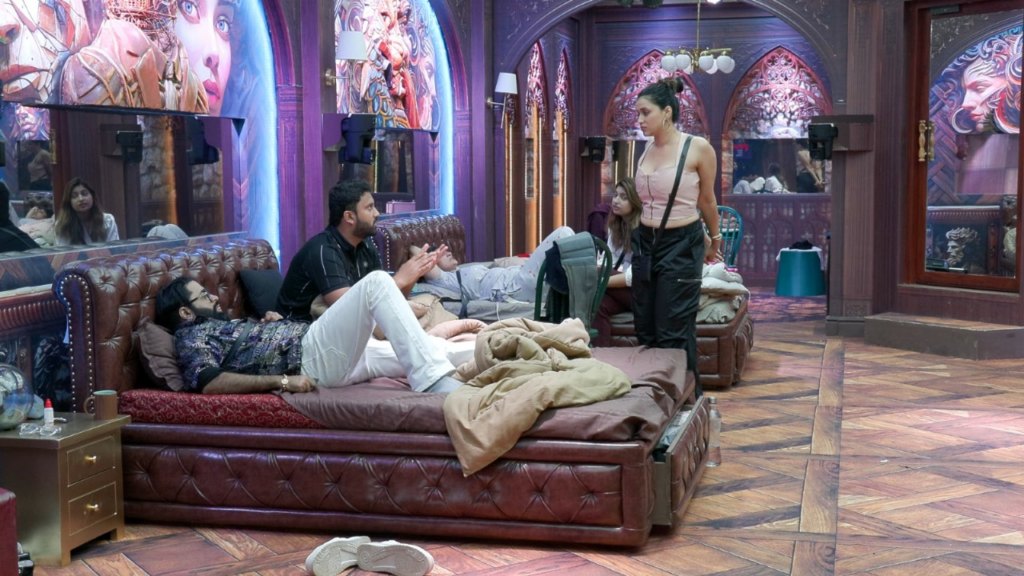 Mannara Chopra and Munawar Faruqui, on the other hand, appear to be forging a budding friendship within the house, which is gaining attention.
Notable Moments from Bigg Boss 17, Day 4:
Mannara's Emotional Breakdown: Mannara Chopra broke into inconsolable tears, feeling targeted by her fellow contestants.
Munawar Faruqui's Emotional Outburst: Munawar Faruqui shared the story behind his journey to Bigg Boss and became emotional. Vicky Jain consoled him, acknowledging his struggle.
Kitchen Chaos: Khaanzadi and Rinku had a heated altercation in the kitchen over cooking, with Rinku accusing Khaanzadi of spreading negativity. Khaanzadi was left hurt and in tears.
Ankita's Frustration with Vicky: Ankita Lokhande expressed her displeasure with her husband Vicky, who seemed to be everywhere in the house. She shared her feelings of loneliness and lack of support, revealing her frustration.
New Morning Anthem: This season introduced a new Bigg Boss anthem for the housemates to kickstart their day with.
Munawar's Emotional Response: Jigna Vora shared her challenging jail experience with the media, which moved Munawar to tears.
Aishwarya and Neil's Confusion: Aishwarya Sharma and Neil Bhatt appeared confused about the format of Bigg Boss. They believed that some contestants were unnecessarily seeking attention. Neil considered Ankita and Vicky as their biggest competitors in the Bigg Boss house.
Nominated Contestants: The first set of nominated contestants for this week includes Mannara Chopra, Navid Sole, and Abhishek Kumar.
As the days progress, Bigg Boss 17 continues to serve a cocktail of emotions, drama, and interpersonal conflicts that keep the viewers thoroughly engaged. Stay tuned for more updates from the Bigg Boss house.