IPL, Indian Premier League is something that every Indian cricket fan waits for. While it gives an insight to the upcoming rising stars of cricket, it also depicts the captaincy of the current generation leaders. Teams playing in the name of different states simply talk about the unity in diversity. This game brings forward players from the various cricket teams coming into one and contesting against each other.
Nevertheless, the beauty of the game is retained. While there's rivalry to win over on the field, the love among the teammates and the players, never fails to bloom. These cricketers take us in awe by their way of game and we just can't stop admiring them. The scenario remains the same every year. IPL provides for some intense matches and at the same time depicts so much amount of love.
Well, here we bring to you the best moments of IPL 2018:
1) Virat Kohli and MS Dhoni's bro-mance
Royal Challengers Bengaluru lost to Chennai Super Kings, but the love between Virat and Dhoni won hearts across the internet. RCB is led by Virat while Dhoni leads CSK. Netizens just could not stop themselves from appreciating the love between these two. This embrace would be tracked in the history of Indian cricket which clearly depicted the coolest bromance.
While all of us loved the moment, many came down to turn the picture in memes. Those memes were equally funny. Some remarked it as of the friendship of Chennai and Karnataka and dispute of Cauvery's water being solved, to that of Game of Thrones. This got all of us drooling.
Must See: Top 10 Batsmen to watch out for in IPL 2018
2) Tiwari's Malinga bowling
IPL is a thrill package which offers abundance of magic moments. Certain captured moments of IPL turn out to be viral of the internet and soon turn out to be the most loved memes. One such was King XI Punjab's Manoj Tiwary. This youngster got a lot of fun reactions for his action of bowling. Some compared him to Lasith Malinga while some took it to comparing him with Kedhar Jadhav.
Tweeples never let you down, they just keep you entertaining by their memes.
3) MI and CSK's first match
IPL 2018 begun on 7th April, 2018 and since then, this game has become a matter of memes. People have been creating memes and spreading them on the internet which is being loved by them. From the opening ceremony, to cracking jokes on Pakistan, the Tweeples took all over the game with their memes.
4) Anushka Sharma's reaction during Kings XI Punjab and RCB match
The match between Royal challengers Bengaluru and Kings XI Punjab may be over but Ansuhka's reaction for cheering husband, Virat Kohli has taken over the internet. RCB took the opportunity and defeated Punjab by 4 wickets and marked their first win in IPL.
It wasn't only their win, but also the reaction of Mrs Kohli. She was seen cheering and clapping for her husband and his teammates. She blew kisses too. She expressed her excitement a bit too much when Punjab lost a wicket and it became jokes in no time.
Trending: Top 10 Bowlers to watch out for in IPL 2018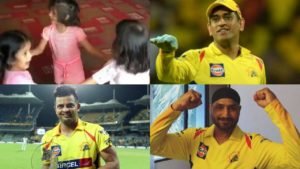 5) Raina, Dhoni and Harbhajan daughters playing together
As the match moves towards finale, it is becoming more intense. However, a cute video shared by Raina on his social media accounts may act like a relief to the cricket fans. The players are all decked up in rivalry against each other and set to dethrone each other's team. However, the scenario is a bit different off-field. Harbhajan, Dhoni and Raina's daughters, Ziva, Hinaya and Gracy could be seen adorably playing ring-a-ring-o-roses in a video shared by Raina. Seems like the kids would too follow the legacy of friendship of their fathers.
6) Strikes by KL Rahul
Kings XI Punjab got KL Rahul for a whopping sum of 11 crores. And he of course, didn't let the people down. His striking were enough to impress anyone. Rahul became the fastest player in the history of IPL to have scored 50 by the third over. Within no time, did he score 6 fours and 4 sixes.
He smashed Amit Mishra at a fiery speed. In the first over itself, he scored 2 sixes as well as 3 fours. His innings have shut the mouth of the critics and would be etched in the history of IPL for years.
7) Andre Russell's winning strike
Andre Russell had always been a great support to KKR, but this time he seemed a bit off in his first attempt. KKR was struggling with a score of 89/5 against CSK, which makes it really tough to win the match. But in no time, did KKR came closer to winning the match. In just 36 balls, Andre scored 88 runs for KKR. That brought KKR to a total of 202/6. This led Kolkata to win the match.
8) Sunrisers Hyderabad
IPL ever since the history has brought up a number of skilled fielders. Ranging from Kieron Pollard to Hardik Pandya, IPL has provided the cricket history a legacy of fielders. And this time, it is from Sunrisers Hyderabad. Manish Pandey dismissed Nitish Rana and Narune. Shakib dismissed Lynn. All of these fielders were exceptionally good on the fields. Manish Pandey ran almost 20km backwards just to take a catch and dismiss Andre Russell.
9) Entertainment by Mumbai Indians
Since 2013, Mumbai Indians is known for its slow pace. They take up their speed usually around the 4th match but this time it's different. They have lost 3 matches but the spirit is always high. The team has not even once failed to entertain the people. Though they are losing some matches, they provide too much of entertainment.
10) Youngsters take up the field
Despite Dhoni and Kohli being on the game, some names of the youngsters are popping up who are giving their heart and soul to the game. Mayank Markande and Mujeeb-ur-Rahman are eqaually bringing in the destruction to the players. These players are dismissing the experienced ones too. No doubt, the next generation of cricket is too bright.
IPL 2018 Probable Winner
As far as the pace of the teams are concerned, some of the very expected winners of the tournament may be Sunrisers Hyderabad or Chennai Super Kings.
Current ranking IPL 2018
The current ranking for the teams are as follows:
Sunrisers Hyderabad
Chennai Super Kings
Kolkata Knight Riders
Kings XI Punjab
Mumbai Indians
Royal Challengers Bengaluru
Rajasthan Royals
Delhi Daredevils