Rohit Sharma, the man of records has been in a terrific form in this India vs Sri-Lanka series. To add his tally of records, he became the first Indian batsmen to score two T-20 centuries. It has been just over a week, when he became the only batsmen to score 3 – double hundreds in ODI's and now it seems this Hit-man is on a roll, which brings us to saying that he is another "Master Blaster in the Making".
Must See: Rohit Sharma's 200 
Fastest Century in T20
When it's Hit-Man Sharma on the crease, you bet another record is in the line. He along with David Miller, jointly became the fastest man to score a 35 ball 100. Just 2 months back, David Miller scored the fastest century in T20 against Bangladesh where he hammered 7 Boundaries and 9 Sixes. Rohit Sharma's inning saw 12 Boundaries and 10 belligerent Sixes where he went onto score 118 Runs off 43 Balls.
T20 Matches – Records are meant to be broken
The India vs SL match in Indore on 22nd December 2017, witnessed many records broken. To start with,
Highest Score for Team India in T20 matches – 260/5
35 Balls Century – Joint Fastest by Rohit Sharma (First one was David Miller)
21 Sixes – Most Sixes by a Team in an innings (31 was the Total Sixes in the Match)
165 Runs partnership (Best by the Indian Team)
Smart Captain
After loosing the toss, Rohit Sharma along with KL Rahul decided to open the innings. The innings started steadily and once Rohit Sharma reached his 50, the acceleration he showed was remarkable. He along with KL Rahul who were towing away the Sri-Lankan bowlers went onto a score a record partnership for team India for the first wicket, 165 Runs.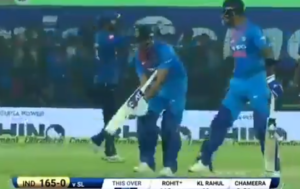 Rohit Sharma was looking devastating when he nudged the ball and was out at 118 Runs of just 43 Balls. Here, a very smart moment happened which was the signal that Rohit gave to Ravi Shastri to bring in MS Dhoni on the crease. In the second innings, we again saw, this smart captain introducing and motivating his young spinners who at the end gave him 8 wickets in total.
A truly remarkable and unforgettable innings and smart captaincy shown by Rohit Sharma. Do tell us your favorite moments from the match.