Since the beginning, Khatron Ke Khiladi has been a craze among fans. The show was shot in South Africa and is finally coming to an end. The final can be seen on Colors TV on 24th and 25th September, 2022. The filming of the final episode is already complete.
The host of the show Rohit Shetty has already hosted a special episode along with the Bollywood actor Ranveer Singh. This episode marked the end of Season 12 of Khatron Ke Khiladi.
Fans shocked after hearing the winner of Khatron ke Khiladi Season 12.

Details inside, https://t.co/G5wLZIgLh9

Whose your favorite?#khatronkekhilad12 #Winner #RT

— ReadersFusion (@ReadersFusion) September 24, 2022
Although the official announcement for the winner and runners-up and other details of this season are yet to be made, we have a few inside details for you.
Khatron Ke Khiladi Season 12 Finalists
The finalists of Season 12 for this show were,
Jannat Zubair
Faisal Shaikh
Mohit Malik
Tushar Kalia
Kanika Mann
Rubina Dilaik
However, only Tushar Kalia and Faisal Shaikh made it to the top 2. Both Tushar and Faisal will be seen competing in the final episode of Khatron Ke Khiladi 2022.
Khatron Ke Khiladi 12 Winner and Runner-up
A reliable source from the show Khatron Ke Khiladi revealed that Tushar Kalia has defeated Faisal Shaikh and won the title. Faisal Shaikh has long been the audience's favorite!
But Tushar Kalia seems to have won the Season 12 of Khatron Ke Khiladi, and Faisal Shaikh will have to be satisfied with the second position.
Tushar Kalia's Viral Picture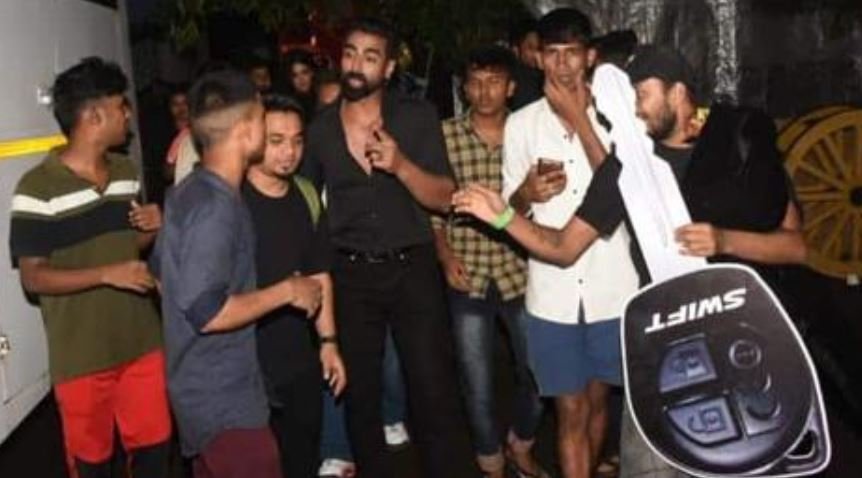 A picture of the rumored winner, Tushar Kalia, outside the sets of Khatron Ke Khiladi seems to have gone viral on social media, where one of his team members is apparently holding the key of the Maruti Swift car, which is generally gifted to the winner of the show along with the prize money and the trophy.
Khatron Ke Khiladi Season 12 Prize Money
The prize money for Khatron Ke Khiladi has generally been Rs. 20 lakhs for seasons 7, 8, 9, and 11. It was only for season 10 that the prize money was Rs. 10 lakhs. The prize money for this season is Rs. 20 lakhs.
Fans can watch the Grand Finale of Khatron Ke Khiladi on Colors TV on September 24 and 25. Stay tuned with ReadersFusion for live updates!