Heavy rainfalls in Southern California caused mudslides on Tuesday. Due to this heavy rainfalls 13 people died, and several homes were destroyed. The force of flood increased and for this, rescue operations were started. Mud Rivers lead to blockage of roads.
As per Santa Barbara County Sheriff Bill Brown the number of deaths caused due to flood could rise. These officials said, many of the deaths occurred around the coastal area of Montecito. Mudflows and floodwater heavily destroyed the area. Last month, thousand acres of this region were destroyed because of Thomas Fire.
Trending today: Improving Relationship of North Korea and South Korea
The authorities were able to rescue 50 people in the Montecito area. Sheriff's Department is still working towards finding out whether the unaccounted people are found in other locations or are deceased.
Statements by the officials
Talking about the horrific destruction, Brown commented, "It looked like a World War I battlefield. It was literally a carpet of mud and debris everywhere, with huge boulders, rocks, down trees, power lines, wrecked cars — lots of obstacles and challenges for rescue personnel to get to homes."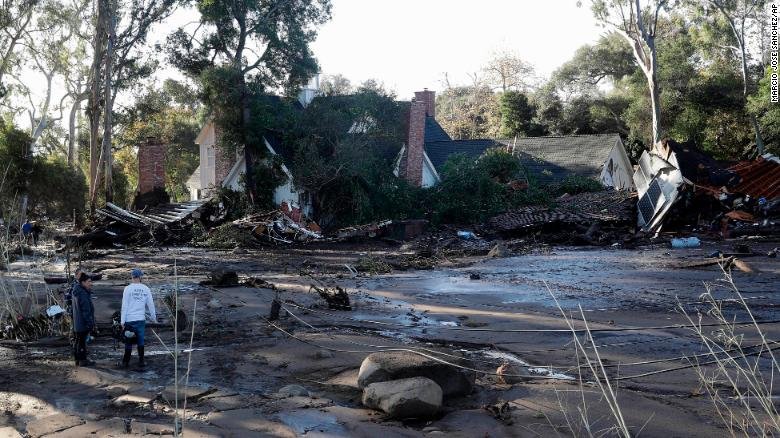 Developments about the storm
A SOS has been alerted in Southern California for Ventura County Mudslides. Thirteen deaths were reported, however, the number of death tolls could rise. No certain number about the injured people could be reported. The 101 Freeway of Montecito and Santa Barbara were ordered to remain close for 48 hours because of the havoc created.
Several call from stranded residents
An evacuation program of 6000 people were conducted in Santa Barbara and other regions below Carpintera, Montecito and Goleta.
As per Sheriff Brown, deputies, search team and rescue team members went to every house of the region that were likely to be affected to hold out evacuation on Monday. Brown added, "Those notifications were all made by nightfall."
Sheriff went on to add the storm hit the area at 3 am on Tuesday. From 3 and 6 am, the dispatchers at the sheriff's office handled more than 600 calls for assistance. Brown said some of the regions were mud logged.
Teenager trapped for hours in Montecito
Montecito faced heavy destruction and six homes were wiped off from "their foundations" because of the mudflow. This was reported by Mike Eliason. He also reported that a 14 year old was also rescued from the destructed houses. The girl was completely covered in mud. Eliason said he witnessed "utter destruction" in Montecito.
Mud came in like a dam breaking
Ben Hyatt, a witness said that the river of mud crashed the neighbour's house in Montecito. Hyatt added, "Apparently, one of their cars ended (up) in their backyard. We have neighbours at (the) top of the street that evacuated to their roof." He also went on to add that his house in Montecito was completely "surrounded by mud".
Several pictures of cars being stuck at mud in Los Angeles County in Twitter. In a post by Caltrans District, a group of California Department of Transportation were seen trying to help trapped motorist.
Several celebrities took to Twitter to express their grief about this incident. Oprah Winfrey also showed photo of mud in house in her hometown in Santa Barbara. People also expressed their prayers.