It is that time of the year when Goddess Durga will be bejeweled with Bangles, flowers, attires and so much more. Mornings are welcomed by the bells and Aarti. What is more fascinating about the festival is the around of ghee and butter all round the house. It won't be wrong to say that whole of the house is filled with sweets. Navratri is one of the most essential festivals celebrated across the country happening about twice each year. The celebration goes on for nine long days when the different forms of Goddess Durga are worshipped each night.
Must Read: Navaratri History and Celebrations
Navratri means nine nights (Nav- Nine, Ratri- Nights). Most people observe fasts during this time. The first Navratri is celebrated during the onset of spring and is known as 'Chaitra Navratri', while the second Navratri is celebrated during Autumn known as the Sharad Navratri. All throughout Navratri, the nine different incarnation of Goddess Durga is celebrated with pomp and grandeur. While in the Northern states, we observe Dandiya and nine days of fast, in the Eastern in West Bengal it is all about pandal hopping and worshipping the idols. This diverse festival has its own importance among the people and is hugely celebrated.
Navratri: What to eat?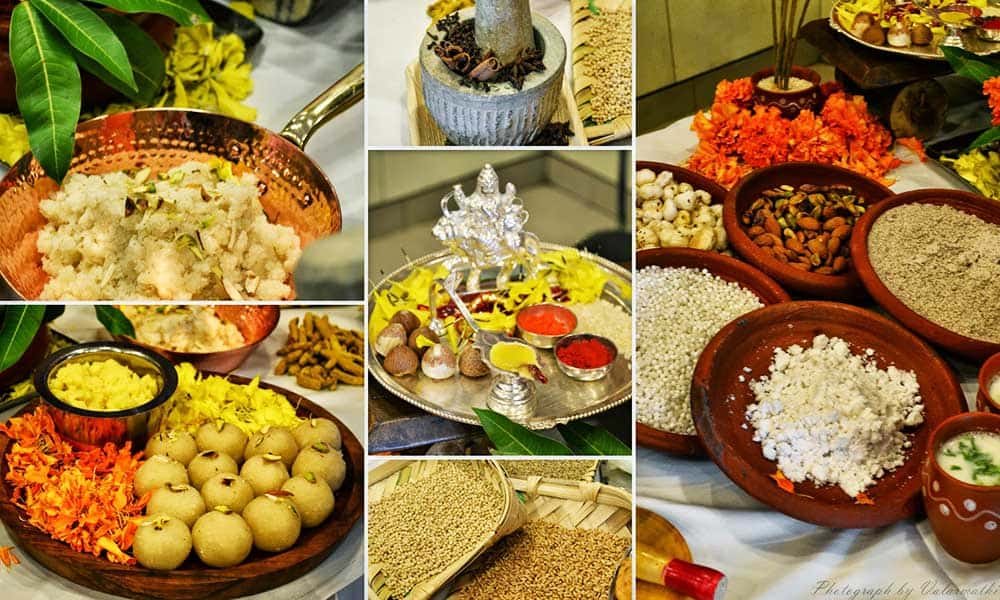 People observing fasts consider the fasts to be a sense of gratitude towards the Deity. Gratitude because the Goddess brought light into the world defeating the evil. It is not only about Goddess Durga but also about the victory of Rama over Ravana. However, during the fast observation, there is a list of things that you may eat and not. People observing the fast, hugely condemn the consumption of non-vegetarian food and alcohol. Some people also tend to avoid garlic and onion. Foods like these are considered to be inconsiderate in the tradition. The traditions are quite strict as far as foods are concerned.
Some of the foods that you can eat during your Navratri fasts include:
Sabudana Khichdi
Khichdi in India is one of the most common enjoyed delicacies. Although it is is simple, it gives you a mouth-watering experience. But during your Navratri fast, you cannot consume the normal ones due to the spices. Hence, you can relish the Sabudana Khichdi. Sabudana is rich in carbohydrates and starch that will keep you energized even in your fasting. To improve the spices, you can also add in some peanuts and light spices. Also, if you're looking for a snack, sabudana vada may just do the magic.
Navratri: Singhare ke atte ka Samosa
Fasts are boring. Who wouldn't like to relish on some mouth watering dish? And samosa is absolutely everyone's favorite. You can relish on the samosa prepared using sendha namak, Chestnut flour and some chironji. During your fast, you can enjoy this lip smacking delicacy with some coriander chutney.
Navratri: Kuttu ka atta
Atta literally means wheat. And during the Navratri fast, the kuttu atta is no less than a favourite among the people. Also, this is sure to keep you energized all throughout your fast. Consuming this will reduce the risk of any health drainage. Some of the prominent dishes that you can prepare by outta ka atta include kuttu ki Puri, dosa, paratha and even pakore. Since kuttu dries up the mouth, it is better to eat kuttu in combination with curd.
Navratri: Potatoes
Be it any fast or regular day, potatoes are a safe play. This dish is widely used in the Navratri period. You can consume various potato dishes such as aloo jeera, dahi-aaloo and many more with Puri. Potatoes never fail to impress one. Also, aloo tikki and aloo kachoris are extremely famous among people. Potatoes are like the universal food that can prove to be compatible with every dish. Puris and potatoes are the most compatible dish and healthy for your fasts.
Navratri: Nuts and raisins
Dry fruits are an absolute favorite during Navratri fasts. You can add this in your kheer to obtain the delicious rich flavour. Also, nuts are very healthy, so you should try consuming this to maintain your health. One significant benefit of consuming nuts is that with it you won't ever miss out on your daily requirement of your health dose.
Foods not to eat during Navratri
If you're consuming a lot of things, there are a list of things you should not eat during Navratri too. Not only non-vegetarian, there are certain restrictions in eating vegetarian dishes too. No matter how weird it sounds, quitting certain parts of the vegetarian dishes is necessary too.
Some of the most prominent foods you should be avoiding during Navratri include
Non-vegetarian foods
There are the category of the Rajasic foods which you shouldn't be consuming. As per the tradition, foods that should be strictly avoided include animal products such as chicken, fish, mutton, lamb, eggs and so on. Fasting devotees also tend to refrain touching any non-vegetarian dishes.
Onion and Garlic
Although non-vegetarian foods are banned, onion and garlic are to be ignored too. Even on normal days like Tuesday, Thursday and Saturday, people tend to ignore preparing the dish with onion and garlic. As per the teachings of Ayurveda, the nature of garlic and onion is Tamasic. These things lead to the heating up of the body. These two are to be avoided during any seasonal changes.
Spices
Although you can use mild spices, there are certain spices that are to be ignored during this season too. Even in Navratri fasts, you should be ignoring these spices. Some of the spices that you can use include cumin (jeera), black pepper, ajwain and green chillies. Spices that should be avoided include turmeric (haldi), fenugreek seeds (methi Dana), mustard (sarson or rai) and asafoetida (Hing).
Regular rice
Regular rice is sure to be avoided during Navratri fasts. There is a specific kind of rice that is made for fasting, known as Samak ke Chawal. During your fasts, you should be using samak ka Chawal as your regular meal.
Table salts
Instead of using the regular table salt, you should prefer using pure rock salt. Pure rock salt is also known as sendha namak.