BPA (Bisphenol A), a hazardous chemical is used for making plastic food packaging. However, recent studies have found out that this chemical is present in the digestive system of 86% teenagers.
Research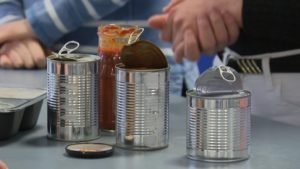 The research of University of Exeter stated that Bisphenol A (BPA) was used make plastics which were flexible and strong. Former studies also showed that BPA was responsible for causing breast cancer and other heart diseases. Therefore, several people have called out for banning the usage of BPA. Well, many people believe that the study isn't real.
BPA was used for packaging food since 1960s. It is found in the thin white lining within the tinned foods, drinks and bottle tops. As per other reports, BPA is also found in DVDs and processed foods.
Some researchers studied 94 teenagers. Their research showed that it was impossible for them to circumvent from the consumption of BPA containing products.
Statements
This research was led by Professor Lorna Harries. She went on to say that there should be clear labelling on the packages. This will be helpful as the people would be informed of how to shop foods.
Talking about the issue she said, "Teenagers are one of the groups of people in our population that have the highest levels of BPA in their urine when you measure it." She went on to give another statement too, where she mentions, "Although we're not quite sure why that is, one theory is because teenagers eat more junk food than the rest of the population and junk food is a particularly rich source of BPA."
Also read: Flu 2018: Worst since 2014-15
Several youngsters also came in front to take part in the issue. One such youngster was Freya Hester who was 17 years old. She also said, "I am really passionate about plastic pollution so knowing BPA is in here, we are polluting our bodies as well as the environment, which is really shocking to me."
Another such young participant was Amalia Gimbuta. She also talked about her experience in the campaign, "If you're in a rush and you're shopping you don't have time to peel off the packaging to try and work out if it has BPA or not. So finding packaging that you know for certain doesn't have it in is really difficult."
Further studies

Some studies conducted have shown that the small quanityty of BPA doesn't cause any harm. However, this was recently ruled out by the European Commission where it stated that even small quantity of BPA probes harm because of the dangerous effects that it has on the human hormone.
Canada and American states have banned the usage of BPA in baby bottles. Last month, its usage was also banned by Commission on the food packaging because of its potential side effects.
Lynn LAdbrook, Chief Executive of Breast Cancer UK also sated, "BPA is listed as a substance of very high concern for good reason – it is both a reproductive toxicant and has endocrine disrupting properties. Breast Cancer UK has long called for BPA to be prohibited from use in food, drinks and till receipts and until it is, it is likely to continue to show up in humans."
Despite this, some still consider BPA to be safe and not harmful enough. However, the British Plastics Federation is looking out to solve the issue and calls the study to be "misleading".