The episode starts with Vanraj suggesting Samar that he should take his decision after thinking properly, it was difficult for him too to take the decision of staying away from the family. Anupama wants him to listen to his heart and decide whether he wants to take up this job or not, she added that she would be really happy if his son succeeds and her dance academy expands. Nandini add that Samar has 1 day to think as the interview is tomorrow. Vanraj motivates Samar and encourages him by saying that he will surely be a winner in whatever decision he takes. Anupama gets emotional by seeing the father-son bonding.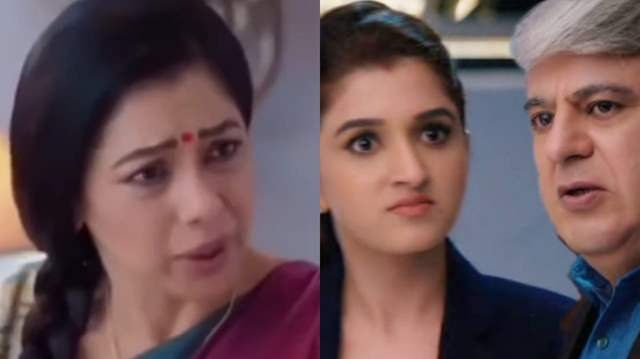 On the other hand, Dholakia's call on Kinjal's phone. She panics and thinks if Toshu could be around. Kinjal walks out of her room and Kavya asks her if she is not going office. Tensed Kavya says yes and hugs Anupama. Meanwhile, Kavya gets a call from Dholakia offering her head position in place of Kinjal. Kavya decides to meet Dholakia today itself and humiliates Kinjal of doing blunders which led Dholakia kick out of the job. Kinjal says she has not rusticated rather she has resigned herself. Kavya doesn't leave the chance and continues humiliating her. Kinjal suggests Kavya not to take up the job. Kavya doesn't listen and Kinjal after lot of humiliation by Kavya, says Kavya is right and she has been kicked out of the job because of her own mistakes. Anupama senses that something is definitely wrong with Kavya and she is lying that she has kicked out of the job.
Anupama Determined to Teach a Lesson to Dholakia
Anupama walks to Kinjal and tells her that she is not going to accept at all that she has been rusticated from the job. Anupama asks her to tell the truth. Kinjal says that she feels uncomfortable in presence of Dholakia. Anupama then further asks if he has been mentally and physically harassing her and giving lustful looks. Kinjal says how she know everything. Anupama says every woman gets to know and sense it when someone molests her or even give lustful looks. Kinjal asks Anupama what should she do. Anupama says that he deserves a tight slap and she should report against him in office and take the matter to social media too. Kinjal doesn't agree and says she doesn't want this issue to continue. Anupama insists that she should take this matter and reveal Dholakia's character to everyone so that he doesn't repeat the same with anyone else. Kinjal fears and asks Anupama not to reveal it to anybody. Anupama calms her down and promises herself that she will make Dholakia shed tears. Anupama leaves for dance academy upon Kinjal's asking.
Also read: Anupama Character Real Names
Anupama meets Vanraj in cafeteria. Vanraj asks Anupama if she has asked Kinjal what is the issue. Anupama thinks of Kinjal that she doesn't want anyone know about it and hence she doesn't tell anything to Vanraj, rather she answers there is some office tension. Nandini, on the other hand, notices Anupam's tensed faced and senses that something is definitely wrong with Bhabhi. Anupama in deep thinking hands over ghungroo to a student when he asks for water. Meanwhile, Samar informs that bank officials have come for the loan work. Anupama asks him to call Vanraj. He informs, Vanraj is out for some work. She asks to take Bapuji or Vanraj over video call, but their number went out of reach. Samar and Nandini attends the officials. Samar asks them to explain the details in Hindi. Meanwhile, Nandini calls Samar. Officer asks Anupama to sign the papers. She sees an employee and a boss entering the café, she imagines them to be Dholakia and Kinjal.
Anupama Next episode
Anupama tells everything about Dholakia to Vanraj. Vanraj angrily says that he would definitely punish him. Anupama agrees to take action against him. Kavya humiliates and taunts Anupama that in the past 25 years she couldn't stand for herself, how she will stand for Kinjal. Follow the entire written episode of 18th August here.