A transatlantic love story between the son of the American President and a British prince enchants audiences in the much-awaited Red, White & Royal Blue, an American romantic comedy movie that recently made its debut on Prime Video. This LGBTQ+ comedy-drama is a must-watch because of the film's excellent direction and standout performances. 
The movie has been adapted from a 2019 novel written by Casey McQuiston of the same title. The original book captivated readers with its moving depiction of a covert romance between the son of the American President and a British prince.
The Cast of Red, White and Royal Blue
The role of American President's son, Alex, is played by Taylor Zakhar Perez, who seems to have expertly captured his complexity and frailties, while Prince Henry is played by Nicholas Galitzine, who navigates the difficulties posed by his royal ancestry.
Other lead actors in the movie include:
Clifton Collins Jr. as Congressman Oscar Diaz, Alex's father
Sarah Shahi as Zahra Bankston, Ellen's assistant
Stephen Fry as King James III, Prince Henry's grandfather
Uma Thurman as Ellen Claremont, the first female President of the United States
Rachel Hilson as Nora Holleran
Thomas Flynn as Prince Philip
Ellie Bamber as Princess Beatrice
Malcolm Atobrah as Percy "Pez" Okonjo
Aneesh Sheth as Amy Gupta, a Secret Service Agent
Akshay Shanna as Shaan Shrivastava, Prince Henry's equerry
Sharon D. Clarke as the Prime Minister of the United Kingdom
Juan Castano as Miguel Ramos
What is the Plot of Red, White and Royal Blue?
The story of Alex and Henry goes beyond borders, capturing the audience with a compelling premise: their relationship evolves from annoyance to a passionate transatlantic romance, set against the backdrop of international politics and a US election.
The narrative's pace replaces prolonged tension with swift developments, particularly as Alex becomes unexpectedly politically involved, creating a rift between the couple. 
As the focal point shifts from international conflicts to a dramatic incident at a luxurious British royal event, the unfolding chain reaction captures worldwide interest, shedding light on the evolving dynamics between the two protagonists amidst their challenging environment.
Who are the Makers of Red, White and Royal Blue? 
The movie has been directed by Matthew Lopez, also his directorial debut. The screenplay has been co-written by Ted Malawer and Matthew Lopez. The producers for the film are Greg Berlanti and Sarah Schecter. Amazon Studios and Berlanti-Schechter Films are the production companies for this movie.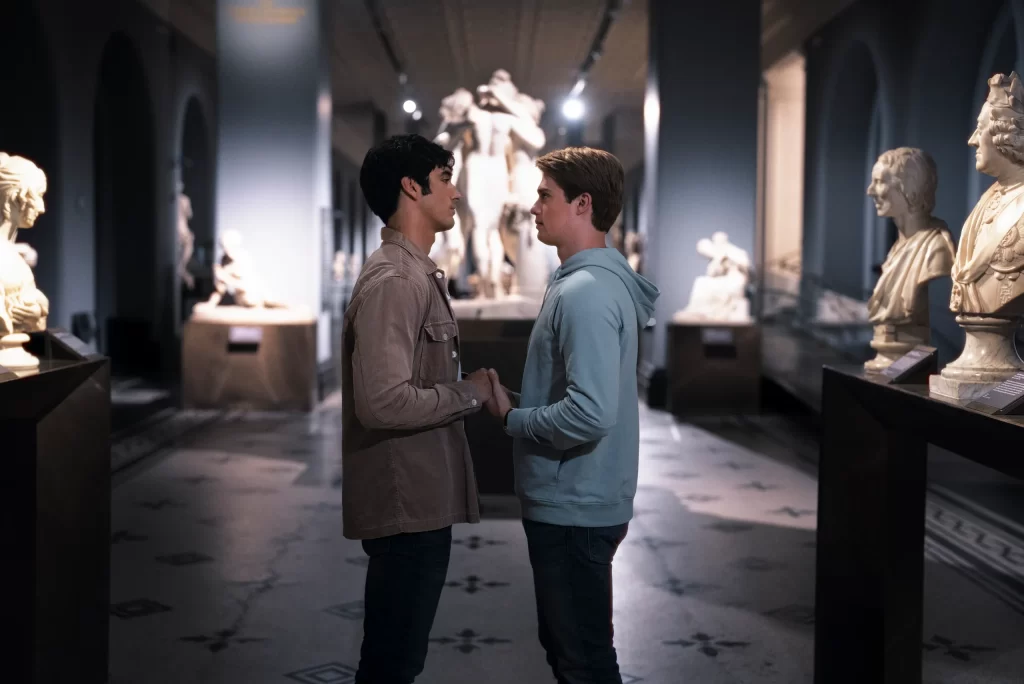 Red, White and Royal Blue Movie Review
With a refreshing cast and fairy tale story that has a – happily ever after ending, the movie Red, White and Royal Blue is a beautiful love story that seamlessly weaves the timeless elements of a classic movie romance with the unique nuances of two highly visible young men endeavoring to maintain the secrecy of their relationship.
Where to Watch Red, White and Royal Blue?
The movie is streaming on Amazon Prime Video.