India's Got Talent (IGT) is back for its tenth season to captivate viewers with the new talent that Indians have to offer. In the previous episode, Judge Shilpa Shetty gave the Huanr Ko Salaam to two groups.
A tribal group danced to show how the tribal people were given a stage to showcase their talent and spread awareness of their presence. As a result, they received unanimous approval and "yes" from the judges. The group acted as the "Sultan" of their respective areas. Continue reading to learn what happens in this episode.  
IGT 2023 "Break the Record" episode
The judges on the most recent episode of IGT 10 were Baadshah and Shilpa Shetty. Swapnil Dangarikar and Glenn Pollard from Guinness World Records join them. This episode is all about attempting to break world records.
Faith in Nation breaks Record
First up was a group named "Faith In Nation," which comprises male and female martial arts professionals from Indonesia. They aim to break the previous record. If the judges agree, the Guinness World Records team challenges them to beat the record for the highest martial arts kick. They have to kick farther than 14 feet. The group sets a new record by kicking at 14 feet 5 inches! 
Then 'Swami and Sons' take the stage to display their amazing yoga prowess. One youngster uses his feet to lift a weight of 2 kg, and another lifts a weight of 50 kg, but the most remarkable feat is when a father lifts a weight of 70 kg while supporting his sons on his hands. This scene made everyone clap for them. 
Record: Handstand and Lifting Weights from Mouth
Then a guy named Vikas performs a handstand while lifting an 80 kg weight with his mouth. Even though it's challenging, he manages to do it. Then an eight-year-old girl, Arshia, breaks her previous record by lifting a hefty object repeatedly.
Another contestant Dharmendra Rajbhar tried to break coconuts with his head. He nearly breaks the record for most coconuts broken using the head, and Badshah promises he'll succeed the next time.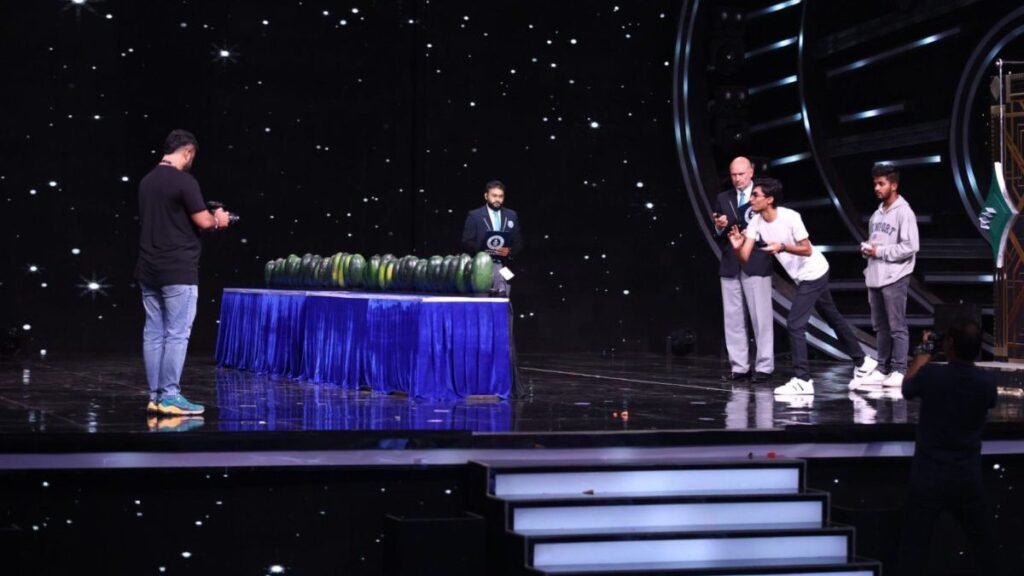 The Card Machine and Bhagwani Devi Dagar
The judges are impressed by Aditya Kodmur's card-throwing abilities. With 18 cards thrown in a minute, he breaks the record for the most cards ever thrown into a watermelon. Finally, everyone is astounded by 95-year-old athlete Bhagwani Devi Dagar. She has a long list of gold medals and hopes to become the oldest shot putter. Her tenacity is admirable.
In short, this episode focused on individuals attempting to set world records by performing amazing feats like super high kicks, big weight lifts, and accurate card throwing. Everyone applauded these incredible achievements!