Introduction:
The Bigg Boss 17 house witnessed a whirlwind of emotions and conflicts in the latest episode, as Ankita Lokhande took center stage to expose Mannara Chopra's game plan. The tension escalated, leading to heated arguments and unexpected alliances among the contestants.
The Day's Turmoil Begins: Dobhal and Chopra Discuss Faruqui
The episode kicked off with Anurag Dobhal and Mannara Chopra engaging in a conversation about Munawar Faruqui. The discussion quickly attracted attention from Tehelka Bhai and Sana Raees Khan, setting the tone for a day filled with confrontations.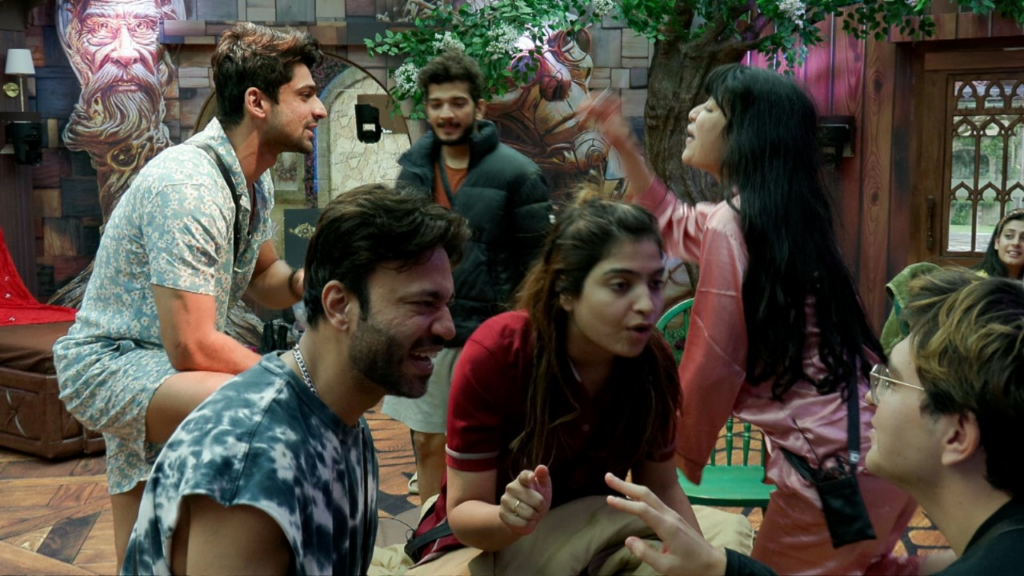 Blossoming Friendships and Clarifications: Abhishek-Khanzaadi, Navid-Sana
Amidst the chaos, alliances formed as Abhishek Kumar and Khanzaadi developed companionship. Simultaneously, Sana Raees Khan clarified misunderstandings with Navid. Mannara Chopra, in her candid style, advised Abhishek Kumar on his grooming choices.
Abhishek's Confession and Vicky's Instigation
Abhishek Kumar opened up to Anurag Dobhal, revealing his sweet nature and the impact of Isha's rejection. Vicky Jain attempted to instigate Navid against Sana Raees Khan, resulting in a fiery exchange between the two.
Couples' Moments and Intense Conversations: Aishwarya-Neil, Sana-Vicky
Aishwarya Sharma and Neil Bhatt showcased their relationship dynamics while washing utensils. Sana Raees Khan and Vicky Jain engaged in a tense conversation, adding another layer of drama to the episode.
Ankita Lokhande vs. Mannara Chopra: A Clash of Titans
The highlight of the episode was the intense face-off between Ankita Lokhande and Mannara Chopra. Ankita accused Mannara of seeking constant attention, labeling her as 'dumbo,' and warned her against interacting with her. Jigna Vora applauded Ankita's bold stance.
Tehelka Bhai and Mashettey Join Forces Against Jurel
Tensions reached a boiling point as Tehelka Bhai engaged in a heated argument with Samarth Jurel. Arun Srikanth Mashettey, a silent observer until then, joined forces with Tehelka Bhai, leading to a dramatic confrontation with Samarth Jurel.
Conclusion:
Bigg Boss 17 continues to be a rollercoaster of emotions, with alliances shifting, secrets revealed, and conflicts escalating. The aftermath of Ankita Lokhande's revelations promises even more drama in the episodes to come. Stay tuned for the next explosive of Bigg Boss 17!