They were banned on the charges of being involved in the ball tampering scam against South Africa which happened last weekend. Fielder Cameron Bancroft was also involved as he was the one who carried out the main plan. He used sticky tapes to cover the ball, this deteriorated the condition of the ball. However, Cameron has been banned only for nine months as a conclusion made by the investigation of Cricket Australia.
On Wednesday, Smith left the team hotel located in Johannesburg after being banned. Rajeev Shukla, the chairman of Indian Premier League (IPL) also announced about the ban of Warner and Smith, and also said they wouldn't be allowed to play the Twenty20 match.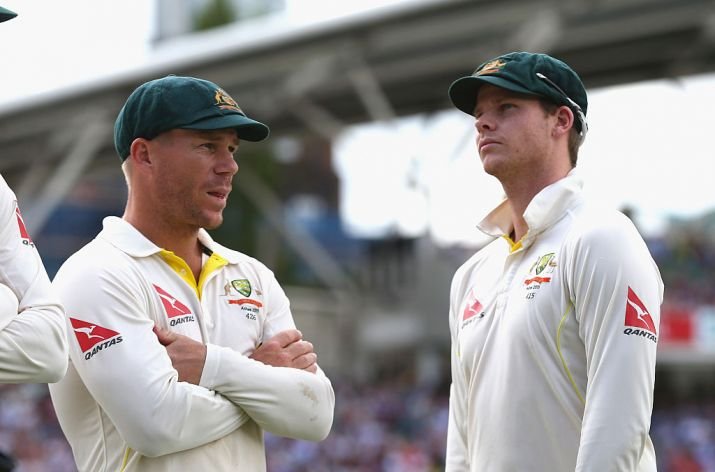 Smith Warner Ban
The Chief executive of Cricket Australia, James Sutherland reported that these three players were sent back to Australia from their South Africa tour after they were caught in the scam of manipulating the condition of ball. Bancroft had used a yellow sticky tape which had dirt stuck on it. The International Cricket Council (ICC) had also banned Smith for one of the Test matches, when he agreed to cheating and being involved in a meeting with the leadership group.
In the press conference of Johannesburg, Sutherland said only Bancroft, Smith and Warner were involved in the scam. He also said that no senior plays of the team were involved or had any knowledge regarding it. Even the coach of the team Darren Lehman was neither involved nor had any knowledge about it.
Smith Warner: Their return
Because of this ban, the trio, Bancroft, warner and Smith would miss out on a number of matches (the list is mentioned below). Smith and Warner are banned for a period of one whole yea whereas Bancroft is banned for nine months only. However, it is expected that they will play the 2019 Cricket World Cup to be played at United Kingdom on 30 May. They may as well play the Ashes series. Bancroft will be available to play for the Sri Lankan series.
Smith Warner Miss IPL
Earlier this week, both Smith and Warner decided to give up their captaincy for the respective IPL teams, Rajasthan Royals and Steve Smith. After Cricket Australia banned them, IPL too on its press conference held on Wednesday said that both the players won't be allowed to play in IPL this year.
At the press conference of Wednesday, the IPL chairman Rajeev Shukla said, "They [Cricket Australia] have banned two players and we are also barring these two players from this year's IPL. We wanted everything in our own hands. First, we waited for ICC's decision, after that Cricket Australia and then we decided on the matter." He further added, "We have decided to bar them from this season. The replacements will be made available to the two teams. We did not take any decision in haste, it was a well thought out decision."
They were one of the highest selling players of the IPL, but due to this misconduct, they have been banned from playing IPL too and their contracts for this year have been cancelled.
The list of games the trio will miss
The trio will miss out on a number of games. The list of games which all three of them would miss are:
Five ODIs and one Twenty20 against England to be held on June 2018.
One test and three ODIs against Zimbabwe on June-July 2018.
Two test matches and three ODIs against Bangladesh in August-September 2018.
Five ODIs and one T20 against Pakistan to be held on October 2018.
Five ODIs and three T20s against South Africa to be held on October-November.
Four tests against India to be held on November 2018 to January 2019.
Only Warner and Smith are banned from playing the below mentioned games:
Two tests and three ODIs against Sri Lanka in January 2019.
TBC against New Zealand on February 2019.
Five ODI and two T20s against India in February 2019.
Three tests against Pakistan in March 2019.