India secured one of its major wins on the third day of its Test Series against West Indies. The game was held at Rajkot and the Indian team dismissed West Indies at 196 runs in the second innings. The innings and 272 run defeat is recorded to be one of the biggest wins in the history. The prominent players who secured 16 wickets overall in the game included Ravindra Jadeja, Kuldeep Yadav and R Ashwin.
India vs West Indies: Few facts from the match
The previous seven innings of West Indies in India are as follows, 134 for 57.2 overs, 234 for 78 overs, 168 for 54.1 overs, 187 for 47 overs, 181 for 48 overs, 182 for 55.2 overs and 196 for 50.5 overs. West Indies were never able to get into a stable position.
As far as runs are concerned, India has secured two major wins this year. The first win for India came back earlier this year when they secured a massive win of 262 against Afghanistan in Bengaluru and the second, India won by an innings and 272 runs in the current test series to take the lead 1-0. This was the second biggest defeat for West Indies whereas their first defeat was against England in 2007 when the latter managed to score 283 runs.
India may have slowed down the progress in South Africa and England. But the previous 3 matches out of 4 were won by team India in the home ground. There was a draw with the team Sri Lanka at Delhi.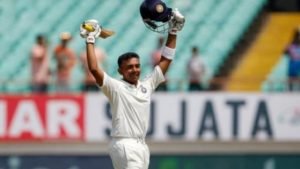 After this match, Virat Kohli gained the title as Captain who scored more test wins than that of Mohammad Azharuddin who had 13 wins. Virat now owns 14 wins and is lagging behind Dhoni who has 21 wins.
Also, Prithvi Shaw has managed to secure the title of youngest debutant to have scored a century at home ground. However, he is the sixth player to obtain a century as a debutant just behind Pravin Amre, Ashwin, RP Singh, Shikhar Dhawan and Rohit Sharma.
Major Test wins by India
India has over the time managed to secure great marginal wins in the Test matches.
By runs
In 2015, India won over South Africa with a margin of 337 runs at Delhi.
In 2016, India got victory over New Zealand with a margin of 321 runs.
Back in 2008, India had managed to defeat the Australian team with a margin of 320 runs
Also, again in 2017, India got over Sri Lanka with a margin of 304 runs.
Back in 1996, India won over South Africa with a margin of 280 runs.
By wickets
India got hold over Australia in 2010 by a margin of 1 wicket.
India again won over Australia by two wickets in 1964 and 2001.
India managed to win over West Indies with three wickets in 1979.
India managed to beat England twice in 1973 and 1971 by four wickets. It had also beaten Zimbabwe in 2002 and Australia in 2003 by the same margin of 4 wickets.