The Bangladesh cricket team showcased every essential characteristic required in the field of cricket on Saturday at Saturday at R Premdasa Staidum. The team displayed zealousness, fearlessness, gumption, celebration and letting ever emotion flow out. The star of the match was the young veteran Mushfiqur Rahim who managed to grab by his side, the record of run-chase against Sri Lanka. Within the last three balls, Bangladesh was already winning the game.
Mushfiqur Rahim: Bangladesh vs SL
Rahim broke out in his dance, as soon as he managed to nudge the stump delivery against Thisara Perera. As soon as Rahim did it, the whole team came running on the field and broke out into their celebration. Though it was a league game, Bangladesh played the chase all along and managed to win the game at the last moment.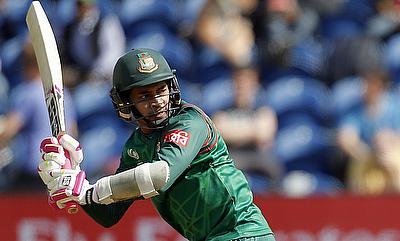 Bangladesh won the toss and Mahmudullah chose to bowl. He believed that the drizzle would make the wicket a bit slow which would give an opportunity to the Bangladesh spinners to do well in the game. Dinesh Chandimal, the captain of Sri Lankan team, did not mind the drizzle and continued to bat with the aim of putting Bangladesh within severe pressure. They were half-way successful but Bangladesh survived the pressure and finally won the game.
Bangladesh, however, this time decided to make changes in their batting line-up. The team sent right handed Liton to bat with Tamim as the openers. Bangladesh managed to score 74 in its first six overs. Liton scored 42 on 19 balls on the penultimate ball of Powerplay. Tamim was soon out of the game at 47 runs bowled out by Thisara Perera. At the beginning, Soumya Sarkar was a bit slow but Mushfiqur managed to score well. Mushfiqur looked out for opportunities and scored 51 in partnership with Soumya. He pulled off 42 out of 22 balls in partnership with skipper Mahmudullah.
Mushfiqur dedicated his win to his son.
Mushfiqur Rahim Innings: Statements by the players
The win was a great deal for the team. The team members came up in order to speak about the win. Tamim recalled the incident of 2016 where due to a mistake of Mushfiqur, the team couldn't win and said, "The guy who made the mistake in Bangalore, he didn't do it today". He added, "I always feel that there's a lot to learn from a good game or a bad game. The amount of criticism Mushfiqur copped on that day, I think he should be praised the same amount now. He handled it very well today. He didn't have time to think. He had to go from ball one. He kept on batting, and finished the job. I think it is probably his best T20 innings."
The win acted as a healing to the match that the players lost in 2016 tri-series against India. Tamim further said that this win gave them the power to struggle and battle more in cricket. He said, "We might not have big power hitters but we can plan and play a Bangladeshi brand of T20 cricket. We can't follow England or West Indies because we have a different kind of players. We don't have someone like MS Dhoni to come at No 7. We don't have a Chris Gayle to take on the bowlers from the first ball. I think we have smart cricketers, who are different. It is not about hitting sixes and fours all the time. In the middle overs we saw that by taking a lot of singles. Boundaries will come."
He further added, "This will definitely give us a lot of confidence. It is one of our best wins but I am a big believer in the fact that we haven't conquered everything by just one win. It has given us confidence of chasing 215 runs. It is not the end, but just the start. We really needed this as a team."
Mushfiqur Rahim: Man of the Match
After being awarded the Man of the Match, Mushfiqur Rahim said, "The way Liton and Tamim set it up for us was outstanding. It was a nice track to bat on. I dedicate this knock to my son; he's just 35 days old. At the end of the day, winning is the most important," he said after winning the Man of the Match award."
Mahmududllah also added, "To be honest, from the beginning we thought we could win. Tamim and Liton gave us a good start. Then Mushy was outstanding. It was amazing to see and good inspiration for us. We knew they might bowl Akila (Dananjaya) in the first or second over, and that's why we sent Liton at the top of the order."
The openers shared a partnership of scoring 74. While Tamim scored 47 out of 29 balls, Liton Das managed to score 43 off 19 balls. Regarding this Tamim said, "We don't have power hitters but we found boundaries and singles whenever it was required. Soumya Sarkar's 24 may not be noticed in the scoreboard, but it was very important for us. He rotated the strike and struck boundaries in the right time. We were desperate to win today's game, especially after what happened in our last series at home. But the format is such that you always have to come up with something new."
Regarding the target, Tamim said, "It was a very big total, 215. I felt that everyone believed that if we have a very good first six overs and then if we batted smartly in the middle overs, anything can happen. This was the talk, and it paid off. Liton and I had a fantastic first six overs, and then the way Mushi, Soumya and Riyad [Mahmudullah] batted in the middle overs, it was brilliant. Our top six batsmen did all the hard work."
He further added, ""This win means a lot for us, especially chasing down 200-plus. We have never done this in the past, and you get confidence from it. And now I hope we can come back from our bad patch of the last few months."
Tamim also gave the statement about the bowling strategy. "When defending any total, you need to get early wickets. That's what we were hoping to do, but were unable to pull it off. As a bowling unit, we didn't get that breakthrough early on, and finally that's what cost us. And in the end it was too good wicket for the batters.You can't say that [it was a mistake to bowl Dananjaya in the powerplays]. Yes, it didn't work out today, but he's our main spinner and one of our main wicket-taking options. That's why we bowl him, especially during the power play. If we could get a couple of wickets then that changes the game, but unfortunately it didn't work out that way."
The team was given a target of 215 by Sri Lanka. Mushfiqur Rahim came in to score when the Bangladeshi team was struggling with 100/2 in the 10th over. Mushfiqur partnered with Soumya Sarkar as well as the captain Mahmudullah and scored 72 off 35 balls for the team. Tamim admitted that this winning strike of Mushfiqur made up for the mistake that he committed in the 2016 tri-series. Mushfiqur was supported by Tamim Iqbal and Liton Das.
The teaming up of Kusal Mendis and Kusal Perera added 85 in 53 balls and took the Sri Lankan team in a strong position.