In Florida and Georgia last week a warning about a winter storm was issued. Later in the week, the Warning was issued that this Storm may cause injury to the people. The eastern coast would face a drastic affect because of the blast of Arctic air. The storm would bring about 6 inches of snow in New Jersey. The winter storm was issued in Tuesday by National weather service. The storm is said to affect Southeast Georgia, 10 corridor in northeast Florida, portions of North and South Carolina coast. There are possibilities of ice and snow.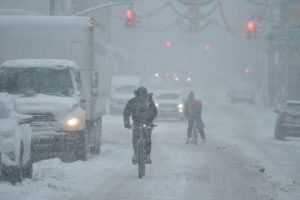 Winter Storm Watch: News reports
As per the reports by NWS Jacksonville, the storm will be an ice freezing rain event. The storm is supposed to hit Georgia and Northeast Florida in Wednesday morning. It will contain mixture of snow and sleet. In its advisory NWS Jacksonville stated, "significant icing possible tonight and Wednesday morning, in Tuesday". It further added "the ice will result in difficult travel conditions, including during the morning commute on Wednesday". To inform about their latest forecast NWS Jacksonville took to Twitter and said, "Our latest forecast snow amount for tomorrow" they treated this on 22nd June 2018.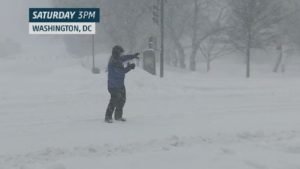 On Tuesday, Nathan deal, governor of Georgia announced a state emergency across 28 countries in the coastal regions. The emergency will remain in effect till 5th January. Deal added "the state has begun preparations for potential winter weather in 28 countries, including sending all Georgia department of transportation the truck and 75 additional plows to impacted areas,". He further added, "The emergency declaration in shows all state resources are available if necessary we will continue monitoring the weather and provide updates as needed. I encourage all Georgians in the potentially impacted areas to stay informed, get prepared and be safe".
Fox news weather center
NWS also issued winter storm watches in North Mid Atlantic and coastal regions of New Jersey. Reportedly there will be 6 inches of snow. Delta Airlines also issued a travel waiver for Wednesday and Thursday because of all forecasted weather in the southeast. A bitter cold wave will become before the storm there will still events that will make freezing. The freezing temperature and Chilly winds is supposed to cover a vast area in USA. It will cover South Texas to Canada, Montana to New England.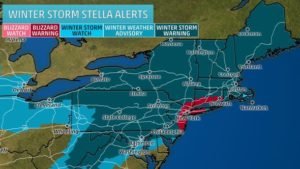 Temperature drop and deaths
9 deaths where claimed because of the temperature. Recently, a Saint Louis police reported that a homeless old man was found in trash can. He was reported death and the cause of his death was said to be freezing cold. On Monday evening the temperature nearly dropped to negative 6 degrees. A 27 year old woman's dead body was also found along the Shore of Lake Winnebago. The cause of her death was also found to be exposure to cold. Two dead bodies were also examined by country medical exam as they also should sign of hypothermia.
Authorities have set up warning Shelters in regions where the temperature dropped to Zero.