Ujda Chaman is the story of Chaman, a young eligible bachelor who can get married anytime to a "sundar, susheel ladki", but there is one thing that is keeping him from doing so, his receding hairline. His receding hairline acts as a major barrier to his love life and prevents any chances of getting married. 
Chaman Kohli battling his way out
Chaman Kohli, portrayed by Sunny Singh is 30, has a stable job as the professor of Hindi at Delhi University and lives with his middle class family at Rajouri Gardens. With such a job status, any girl from the middle class would agree to marry him but no one does som it is all because of his hairline. Chaman is everything that any family would term as a good catch and susheel ladka, but his unfortunate life just does not favour him. 
The complexities of Chaman increases because of his brother Goldie Kohli, played by Gagan Arora, who is pursuing MA and is a 'full-time awara'. Goldie is the exact opposite of Chaman in every aspect of life but yet Goldie has girlfriends while Chaman struggles to find one. All of it is due to his hairline. Ujda Chaman rightly executes its name for it is the complete definition of a bald head. 
In the movie we see Chaman constantly in search of a potential wife. While Chaman is desperately searching for a wife, he is constantly rejected by the girls and their family. Even at college he is strongly humiliated by his students for his appearance. Since Chaman has already attained the age of 30, he wishes to be married by 31. But why such a hurry? One of the astrologers told the Kohli family that if Chaman isn't married by the age of 31, he will have to remain a bachelor for his life. That's the reason why Chaman becomes so obsessed with the idea of getting married. 
We also see another issue in the movie, that of a fat woman. Apsara, played by Manvi Gagroo, Chaman's Tinder date is a young fat woman. While they have a problem hitting it off, each of them is very well aware of their insecurities. 
The Kohli family on the other hand is a typical loud Punjabi family and stereotypical. They are obsessed with the idea of saying the wrong things at the wrong time (that is what is portrayed). 
Ujda Chaman: Where does the problem lie? 
While the movie's story is extremely promising, the content and execution are where the movie fails severely. Had the directors and writers wanted, they could have brought into prominence the problem a little more. As far as Chaman is concerned, he is just obsessed with his baldness and inability to get married. Honestly, Chaman is one of the most boring characters. Had I been asked to wait with someone like Chaman for 15 minutes, I would instantly run away. 
The film could have shown the hypocrisy of Indian society with the entry of Apsara. Although the movie seems to improve with the entry of Manvi Gagroo, it does not make much of a difference and fails immediately. While in reality, Indian men are quick to judge women by their appearances, Chaman does not and instead sticks to the base of inner beauty, which clearly is nowhere to reality.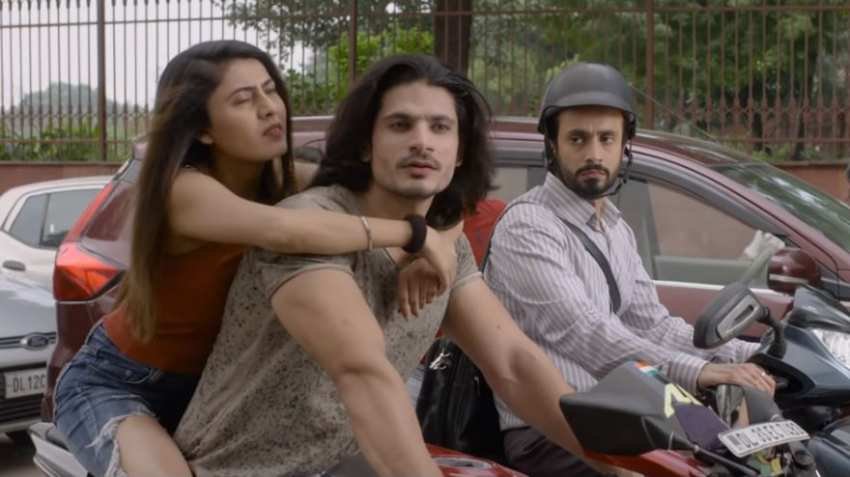 The film is nowhere funny although it was meant to be a comedy film. The tasteless sequence arrives when the insecurity of Chaman heightens with his younger brother finding a young girl and him being unable to find one. The film is a remake of Kannada film and honestly, the script lacks its strength. Had the filmmakers tried, they could have made the movie a little more interesting but there are baseless sequences all around. 
While Gagan Arora delivers a promising performance with his Delhite accent, we are introduced to very limited acting skills. Sunny Singh is the same helpless guy as he was in Pyar ka Punchnama 2. Manvi Gagroo, as usual is brilliant in what she does. 
Ujda Chaman: Cast
Apart from them, the movie also stars Karishma Sharma, Aishwarya Sakhuja, Saurabh Shukla, Grisha Kapoor, Atul Kumar, Sharib Hashmi, and Abhilash Chaudhary. 
Ujda Chaman: Trailer and Look
The first look and trailer of the movie were released on 1st October by Panorama Studios. The movie was released on 1st November due to its controversy with Bala. 
Ujda Chaman is pretty slow. It could have been outstanding but the lack of execution is what failed the movie. The promise that Ujda Chaman makes as "takle ki pehli aur asli film", might be true but then the ground reality is what it lacks. Let's see what Bala has got in store for the audience.