The Slap echoed in everyone's ears whether they were watching the show at home or present at the Oscar 2022. Smith surprised the audience by hitting Chris Rock across the face on Oscar night 2022, after the comedian cut a joke about Jada Pinkett Smith's hair loss.
To be clear, actress Pinkett is Smith's wife who is losing her hair due to alopecia, an autoimmune disorder. Initially, the King Richard star, 53, seemed to smile at Rock's joke, but actress Pinkett rolled her eyes away from Rock. After a moment, the actor walked onto the stage and slapped the actor. Once he returned to his seat, he roared,
"Keep my wife's name out of your mouth".
Later the actor won the Oscar for best actor for the best documentary. The actor's speech while receiving his award for the role of Richard Williams is that he loves his family and will not take any abuse. People will talk crazy about you, and you have to smile. That's okay. The actor also apologizes to several people and the academy too for his behavior but does not mention Rock.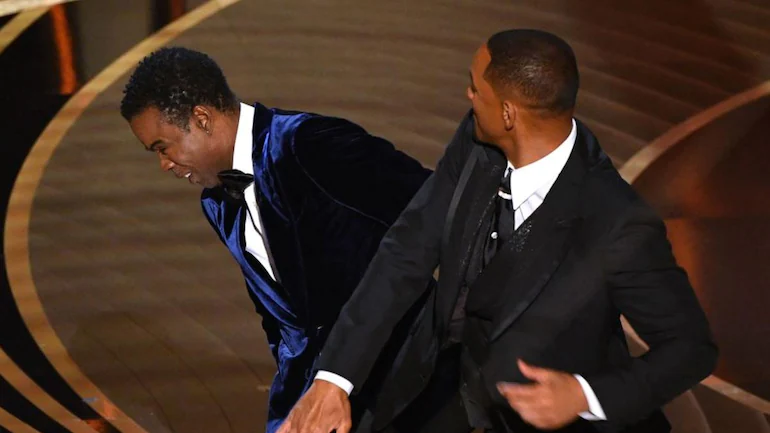 However, On March 28, Smith directly apologized to Chris on Instagram and stated that I was out of line and wrong. I am embarrassed for my actions, and I am not supposed to spread violence in the world of love and kindness.
Oscars 2022: How Stars Reacted?
Stars who attended the show or watched at home had more to say, from Chris's quip to Smith's slap. Let's scroll down to know how celebrities reacted to the drama.
The Batman star captioned a photo via Instagram on 29 March and stated, "Here is a picture of my dress at the show where we are apparently assaulting people on stage now".
He tweeted, "It's not okay to come up on stage and hit a guy only because you didn't like a quip. It's not okay at Comedy Club. Chris Rock is a stand-up comedian, and his work is to entertain us.
The Star Wars actor tweeted on a photo writing that Stand-up comics are very adept at handling hecklers. Violent physical assault…not so much. #UgliestOscarMoment_Ever.
"America may be divided, but it was kind of nice for all of us to come together and say, 'holy crap' at the same time," the Tonight Show Starring Jimmy Fallon host quipped during his monologue one day after the awards show. "Of course, I have to address the big moment that everyone's talking about, and that is Questlove winning the Oscar for best documentary!"
He reacted on The Late Show with Stephen Colbert, it's never okay to punch a comedian. "Will Smith was offended by the joke and wanted to stand up for his wife. Fine. Challenge Chris to a duel, or if you really want to hurt a comedian, don't laugh. That hurts way more than a punch, I promise you."
He joked about the incident by stating that "the 94th academy Awards featured the first live performance of "We Don't Talk About Bruno" from Disney musical Encanto to a live performance of "We Don't Talk About Jada".
She stated, "Hitting somebody is a crime, a crime of assault. While she called Rock's quip "a lame joke, a joke in very poor taste," she believes the slap and the remark were "not equivalent."
The Fresh Prince of Bel-Air actor tweeted, sometimes you have to slap back. Celebrate the win, nothing matters. Chris and Smith both are wrong in their actions.
The whole industry is slamming Smith for his rude behavior. The night that was organized to celebrate each other's victory and a fine night turned into a night full of shame.
Some celebs are demanding Smith's Oscars back, and recently Academy has tweeted that they don't support any violence.
Well! Smith apologized on Instagram to Chris.
Do you think Smith slapping Chris on a Joke was justified or it could be better to handle it as a joke? Comment below.