President of USA, Donald Trump took to deliver his NRA speech which angered America's two closest allies of Britain and France. In his speech he mentioned, that it was the failure of the strict gun laws to prevent the attacks of terrorist in Paris in 2015. His speech also highlighted about the growing knife violence in Britain. This led to angry France and Britain.
France had really been incensed by Trump after he spoke in the gun rights convention on Dallas in Friday. He made his hands pointed like a gun and described about the way in which the victims were shot at Paris.
In his speech he added, "They took their time and gunned them down one by one — boom, come over here, boom, come over here, boom". On reaction to the speech of Trump, a statement was issued by Elysee palace on Saturday, "France expresses its firm disapproval of President Trump's remarks … and calls for the respect of the memory of the victims."
The, then President of France in 2015, Francois Hollande also took to Twitter on Saturday to express his disapproval about the speech of Trump. His tweet read, "Donald Trump's shameful remarks and obscene histrionics say a lot about what he thinks of France and its values. The friendship between our two peoples will not be tainted by disrespect and excessiveness. All my thoughts go to the victims of November 13."
Trump: Armed Parisians could have prevented the attack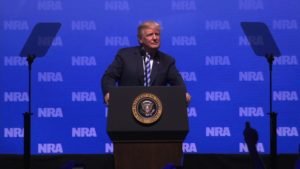 Trump did not stop and continued saying that the scenario could have been different if the Parisians within the cafe were armed. He said, "If one employee or just one patron had a gun, or if one person in this room had been there with a gun, aimed at the opposite direction, the terrorists would have fled or been shot. And it would have been a whole different story".
This angered the French and the Elysee Palace responded to it by saying, "The free flow of arms within society does not constitute a shield against terrorist attacks. It can instead facilitate the planning of this type of attack."
As a response, the French ambassador of United States, Gerard Aurad took to Twitter to tweet, "The statistics of the people killed by guns don't convince France to change its guns laws."
Back in 13 November 2015, a group of 10 men had attacked Paris. In the attack at least 130 people were killed while hundreds of them were wounded. The attackers had assault rifles and they targeted six different locations to attack. ISIS took up the responsibility for the attack.
Trump: Britain has knife problems
Trump compared one of the hospitals of London hospital to 'war zone' in his speech. He went on to add, despite so strict laws regarding guns in the United Kingdom, there is blood of so many victims on the floor.
Trump added, "They don't have guns. They have knives and instead there's blood all over the floors of this hospital". He further added, "They say it's as bad as a military war zone hospital … knives, knives, knives. London hasn't been used to that. They're getting used to that. It's pretty tough."
The officials of Britain did not retaliate. The Mayor of London, Sadiq Khan refused to make any comments regarding the remarks of Trump.
Charlie Falconer, the former secretary of the United Kingdom in 2016 also tweeted on Saturday, "US murder rate over 5 times higher than the UK's. There isn't a person in the whole world (with the possible exception of the President of the US, and he's probably lying) who believes the way to reduce our murder rate is to make it easier to get guns."
However, the remarks and comments of Trump as in whom it was intended to is still not clear. A report by BBC has said that a trauma surgeon of Royal London Hospital, Dr Martin Griffiths, informed the network about his fellow doctors comparing it to an Afghan war zone.
On the middle of all the remarks, Griffith also tweeted on Saturday, "Happy to invite Mr Trump to my (prestigious) hospital to meet with our mayor and police commissioner to discuss our successes in violence reduction in London."
It is reported that British Prime Minister, Theresa May and Trump had a conversation over the phone on Tuesday. As per the reports of White House, discussions regarding the China trade, North Korea, Iran and Upcoming visit of Trump to Britain was made. However, if they discussed about the remarks on NRA is still unclear.