The Voice 2022 is about to end, and there are only two episodes left to find out what happens in the season finale. Who will be the winner?
The semifinals took place on Monday night, and the results were made public on Tuesday. The coaches had to stop watching and encourage their team members because they could not influence who would stay in season 22 of The Voice and who would depart.
Here, we have discussed all the details of the night. So, without further ado, let's check out which performers made it to the finals of the season.
The Voice 2022 Finalists
A few polls and predictions had already made some of the predictions of the potential outcome. Everything suggested that Bodia and Morgan Myles were widely accepted as the competition's favorites. The public vote determined the top four performers, and the other four competed for Instant Save.
Bryce Leatherwood from Team Blake was the first artist to be saved by America's photo, making him the first finalist. Then it was Morgan Myles' (from team Camila) time, and Bodie from Team Blake came in third. Brayden Lape, the final performer from Team Blake in the Top 4, was chosen by American voters.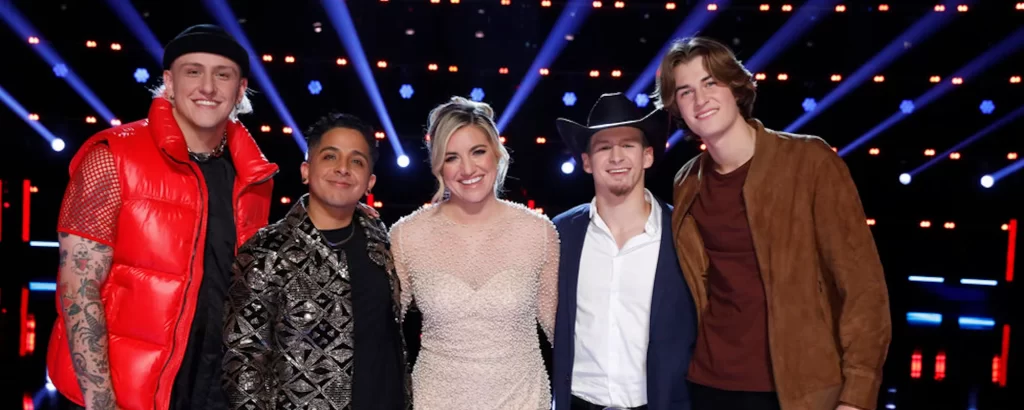 Omar Jose Cardona, Justin Aaron, Parijita Bastola, and Kim Cruse all competed for the fifth and final position, which completes the Top 5. And Omar Jose Cardona, the sixth contestant of the 22nd season, was the one who ultimately won the Instant Save and the hearts of the audience.
Here are the Top 5 once again,
| Serial | Contestant Name | Team |
| --- | --- | --- |
| 1 | Morgan Myles | Camila |
| 2 | Bryce Leatherwood | Blake |
| 3 | Brayden Lape | Blake |
| 4 | Bodie | Blake |
| 5 | Omar Jose Cardona | Legend |
The Voice 2022 Season Finale
The grand finale will take place on Monday, December 12, and the results will be announced on Tuesday night, December 13. It will be live-streamed on NBC, Peacock, and futboTV.