Sumbul Touqeer Khan is an Indian actress who works primarily in Hindi-language television programs and films. Eza Touqueer Khan is the real name of Sumbul Touqeer Khan. Gungun is the pet name for Sumbul.
Fusion Facts
Date of Birth
November 15, 2003
Age (as of 2021)
18
Birthplace
Katni, MP
Hobbies
Dancing and Singing
Shows
DID Lil Masters, Jodha Akbar, Chandragupta Maurya,
Waaris, Ishaaron Ishaaron Mein, Imlie
The hometown of Sumbul Touqeer Khan is Katni, Madhya Pradesh, India. Sumbul's father, Touqeer Hasan Khan, choreographs for television shows. Her younger sister is Saniya Touqeer.
In 2011, Sumbul made her acting debut on television by playing a part in the Chandragupta Maurya series. The following role for Sumbul was Mehtab in the popular television series Jodha Akbar. In 2016, she participated in the TV show Waaris. The same year she appeared in Ishaaron Ishaaron Mein, she starred in the hugely popular Hindi film Article 15. At the same time, she appeared in the Hindi short Ghar Ki Jyoti.
Sumbul Touqeer Khan Family and Childhood
Sumbul was born into a Muslim family in 2003. Sumbul's parents divorced when she was six years old. Her father brought her up. In a media interview, Sumbul said that her choreographer father put a lot of effort into making sure she and her sister followed their passions. As of the reports from 2020, she had finished the 12th standard of her education.
My father always wanted his children to accomplish something significant in life, she said. He choreographs dances for different dance reality shows. After much deliberation, he ultimately decided to pack his bags and relocate us all from Delhi to Mumbai in 2016 so that we could try our luck in the entertainment industry. He did this after observing that my sister and I, two of his children, had a strong interest in dance.
Sumbul Touqeer Khan Affaires and Relationships
In the television series Imlie, the on-screen chemistry between Fahmaan Khan and Sumbul Touqeer is universally adored. Following Gashmeer Mahajani's departure, Fahmaan filled the male lead role admirably.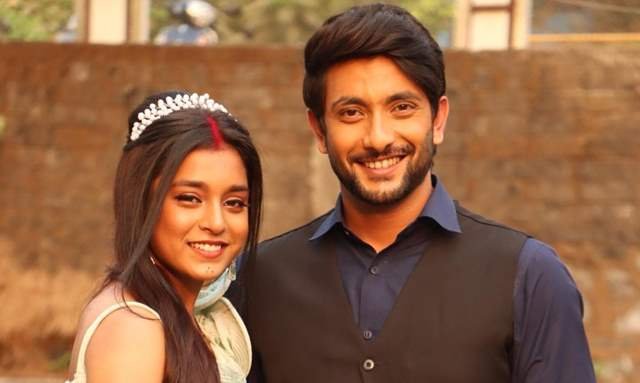 There are frequent rumours that two actors are dating in real life, when they have great chemistry on screen. The actors' most recent Instagram story makes it clear that they are just friends, despite rumours to the contrary.
Sumbul Touqeer Khan Career
As a young artist, Sumbul started her career in the television sector. She portrayed Mehtab, the niece of Akbar, in the &TV channel's Jodha Akbar, which was followed by Waaris. In 2009, she made her television debut in the Chandragupta Maurya series on Sony TV as Shubhada. In 2019, she acted in Bollywood film Article 15. Her titular role in Imlei gave her the fame and popularity she wanted all the time.
The story centers on Imlie, a young, intelligent country girl who is forced to wed a journalist after they seek refuge in a hut during torrential downpours. When she gets to the city of it, she learns that her husband is engaged. Imlie, an 18-year-old woman, goes through the ups and downs of life. She first meets a man by the name of Aditya, who ultimately proves to be unsuitable for her love. Aryan, a businessman, they become close, and their love remained strong even after both of them died.
Sumbul Touqeer made a spectacular debut on Salman Khan's Bigg Boss 16. For the play's premiere, the actress arrived in style. With her performance of the 'Chaka Chak' song from Sara Ali Khan's movie Atrangi Re, Sumbul charms the audience. When Salman asks Sumbul about her anxiety, she replies that she is more concerned about Weekend Ka Vaar than the show. She has watched the episodes numerous times.
Sumbul Touqeer Khan Net Worth
Sumbul promotes several different beauty brands. She has a sizable fan base and is a very popular Social Media Influencer. The price per episode for Sumbul Touqeer Khan is Rs 50,000. Sumbul Touqeer Khan earns 10 lakhs per month in salary. In 2022, Sumbul Touqeer Khan's total net worth is projected to be Rs 7 Crores ($1 million).