A Suicide bombing took place in Afghanistan's capital Kabul that eventually led to the death of 95 people and injury of 158 people. The attackers took the ambulance filled with explosives near the police checkpoint. It was secure zone as there were many government offices and foreign embassies.
The aim was the interior ministry building. While the ambulance was being driven, many passers were also hit by.
According to the Taliban, this was their deadliest attack which they carried out in the past months. Only a week ago, Taliban attacked and killed about 22 people in a luxurious hotel in Kabul.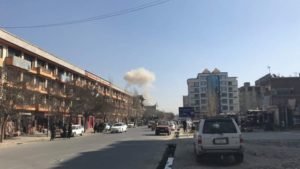 Suicide Bombing: Statements of witness
As per the witnesses of the attack, the area which was attacked had several European Union offices and a hospital. The area also had a shopping zone which is popularly known to be Chicken Street. The place was severely crowded when the bomb exploded. The bomb exploded around 12.15 as per Kabul's local time (8:45 GMT). The incident took place on Saturday. Smoke was seen all around the city.
MP Mirwals Yasini informed BBC that the place appeared like "butchers" after the explosion. He told the news site that he was having lunch with his family when the blast took place. "First of all we thought it was inside our house." He described it as an "inhumane" act.
Another witness, a software engineer described the place as a "graveyard" after the incident took place. He described his experience and said, "I saw a huge flame. The smoke was pungent. It entered my eyes and I was not able to see for some time."
As per the International Red Cross Committee, the use of ambulance was "harrowing".
Nasrat Rahimi, deputy spokesperson of the Interior Ministry said that the attackers got through the checkpoint. The reason he provided was that he was carrying a patient for the hospital. The bomb blasted at the second check point, as reported by Nasrat Rahimi.
Attacks in the past few days
Back in October, around 176 people were killed within a span of one week in bomb attacks. Taliban has caused extreme damage to the security forces of Kabul. This was done because they wanted to re-impose strict versions of Islamic law on people.
Another suicide bombing took place in May. Around 150 people were killed but Taliban denied any connection. Afghan government said that the attack was carried out by Haqqani group.
However, out of all these attacks, the recent suicide bombing of Kabul was the deadliest. Pakistan has denied supporting any of these attacks.
Brief about Taliban
Taliban is a hard-core Islamic movement. It rose to power in Afghanistan in 1996 after the civil war and Soviet-Afghan war. They aim to impose strict Sharia laws on the citizens. These laws included public execution and amputation.
They also aimed at banning women from public life. They said that men should grow beards and women should wear Burkas. Televisions, cinemas and music were banned by Taliban. They helped Al-Qaeda leaders. They fight for blood insurgency. According to UN, "Civilian casualties remained at high levels in 2017."