Lord Rama is making his way back to his home, Ayodhya. The entire nation knows what we're talking of. After years of waiting, the judgement was passed and it was one of the most historic moments ever.
Another historic day is today, when the Ram Mandir Bhoomi Pujan has already begun. People from across the country have been celebrating the historic moment and the celebrations can be well observed via social media. While in a number of places, Puja and Hawan is observed, others can be seen decorating temples or lighting diyas in their houses.
Everyone is having their own moment and celebration of the laying down of the foundation of Ram Mandir.
Return of Prime Minister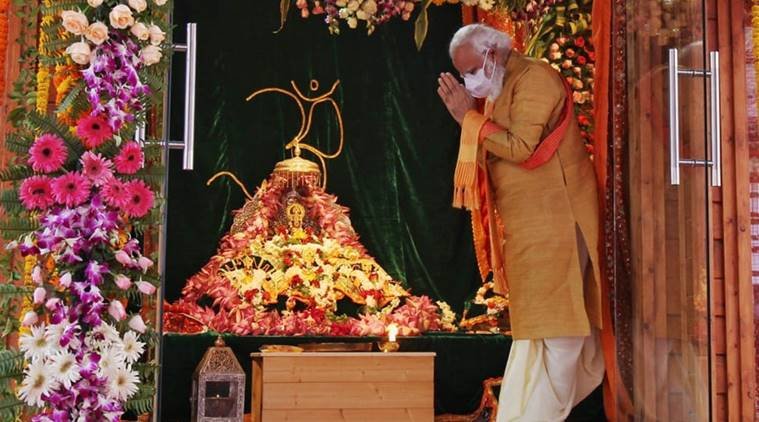 The Prime Minister returned to Ayodhya after 29 years and laid down a silver brick for the building of Ram Mandir. He even addressed the nation and all the spiritual leaders and guests present at the grand event.
In his speech he said, "India is emotional as decades of wait has ended. Crores won't believe that they have seen this day in our lifetime. For years, our Ram Lalla (infant Lord Rama) lived beneath a tent, now he will reside in a grand temple built by Ram bhakts. Today, Ram Janambhoomi has been liberated". He even chanted the holy "Siyavar Ram Chandra ki Jai".
PM Modi began his journey by visiting Ayodhya's famous Hanumangarhi temple dedicated to Lord Hanuman. Next, he proceeded to Ramjanambhoomi for the Bhoomi Pujan ceremony of Ram Temple.
Nine Bricks Have Been Laid down at Construction Site
At the Ram Mandir construction site, nine bricks have been laid down that hold a historical importance. One of the priests, who was a part of the Bhoomi Pujan explained that for the construction process the nine bricks that were laid had been sent by the devotees of Lord Rama in 1989. More such 2,75,000 bricks are there, 100s of which have Jai Shri Ram engraved on it.
Indeed it is one of the most emotional moments for Indians. So, let us all take active part in the celebration and welcome the historic decision.