Screening for 2 hours and 17 minutes, 'Phone Bhoot' was released in theatres on – November 4, 2022. The star cast of this Bollywood horror comedy movie is,
Katrina Kaif
Ishaan Khatter
Siddhant Chaturvedi
Jackie Shroff
Sheeba Chaddha
What is the Plot of Phone Bhoot?
The movie script is about two friends, Major and Gullu, played by Siddhant Chaturvedi and Ishaan Khatter, respectively, who love to watch horror movies and happen to be able to see ghosts. Hence, they want to start a business that captures ghosts.
Ragini, played by Katrina Kaif, is a ghost and is willing to help the friends in their venture. Jackie Shroff plays the role of Atmaram, who is also a capturer of ghosts but a cruel human as he doesn't free these captured ghosts. Major, Gullu, and Ragini try to beat Atmaram at what he does.
Phone Bhoot Movie Review
[ratings]
Katrina is a cute ghost. Even though the movie is full of pot holes, it does seem enjoyable at times. There is nothing nerve-racking in the movie and it can be called a mindless comedy genre. It is illogical and silly but yet there are several fun moments in it. There are several witty and funny dialogues, but poor execution pulls it down.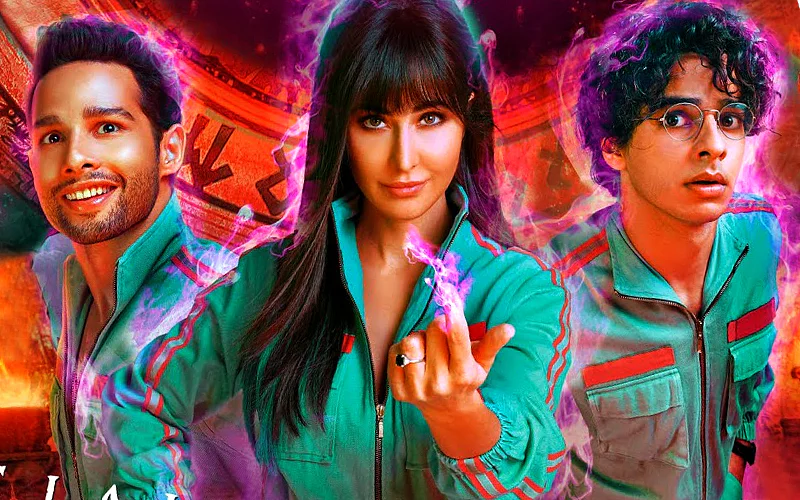 Jackie Shroff doesn't quite do justice to his negative role and doesn't leave any impression on the audience. The friendship between Siddhant and Ishaan is good, but Katrina's arrival adds some spice to the movie.
The background music could have been better – there is hardly any takeaway from the movie. As things seem interesting to the audience, the storyline disrupts and goes off track.
Phone Bhoot Producers and Music
The movie is written by Ravi Shankaran and Jasvinder Sigh Bath. The direction was done under the guidance of Gurmeet Singh, and the producers of the film are Ritesh Sidhwani and Farhan Akhtar. Music for Phone Bhoot has been given by Tanishk Bagchi, Rochak Kohli, Roy and Mikey McCleary, while the cinematography has been taken care of by K U Mohanan. The editor for the movie was Manan Ashwin Mehta.
If you are planning to watch Phone Bhoot, then buy the tickets bearing in mind that it is just a very ordinary film. You can watch it just for some comedy and Katrina Kaif, or you can just wait for it to release on the OTT platform and save on your theatre tickets.