For all the Ocean series lover, the good news is that the Ocean's 8 trailer which was previously called as Ocean's echo release today. The all-starer movie Ocean's 8 has names like Sandra Bullock, Cate Blanchett,  Anne Hathaway, Sarah Paulson Rihanna, and Mindy Kaling to add to the list.
Ocean's 8 Movie Trailer
Warner Bros unveiled the movie trailer Tuesday morning and its has already crossed 1 hundred thousand views on YouTube. The trailer starts with Sandra Bullock (Debbie Ocean) in a prison suit and promising to live a "simple life", "hold on a job" and "pay her bills". 🙂 The story revolves around a helm of a heist crew anchored by Blanchett who plan to target Anne Hathaway's $150 M necklace.
Ocean's 8 Release Date
11 years after the last Ocean's movie, the Ocean's 8 movie is all set to release in June 2018 and is expected to make huge money considering the attraction the last set has given. The first poster of the movie was shared by Paulson last thursday which highlights the tag line "Every Con has its Pros".
Director: Gary Ross
Music director: Nicholas Britell
Producers: George Clooney, Steven Soderbergh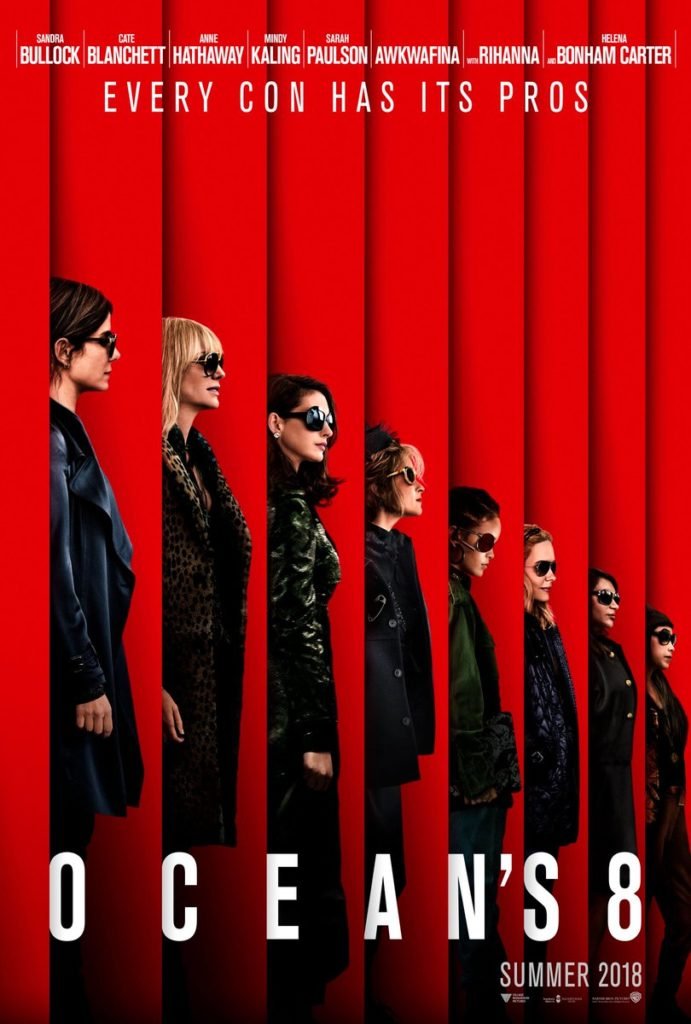 Ocean's 8 Cast
| | |
| --- | --- |
| Movie Cast | Starring As |
| Sandra Bullock | Debbie Ocean |
| Cate Blanchett | Lou |
| Helena Bonham Carter | Rose |
| Anne Hathaway | Daphne Kluger |
| Rihanna | Nine Ball |
| Sarah Paulson | Tammy |
| Mindy Kaling | Amita |
| Awkwafina | Constance |
| Damian Lewis | Main Villian |
| Richard Armitage | Claude Becker |
| James Corden | |