A nationwide emergency was imposed in Sri Lanka back in 6th March, 2018 but it has now been lifted in order to suppress the Buddhist-Muslim clash. The communal tension in the island of the nation keeps rising which needs to be controlled. The President, Maithripala Sirisena had lifted the emergency. He further added that security conditions ever since Saturday had been improved around the central district of Kandy, which is located at a distance of 115 kilometres northeast from the capital Colombo.
He posted on Twitter, "Returned from a very successful tour of Japan, that brings many short and long terms benefits to us. Upon assessing the public safety situation, I instructed to revoke the State of Emergency from midnight yesterday".
Emergency in Sri Lanka: The Emergency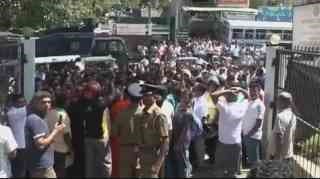 In order to suppress the rising communal tensions, Sirisena had declared the emergency. During this emergency time period, three killed were killed while hundreds of shops were vandalized. The Tamil separatist war ended on 2009, which was carried on for a decade and it is since then, that a state emergency was declared in the country.
When a Sinhalese man attacked by a Muslim mob, died in the hospital, the communal tensions started to rise in the country. As a result, the Muslim houses, shops were attacked by the people involved in the riot. When the police failed to cease the growing violence, the President had to declare the state emergency. This gave the concerned authorities, the power of arresting the suspects involved in the riot.
Ever since March 6th, about 300 people were arrested.
Emergency in Sri Lanka: The Communal Tension
In this Buddhist country, the communal tensions has been heightening over the course of years. The 21 million population consists of Sinhalese Buddhist comprising of 75% of the population while the 10% rets up for Muslims. Since a long time, the Muslims are accused on hurting the religious sentiments of Buddhists. Buddhists also made the accusation of Muslims trying to make Sinhalese Buddhists convert to Islam.
What further enraged the Buddhists were the influx of Rohingya Muslims from the nearby Myanmar. This made the Buddhists more vexed over the Muslims of Sri Lanka.
Emergency in Sri Lanka: The statement of officials
Alan Keenan, the analyst of Sri Lanka at the International Crisis Group in an interview said to DW, "Criticisms of Muslims as gaining greater economic power through unfair means have particular resonance with Sinhalese facing economic difficulties, as the government struggles to control the cost of living and provide sustainable livelihoods, especially in rural areas and small towns".
Keenan believes that Colombo has "done very little to address either the underlying mistrust or misunderstandings between the two communities, or to rein in the small number of Buddhists who promote or use violence," when an apology was issued by the Parliament of South Asian countries regarding the riots, to Muslims.
He further added, "While the state of emergency appears to have helped reduce the violence, attacks have continued. The government needs to adopt a three-pronged strategy, beginning with enforcing the law, including against hate speech, and arresting and prosecuting offenders."