The most entertaining show has begun, Kangana Ranaut's Lock Upp. After all the discussions and debates in media, the show can be seen on MX Player and ALT Balaji. The show started with Kangana Ranaut and some leading media personnel on the stage who talked about the controversies that the contestants entering were involved in.
Kangana has a quirky way of introducing the contestants in the show with a clap and snap of fingers and Munawar Faruqui is the first to enter the Lock Upp. Swami Chakrapani Maharaj who is an Indian political activist is the second to enter the show, he has been accused of creating a lot of controversies. The one who will be accompanying Swami Chakrapani is Saisha Shinde, the fashion designer who will stay in lock upp for 10 weeks.
Next on stage, Poonam Pandey who came on the show with a fiery performance is accused of creating adult movies and promoting them to which she replied that, she makes Erotica not adult movies. According to Poonam, Erotica is an art just like Kama Sutra.
The Next Batch of Contestants
After Poonam, Kangana called in Babita Phogat, who was accused of not using the mind in the utmost way while in the Politics and was sentenced for 10 weeks punishment. The next to enter the Lock Upp was Sara Khan again sentenced for 10 weeks like other contestants. Shivam Sharma came in next as a surprising entry and was accused of being self obsessed. The next to enter was Siddharth Sharma who was accused of spoiling his own career even after being multi-talented.
Anjali Arora, an influencer was accused of being not known of what she actually does and why she has a lot of followers, even more than Kangana (she herself said ;P ). An interesting competition was done to choose one from Shivam and Siddharth who will be allowed to enter the Lock Upp but eventually both were allowed.
Nisha Rawal was the second contestant after Poonam Pandey who entered the show with a dance performance. She was accused of being very dramatic and people do not know the real Nisha Rawal. The next who entered the show were Payal Rohatgi and Tehseen Poonawalla. Payal was accused of creating controversies on almost every small incident, like what happened on the stage itself with Kangana.
Next to enter the show was Kaaranvir Bohra who is accused of being an experienced reality show loser which didn't sound good to us but that's how it was presented.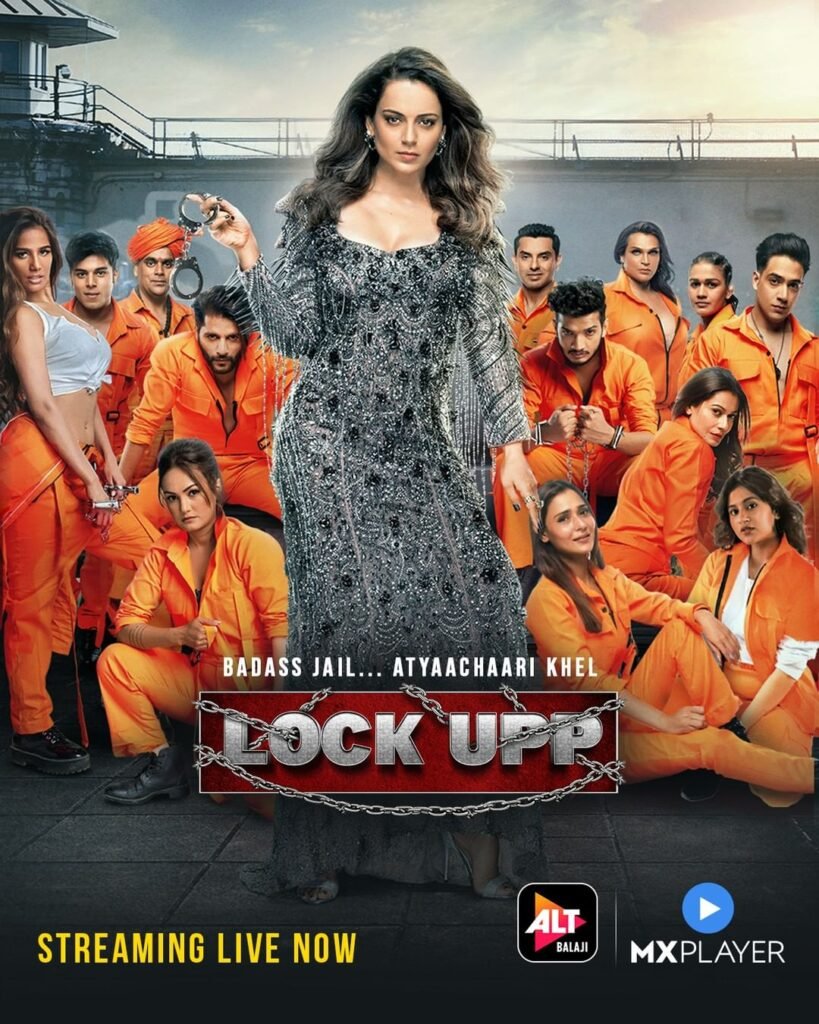 List of all Confirmed Contestants in Lock Upp
Munawar Faruqui
Swami Chakrapani Maharaj
Saisha Shinde
Poonam Pandey
Babita Phogat
Sara Khan
Shivam Sharma
Siddharth Sharma
Anjali Arora
Nisha Rawal
Payal Rohatgi
Tehseen Poonawalla
Kaaranvir Bohra
Post announcing the above 13 contestants, batches were created and given red and blue dresses. The first of the lot, to be the jailer is Raveena Tandon. The Jailer will change through the show and bring some badass rules.