KL Rahul and Hardik Pandya are popularly known for their massive shots in cricket and are one of the most adored and loved cricketers. No doubt, their chances on the field have grabbed our attention. But what is disappointing is their words off the ground. The Pandya and Rahul we saw on the grounds are just entirely opposite humans off the field. Their words aren't only sexist, but the way they portray them is incredibly misogynistic. Well, that is disappointing. But how do we know about it?

Recently, Pandya and Rahul made their appearance in the famous chat show, Koffee with Karan hosted by Karan Johar. KL Rahul was careful in choosing his words, but Pandya seemed to have crossed the limits. Pandya's comment did not really go down well with the people. He went on to explain how he hooked up with multiple women and how his parents knew about it all. Due to such misogynistic and sexist comments, Pandya did face a significant loss in his career. Not only Pandya, but KL Rahul also had to suffer because of this.

Both the players were terminated from their India-Australia ODI series and were asked to come back. Many cricketers came together to disregard and criticise the comments of the duo but there were others too who supported them. Sunil Gavaskar and Harbhajan Singh condemned them for their controversial remarks but at the same time, Sourav Ganguly did support him.
Koffee with Karan: Their TV show appearance
While on Koffee with Karan, Rahul and Pandya discussed a lot of their personal choices and opened up about their lives. This gave the fans a look into their life. But, that did not really go well with the audience. One comment that really caught everyone's thought was 'Aaj main karke aaya hai'.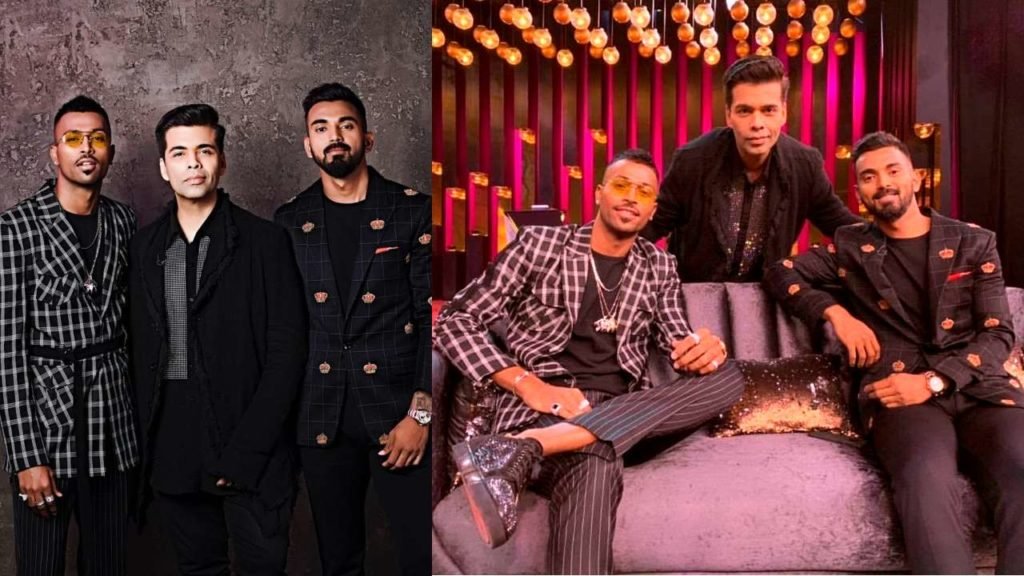 While boasting of how Pandya lost his virginity, he said, "When I lost my virginity, I came home and said, 'Main karke aya hai aaj (I had sex today)'. At a party my parents asked me 'acha tera wala (women) kaun sa hai [who is your interest here?] so I said yeh, yeh, yeh (pointing out women)' and they were like 'waah proud of you beta'." He went on to add, "I like to watch and observe how they (women) move. I'm little from the black side so I need to see how they move."

When Karan Johar asked who goes on a date if both of them like the same person, Rahul said it all depends on the woman. However, Pandya got a little carried away and said, "Nahi nahi aisa kuch nahi hai, talent pe hota hai. Jisko mila would leke jao. It is on talent."

Post that they talked of the qualities of the Indian Captain, Virat Kohli and how he's the one with all the naughty yet loveable attitude. Rahul seemed to be very careful with his choice of words but Pandya was a little too excited to have been careful. He went on to boast about things and that did not go well with the audience.

[addthis tool="addthis_relatedposts_inline"]
Koffee with Karan: The Condemnation
After the TV show was aired, it suffered a severe backlash from the people owing to such comments by Pandya. The social media was under complete rage and the anger was quite evident. As known, memes are one great thing in today's generation, several memes started coming up for an apology. The audience wasn't quite happy with Pandya's comment. Although Rahul was careful, people condemned him for being quiet throughout. Hardik did land himself in a great problem because of what he said. Social media saw two sides, one in support of Pandya, other against him. However, everyone did agree on the fact that Pandya's comments were sexist, harsh and misogynistic.

Some people were of the view that he is a great player and how he reacts or behaves in his personal life shouldn't be considered to be parallel to his professional life. While on the other side, some said that for a public figure like him who represents India on an international basis, he should be careful with his choice of words. Well, both the sides seem to be pretty fair and logical. Pandya's comment became a matter of troll and the memes were all against him.

The YouTube community too seemed to be disappointed in the people. Priya Malik, one of the slam poets and actress took to YouTube through a poem termed, "Mr Player" to talk of how Hardik should have known about his boundaries that he had forgotten in the hour-long show.

Koffee with Karan: Hardik's Apology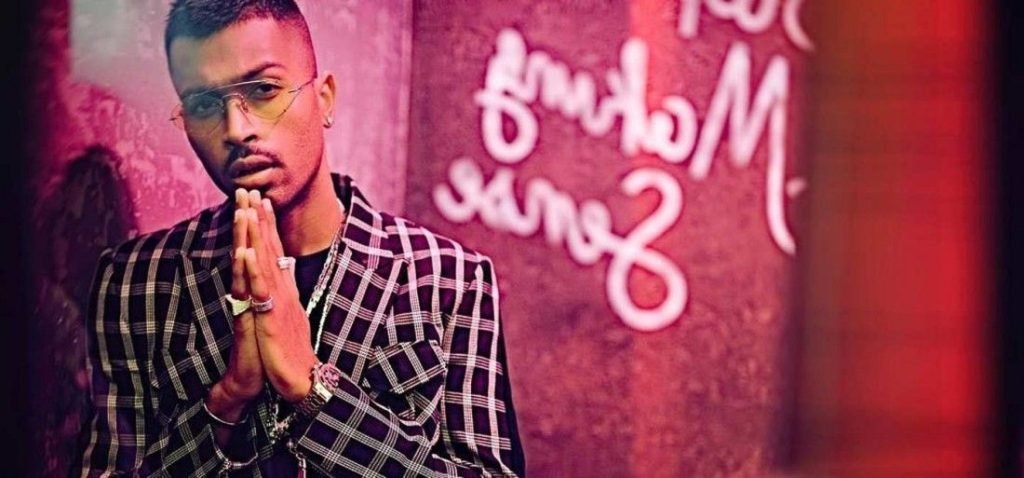 Immediately after such negative comments from the audience, Hardik realised his mistake. He used Twitter as a medium to issue his sincere apology. In the Twitter post, Pandya wrote, "After reflecting on my comments on Koffee with Karan, I would like to apologise to everyone concerned who I may have hurt in any way. Honestly, I got a bit carried away with the nature of the show. In no way did I mean to disrespect or hurt anyone's sentiments. Respect."

Koffee with Karan: Reaction of BCCI
The personal life comments of Hardik did have a high negative impact on his professional career. He was penalised for his comments. One of the officials added, "What Hardik has spoken at the show speaks poorly of the BCCI and Indian cricket. An apology is not enough and strong action should be taken so that the right example can be set for the younger generation."

Post that, the Administrator Committee had given Pandya and Rahul a time of 24 hours to explain about their sexist remarks regarding the women. CoA chief, Vinod Rai in one of the interviews said, "We have sent show cause notice to Hardik Pandya and KL Rahul for their comments. They have been given 24 hours to give an explanation."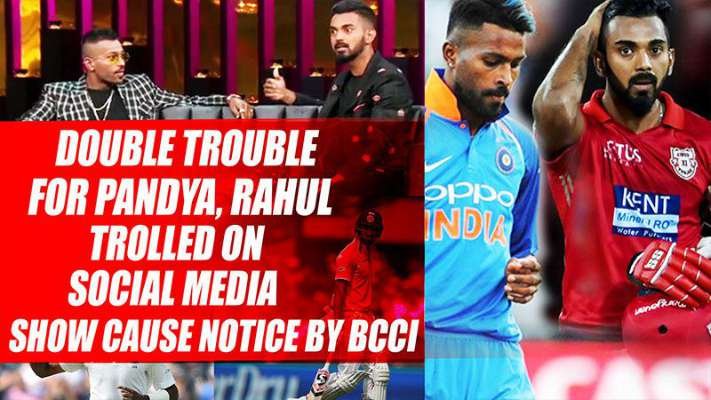 Nonetheless, both Pandya and Rahul were terminated from appearing for the India-Australia ODI series for their crass and cringe comments. Due to such remarks, all the players have been asked not to attend the non-cricket shows. All the Indian cricketers cannot appear for such shows as it may harm the reputation of cricket and players.

Hardik did issue an apology explaining how regretful he has been for making such comments without even realising that it could have been offensive and disrespectful to certain people. In his response Pandya assured that no such thing would happen in the future and wrote, "I would like to assure you that there was no malice or any sort of ill-intent on my part to offend anyone or portray any section of the society in a bad light. I made these statements in the flow of the show and had not comprehended the extent to which my statements would be found offensive."

The Replacement
Pandya and Rahul were asked to return from their ODI tour to Australia. Eventually they were replaced by the new faces who proved their worth in the previous few matches, Vijay Shankar and Shubham Gull. Shankar made his T20 debut in March 2018 and was very much appreciated for his game. But it is Gill who is taking up such a huge responsibility for the first time. They will be touring with Indian team from January 23 to accompany in the five ODI and three T20 matches.

Reaction of Cricketers
The other players from the cricket industry did not like the comments of Pandya. They strongly condemned such comments and reacted totally against it. Cricketers such as Gavaskar, Harbhajan Singh have strongly condemned the comments. Harbhajan said that their such comments would make the audience think that all the other cricketers are same.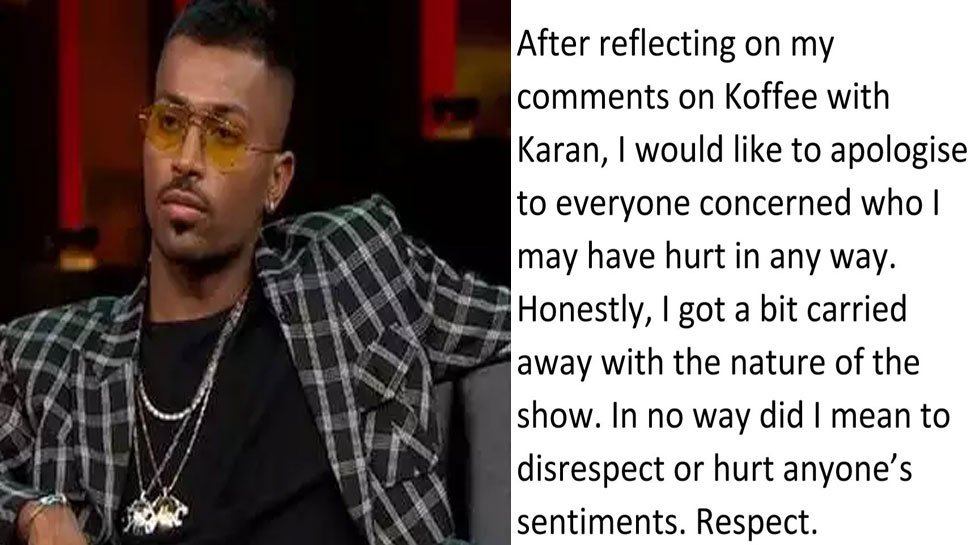 He added, "He [Hardik] tried to look cool on TV by putting other players also on the same level. People might think that Harbhajan Singh is one of them, Anil Kumble is also one of them and Sachin Tendulkar is also one of them. We are not like them." He further added how people consider the cricketers, "This is wrong. They need to understand they play cricket and people treat them as gods. They can't go out and say such things while pretending to be cool. You're making a fool out of yourself. This definitely was going to happen."

On the same way, Gavaskar appreciated the move of BCCI to penalise the players. He said, "If you do things that bring your team and the game into disrepute, then you can't be part of the team. Of course, the inquiry will then establish what further action, if at all needed, has to be taken." He further appreciated the move taken by BCCI to bring back the players, "They have been asked to come back and I believe it's the correct step because you can't have suspended players travelling with the team or staying in the same room. They have got to be kept away. Otherwise what's the point of the suspension? If they are going to enjoy the perks of being with the team."

Talking about the incident, Virat Kohli said, "We as the Indian cricket team and responsible cricketers don't align with those views, those were individual opinions. We are still waiting for a decision to be made."

While so many people were against Pandya, legendary cricketer, Sourav Ganguly came up to defend the young players and said even though he did not watch the episode, he thinks that everyone should be given a chance. "I am sure whoever has done it will realise that and come out as a better person. We are all human beings. We are not machines that everything you put in comes out perfect. You have just got to live life and let others live. They are responsible people. They may be role models but they are under pressure all the time to perform." He further added, "Certain things happen in life and like everyone, we should move on and make sure that it doesn't happen again."

Another person to have supported the young players is ex-cricketer Sreesanth. In an interview at Panaji, Sreesanth said, "What happened was wrong. They (Pandya and Rahul) said some wrong things. But there are others who have made bigger mistakes than these but are still playing. They are in different fields and not only in cricket."
Pandya's father comes in to defend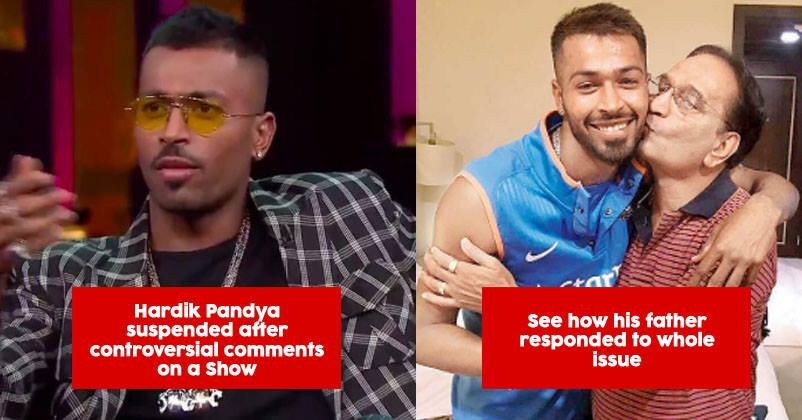 No father can accept when their children go through such hard times. Pandya's father came in support of his son and said that he should be forgiven for his comments. "He was only looking to entertain the audience. So, it [his comments] should not be viewed very seriously or negatively. He is an innocent boy with a very fun-loving nature."

Pandya loses Sponsorship
Pandya also lost his Gillette sponsorship owing to such comments. This was yet another blow to Pandya after so many unfortunate events in his career. Many memes came up, one of them copied Pandya's most condemned comment (Aj main karke aya hai). The meme said, "aaj main karke aya hai, apna career barbaad"

Fans urge to bring back them both
World Cup is around the corner and both, KL Rahul and Pandya are great players. Barring them from cricket, may have a significant negative impact on the game. Although people are disappointed by their comments, several fans have come up in support urging that these two should be brought back in the game. It is because of their personal life and professional life are two different aspects which should not be intermingled.

Rahul and Pandya did issue their sincere apologies to BCCI. The senior official of BCCI said, "Yes, Hardik and Rahul have submitted their reply to the fresh show-cause notices that were served to them. They have tendered an unconditional apology. The CoA chief has instructed the CEO to conduct an inquiry as per clause 41 (c) of the new BCCI constitution."

Many came up saying that his apologies aren't enough because his words do not become parallel to his actions. The decision is still pending because SC has transferred the hearing to next week and Pandya and KL Rahul need to wait for more for the decision.