Well, there is a news that may excite you all, especially Kapil Sharma's fans. The actor-comedian is all set to make a comeback to the small screen on March and the teaser for the promo was shot in February 5th. As per the confirmed sources, Kapil will be making his comeback on Sony Channel. He shot the teaser for his show and announced the same news of his comeback in the channel. It is expected that the show will begin by the end of March.
Absence of Sunil
With the comeback of Kapil people are really expecting Sunil Grover's comeback too. But no, he isn't coming back on the show. It is disappointing. Sunil Grover opted out of The Kapil Sharma Show after a fight between him and Kapil. It was pretty ugly. Although the format and title of the new show aren't finalized yet. After Kapil's ugly fight with Sunil, many artists too opted out of the show as a protest. This incident not only affected the TRP of the show but also led to the deteriorating health of Kapil. He suffered from a lot of health problems and also was in rehab for some time.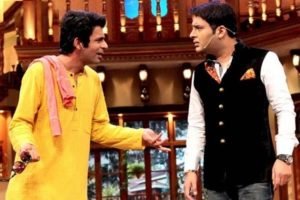 A source however told Indian Express about Sunil not being a part of the show. They said, "No, Sunil is not coming back. The remaining cast of The Kapil Sharma Show will be part of the series while there can be some new addition also. The title of the show has also not being finalized. But Kapil and the makers are working hard to make this a bigger and better project."
Comeback in same channel
After a span of six months of The Kapil Sharma Show, the channel on which it was aired gave a short break to Kapil. They did so in order to determine that he could recover from the breakdown and also improve in health.
During that time as per an official spokesperson of the channel, Kapil was in ill health and that they "mutually agreed to take a short break". He also said that they would soon start working once Kapil recovers from the bad health. The promise proved to be true and Kapil already is making his comeback in the same channel.
Bad luck in 2017
Since 2017, Kapil has only witnessed a downfall in his career due after the bad mid-air fight with Sunil Grover. He also suffered from health conditions due to which his show suffered heavily. Ths show was finally off aired on August. Not only this, his film Firangi also didn't do too well in the box office and failed to impress a lot of people.
After so many ill things happening at once, Kapil took to excessive drinking and had to seek help from rehab centres. Because of all this, his marriage with his long-time girlfriend Bhavneet Chatharth aka Ginny has been pushed back. Nevertheless, the couple is all set to tie the knot this year.
All of us are really looking forward to Kapil's comeback. Hope so, it does well.