Indonesia is one of the most beautiful countries. However, deadly natural calamities have been acquiring Indonesia since the past month. Earlier this month we got to know about Indonesia being hit by Earthquake. Nonetheless, the news has again sprung up for Indonesia which has recently been hit by Earthquake and Tsunami. The Indonesia earthquake was about 7.5 magnitude. The tsunami struck the island of Sulawesi claiming the life of hundreds of people. Till now, about 800 hundred people have lost their life. Officials however report that the number of the dead people are increasing day by day. Owing to such heavy earthquake and tsunami, an emergency of 14 days have been declared in Sulawesi island.
Indonesia Earthquake and Tsunami
The earthquake which struck the Donggala island claimed the life of about 1200 people and about ten thousand people have been displaced. As per the reports, most of the people have died belonged to the city of Palu. Other areas which have been hit by the tsunami and earthquake are under huge damage and the death toll has only been increase.
As per the UN Office of Disaster Risk Reduction, more than 1.6 million were affected due to the deadly earthquake and tsunami. The United States Geological Survey has said that the country is highly prone to aftershocks. The Sumba island a few days ago was hit by 6.0 strong earthquake on Monday. Sumba is located a hundred miles away from Sulawesi.
Indonesia Earthquake: Action of the government
Chief Security Minister Wiranto told the press that due to the earthquake and tsunami about 60000 Indonesian people were 'displaced'. The National Disaster Mitigation Agency, BNPB have been trying their best to offer food and shelter to the displaced people. The relief coordination centers would soon be set up in Parigi Mouton Donggala, Palu and Sigi. To ensure relief funds in the state of emergency, an amount of $37.6 million has been set aside.
The spokesperson of BNBP, Sutopo Purwo Nugroho talking of the emergency said, "it will be easier for both the regional and national government to mobilize personnel, logistics, equipment as well as money to fulfill the needs of the affected area and people."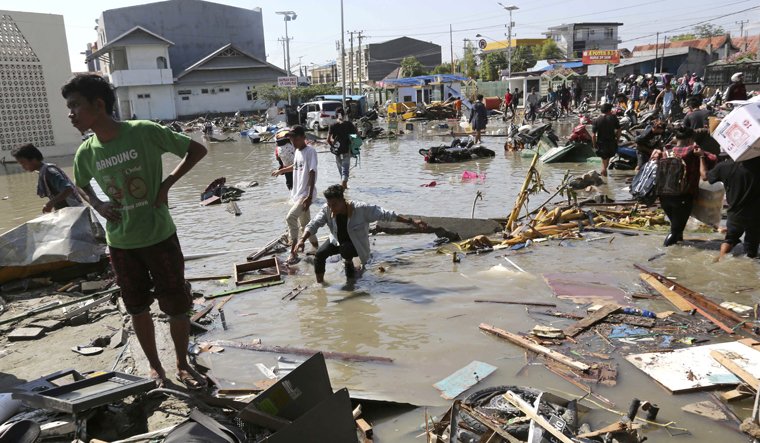 The airport of Indonesia is unusable which is why it is taking a lot of time for any help to arrive. Palu has suffered immense damage and gas stations too have been harmed. However, the people who survived in Palu are waiting for help to arrive.
Indonesia Earthquake: The rising number of the deaths
Many people have died and thus, the military officials had to arrange for a mass burial site. Jakarta Post stated, "Most of the deaths resulted from people being buried under rubble or being struck by the tsunami."
Petobo near Palu has become a hub of several dead people being buried. Rescue teams are still in their operation for digging out the people. The rescue workers have not been able to reach Donggala, the place near the epicenter.
Jan Gelfand, the head of International Federation of Red Cross and Red Crescent Societies Country Cluster Support in one of the statements said, "We have heard nothing from Donggala and this is extremely worrying." She further added, 'There are more than 300,000 people living there. This is already a tragedy, but it could get much worse."