All of us owe our success to our teachers, be it a person or an experience. As the famous saying goes, a teacher is a friend, philosopher and guide, rightly, these teachers have stood up for us whenever required. They have always shaped our future by molding our present.
Hichki is a movie about such a teacher, who is compassionate and always ready to take a stand for her student. Directed by Siddhart P Malhotra, Hichki brilliantly revolves around the theme of class struggle and a student-teacher relationship. Rani Mukherjee has impressed the audience by her outstanding performance.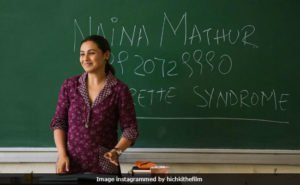 Story of Hichki
Hichki is the story of a compassionate teacher, who believes in imparting knowledge among the students. Rani Mukherjee plays the role of Naina Mathur. She suffers from Tourette syndrome, a speech defect due to which she makes awkward sound, more like a suppressed scream. She suffers from it, whenever she gets nervous. Years back, a teacher took a stand for her and from then, she decided to take up the job of teaching and encourage students who feel left behind. She felt if she would go out in the world, she would make a significant change.
She makes number of attempts, but she gets rejected. But finally, after five years, she lands in a job at one of the most prestigious schools of Mumbai. She is given the responsibility to teach students, belong from the bad neighbourhood and feel different from the students of the upper class. She takes up the path of bringing them into the right path. The movie is about her struggle in life, who is continuously at war with family and others.
Hichki Movie Review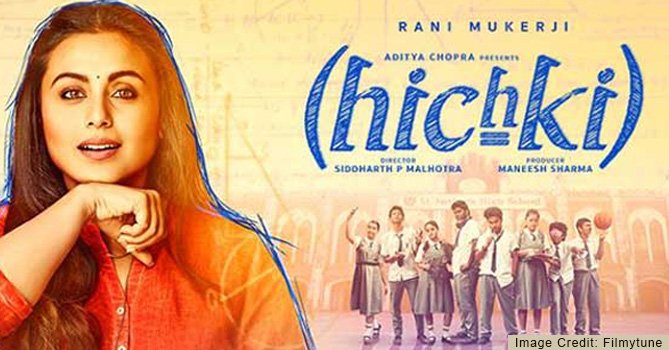 The movie is high in melodrama, which doesn't fail to make the audience cry at instances. The movie is high in background score, with slow motion and the interest of the people move away from crowd. Hichki also provides a tinge of struggle between the upper class and lower class. The movie also contains some bad characters, who try to bring down the spark of Rani Mukherjee's character. With every challenge, she gets bigger and stronger.
Hichki follows the same directions as that of Mahesh Bhat's Sir and Sanjay Leela Bhansali's Black. The movie deals with the basic issues. Hichki is a movie that highlightens emotions and makes you cry a number of times.
In a span of 118 minutes, the movie doesn't bore you. Rani Mukherjee's energy in the movie is exceptionally good, she keeps her character focused in the central theme. She is portrayed as a confident teacher, who is well aware of her problems and tackles the issues very efficiently. Her co-stars have been very supportive. Neeraj Kabi has been a constant support for her throughout the movie.
Hichki's fight between the teacher, who aims at improving the condition and students not trying to improve, is very well portrayed. Ultimately, it is the teacher who wins and takes over the situation. She finally manages to get the students on the right track. The movie is a complete family entertainer.