Country's capital, New Delhi welcomed New Year 2018 with heavy fog. This is expected to be continued. The thick blanket of fog engulfed Delhi and its suburbs within itself on New Year's Day. Due to this thick layer of fog, the visibility in national capital almost dropped to zero.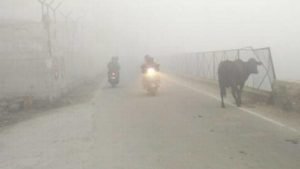 This led to a huge chaos in Delhi with delay in departure and arrivals of trains. Aeroplanes were also delayed from taking off because of the thick fog that wrapped up Delhi. The temperature was recorded at 5.7 degree and people were going crazy because of this chaos.
The level of temperature dropped to 5.7 degree Celsius. Although it is commendable that the Delhi people were brave enough withstand this cold temperature. They rowed up in front of airports and railway stations waiting for their delayed flights.
The stations and terminals of Indira Gandhi International Airport were packed with passengers who drove early in the morning to catch their flights. Sadly, the all the flights and trains were delayed. The trains which were supposed to arrive, were stopped mid-way to prevent any accidents due to heavy fog and were late in arriving the stations.
Delhi fog forecast: Weather reports
As per the statement of Mahesh Palawat, vice-president of Skymet Weather said, "Delhi woke up to worst fog of the season. Most of the northwesters plains are in its grip. Day temperature will fall significantly." He also went to further to add that 5.7 degree Celsius was the lowest recorded minimum temperature of the season.
Delayed flights and trains
As mentioned earlier several flights and trains were delayed. For a flight to take off, at least a visibility of 125 metres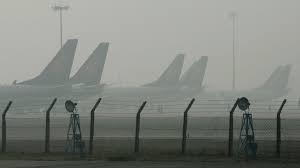 is required. The visibility which was about 1500 metres in 3:30 am rapidly within a span of two hours dropped to zero at 5:30 am. For this reason, all the flights were terminated for a time period of five hours.
For a flight to land, 50 metres of visibility is required and very few flights were allowed to land. This landing can only be done by people who are well trained in Category three. Also, as per the reports of Northern Railways, 50 trains were running late, 20 were rescheduled and 15 were cancelled.
Reaction of Twitter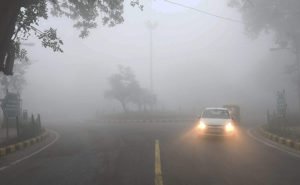 Twitter is one of those social media platforms where everyone, a celebrity or a common man come to vent out their anger or express their happiness. So, this thick Delhi fog, took twitter with amaze. Since, the morning people kept on tweeting about how they wished to welcome New Year with a bright Sun but unfortunately welcomed it with a thick fog. People took to Twitter to share pictures of areas covered with fog under the hashtag #delhifog, which was one of the most trending today. Delhi people really seemed upset.
According to the Skymet department, the thick fog will continue for a time period. However, the maximum temperature is supposed to go up till 23 degree Celsius. Pollution level in the city also rose up with the air quality being categorized under the most hazardous.