The title sounds crazy and confusing. It is like travelling back in time. Everything that a science lover ever wishes for. From present they traveled back to past and too in a different land altogether. Though this is one of the most fascinating things to the science lovers, this is nothing to be surprised off. This is pretty easy to unfold. The flight took off from New Zealand in 1st January, 2018 and landed nine hours late in 31st December, 2017 in Hawaii. Easy, isn't it? Although, this will provide all sci-fi lovers a topic to converse about for a few days.
Flight HA446 was supposed to take off on 31st December 2017 but a 10 minutes delay made it take off on 1st January, 2017 from Auckland. However, the surprising was that it landed 8 hours late on 31st December, 2017 in Honolulu which is 23 hours behind. Neither it is complicated nor uncommon.
This kind of time-travel illusion happens to be every year. A flight takes off in one year but lands in the previous year. This is usually because of the difference in time around the places.
Trending Today: Snapchat's 'Massive' $4 Million New Year Party
Hawaiian Airlines: Reason behind it
The Greenwich Meridian or the Prime Meridian passes around the places around the world in different places in varied time. Due to this there is a difference in timing around the world.
It is not actually the time travel, it is just the difference in International dates. According to date, Honolulu is one day behind Auckland which is why the flight landed a day back. Based on time, Honolulu is 23 hours later to Auckland. But it is such a surprising fact that a 10 minutes delay almost caused a time travel for the passengers.
Twitter's reaction

How can we leave out Twitter when such a thing happened? To things like these, Twitter has always come up with the best reactions possible. It may be funny or pretty serious.
It never fails to provide knowledge. People had their own view points. Some were busy making fun of it, while some had their own plans of two different New Year resolutions.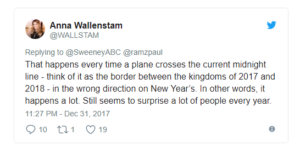 But like every party has a party killer, who helps in killing the vibes of the party, there was this one Twitter user, who brought in her own explanation. She killed all the exciting buzz. Sad!
Two New Year
Well, this is simply restricted to the people who were on the flight. They got a chance to celebrate two New Year, once in Auckland and the other in Honolulu. Thanks to this so usual yet unusual occurrence.
However, HA446 wasn't the only one flight to make its passengers witness the time travel. Six other flights took off from Taipei in 1st January, 2018 and its passengers landed in America in 31st December, 2017 taking the passengers back in time.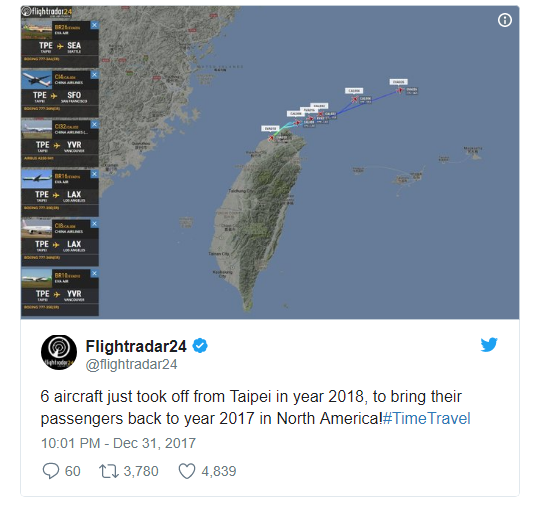 This time travel occurrence happens almost every year during this 31st Dec-1st Jan time in case of international flights.