The legislative assembly elections of Haryana is all set to be held on 21 October, 2019. The election will further be electing around 90 members. After the elections, the result will be announced on 24 October, 2019. The schedule was announced on 27 September and last date for filing the nomination was 4 October, 2019.
Haryana, being a prominent state in North India has two seats reserved for scheduled castes but there aren't any seats reserved for the scheduled tribes. The last election around the state was held during October 2014. Based on the previous data, Haryana had an overall voters of 1,74,48,307, and out of this 93,96,638 are male while 80,51,669 are female. Haryana does not have any third gender voters.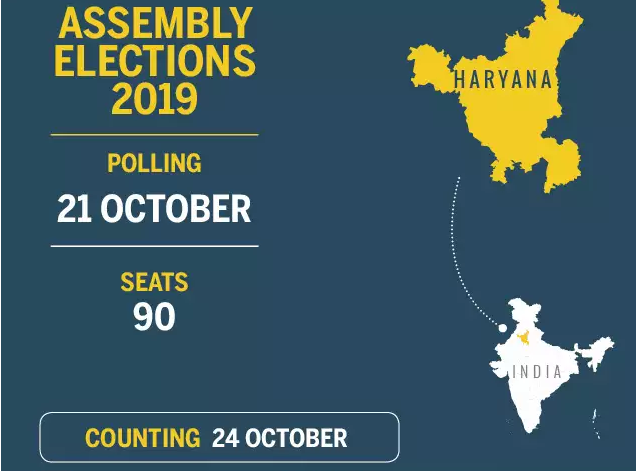 Haryana Assembly Elections 2019 Estimations
Currently, BJP is the ruling party. Back in 2009 election results, UPA secured 261 of 543 seats. However, NDA stood in the second position with 158 seats. The left parties secured around 23 seats. BJP went on to secure 282 seats with 543 seats while NDA secured around 543 seats in the Lok Sabha.
As per estimations, BJP would secure around 285 seats and 347 seats out of 543 seats in the Lok Sabha election. The others will have a chance of securing around 107 seats. Currently, Manohar Lal Khattar is the Chief Minister of Haryana.
Haryana Assembly Elections 2019 Contesting Parties
The contesting parties for the Haryana Legislative Assembly include
– Bharatiya Janata Party
– Indian National Lok Dal
– Haryana Janhit Congress (BL)
– Indian National Congress