Spring is all set to arrive on Tuesday but it seems like winter isn't ready to leave yet. It is likely that the low-pressure system moving around Southeast on Asia may hit the lands and will expectedly develop into other "nor'easter", as reported by CNN meteorologist Jenn Varian. This may possibly bring in a storm accompanied by rain and snow along the mid-Atlantic and Northeast regions. This will mark the fourth storm to hit the eastern coasts in three weeks.
Snow Storm: Statements of officials
The exact location of where the storm will hit is yet not confirmed, as said by Varian. He further added, "If the storm remains too far east off of the coast, then it will not reach Boston/other New England coastal cities. Snowfall accumulations at this time are with very low confidence."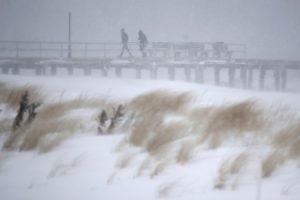 CNN meteorologist Haley Brink told that the storm may likely hit mid-Atlantics. It is also expected that it may snow in Washington beginning from Tuesday receiving a snow of 4 to 6 inches. The south of New England will get about 2 to 4 inches.
The possibilities of the storm bringing in snow along the coastal areas of Massachusetts was also reported by The National Weather Service. They also reported that the storm will begin from Wednesday night or Thursday morning followed by winds hitting at a speed of 50mph. The eastern coasts of Massachusetts is also expected to be flooded from Thursday morning. Brink also added that the tides in Boston would rise around 10.5 feet.
Snow Storm News and Update
While, New England is still trying to cope up with the storm of last week, it may possibly be hit by another. The previous storm was declared a blizzard by the weather stations. Prior to that, western Interstate 95 was hit by heavy and wet snow and also a person died in New York due to this.
The Northeast was hit by the strong storms of heavy rain and snow accompanied by hurricane winds and coastal floods, on March 2. The storm gradually took the form of a nor'easter. Due to this heavy storm and falling trees, six people died and about 900,000 people suffered from power loss.
Varian further added that during the end of winter, Nor'easters are pretty uncommon in New England.
Although these snow storms can occur any time of the year, these are the strongest mostly during the times from September to April.