So, car free CP may soon happen in Delhi and traders seem to be really annoyed with this. To combat the opposition of trader, New Delhi Municipal Corporation has finally decided to buy nine electric buses to ensure connectivity in car free Connaught Place. NMDC believes this will be helpful in improving the plan before car free CP comes into action. They will be building electric bike stations.
Electric Buses: Statements by Officials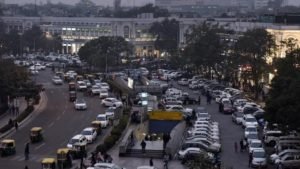 As per the statement of one senior NMDC official, NMDC will be purchasing nine electric buses which will prove effective for the first stage. However, they will only use these electric buses to drop people to CP from nearby locations. The stops will be covered in the 4 km radius around Connaught Place.
He also went on to say, "We have a multi-level parking with capacity for 1,408 cars at Baba Kharak Singh Marg. Parking facilities are also available at Palika Bazaar and Shivaji Stadium. More parking areas will be developed in adjoining areas, so that people can park their cars there."
Car free Connaught Place
The plan of implementing a car free CP was made last year. However, it had to be called off because of the severe oppositions. It was also putt of because of lack in unanimity among the stakeholders regarding the execution of the plan. Most of the traders opposed to a car free CP because it would be harming their business. They feared that they may suffer loss due to the lack of connectivity since no car would be allowed in CP. Hence, they strongly opposed this decision of NMDC.
Nevertheless, the council spoke up and said that their after the discussion of NMDC officials with the traders, NMDC decided to buy the buses. They made this decision so that their plan can be implemented and the traders wouldn't have to suffer too. "When we discussed the issue with traders, most of them said their businesses were being affected due to last-mile connectivity issues. So, the council has decided to resolve it first."
Electric Buses: Hope of the officials
This time the officials are really hopeful that they would declare the area as car free zone within a span of six months. According to the Car free Connaught Place plan, the cars will only be allowed to drop by the visitors. Parking the cars in the area would be strictly prohibited.
Views of the NMDC council
The NMDC council also aims at starting the bicycle sharing scheme. As per this scheme there will be around 50 stations with which all the important metro stations will be linked. Office complexes, market places and tourist places will also be linked through cycle routes. After the execution of car free CP plan, the council will also likely work on diverting excess traffic from the external and internal circles.
According to one of the officials, "For vehicles that use the Outer Circle to reach other destinations, we are working on a traffic plan to divert them through other roads."
Introduction of these electric buses would prove beneficial for the traders as well as the council.