After all the rumours and speculations, it is confirmed that Salman Khan will be back with his famous Dus Ka Dum show in Sony TV. Salman Khan is the official host of Bigg Boss and the show was successful in grabbing high TRP. Because of this, there are a lot of expectation tied with Dus Ka Dum. According to main sources it is believed that Salman Khan will be shooting the promo for Dus Ka Dum on upcoming Friday and the promo will be released by the channel within few weeks.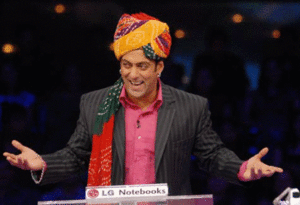 Sources
Some reports are also stating that the promo of the Dus Ka Dum will be shot on February 9. It is believed that the promo will be just an announcement for the call of auditions to the viewers or for someone who is interested to participate in the show. Makers are also hopping their idea from Kaun Banega Crorepati, as they are also launching an app by which common people can get chance to participate in the show. This second screen interaction has showed quite success in Kaun Banega Crorepati, so it is safe to say that it will help Dus Ka Dum as well.
Dus ka Dum: History of the Show
Earlier the show was aired in 2008 for the first time and it was quite successful. The second season of the show was aired in the very same year and it also did well in TRP. The show was held by Big Synergy. They are known for their popular show Kaun Banega Crorepati which was aired on Sony TV. The format of the show Dus Ka Dum was way different from Kaun Banega Crorepati. The kind of question asked in Kaun Banega Crorepati were not the same on Dus Ka Dum. In Dus Ka Dum, the questions were related to the percentage of the people or on national survey, the contestants who gave their answer closer to the actual percentage won the price ranging from 10,000 to 10 crore.
Dus ka Dum Airing time
Because of IPL, Dus Ka Dum will be aired after June. According to reports, Colors wants to focus on Kapil Sharma show and will be shifting their focus after June to Dus Ka Dum. Salman Khan is busy with his upcoming projects like Race 3 and because of this he is also unavailable currently. Makers are getting time for creating good script or content for the show. It is said that the participants will be from common people along with few Bollywood and television stars.
Earlier when asked about Salman Khan's come back to Dus Ka Dum, show Danish Khan EVP and business head of Sony TV told that "I will answer you in a way by saying you tell me who else can it come out with, so if you are asking me who is doing Dus Ka Dum is there anyone else who can do this Dus Ka Dum?" He also mentioned about format of the show by saying "We believe Dus Ka Dum will be the biggest interactive show that we have ever done for Sony, it will be the most ambitious TV show plus second screen experience for consumers."