Curb Your Enthusiasm is an American sitcom that is a production of HBO. The series has also been broadcasted by HBO and has already released 11 seasons of 10 episodes each since Oct 2000. The series revolves around a semi-retired producer and television writer, Larry David, who plays the role of himself.
Executive Producer: David, Jeff Garlin, Schaffer
Co-executive Producer: Laura Streicher;
Consulting Producers: Jon Hayman, Steve Leff
Curb Your Enthusiasm Season 11 Cast
The main characters of this series are Larry David as himself, Jeff Garlin as Jeff Greene, who is Larry's manager, and also his best friend, Cheryl Hines as Cheryl David, who plays the role of Larry's wife (later becomes ex-wife), Susie Essman as Susie Greene who is Jeff's wife and J.B. Smoove as Leon Black who is Larry's friend and then later becomes his roommate. Ted Danson plays a few other roles in the series who keep recurring, Richard Lewis and Wanda Sykes – all of who play fictionalized roles of themselves.
Curb Your Enthusiasm Season 11 Plot
In the final episode of Season 11, to heat up things, Larry causes an argument between Leon and Irma, promising Leon that she will be gone in a few days. He requests Susie and Jeff whether Leon could stay with them for a few days. However, he would have to return the favor by hosting an honorary party for retired Army Lt. Col. Alexander Vindman in his place.
Irma, at the city council meeting, said that the five-foot fence law was government overreach, and even though the other councilwomen considered it a safety issue, they agreed to vote on this issue soon. Here, Larry meets Micah, a Mormon whose wife is on the council. He questions him how many wives he has to which he answers one. However, Larry begins to think about how wonderful it would be to spend some time with one wife and then move on to the other and so on.
At the party, Larry has to spin a long story about Maria Sofia, her father, and Irma when Cheryl and Susie question him about why he roped off his chair and why he had thrown his shoes in the garbage (he actually stepped on a dog poop to avoid a hug from a friend). Larry then steals a pair of dry shoes from the Holocaust museum and wears them.
Micah was at the party, seen with a new woman, and Larry was blamed by his wife Melinda for this. This causes her to vote against the fence law repeal. He then apologizes to her and promises a large donation to the church, requesting her to take back the vote. This call is overheard by Vindman, who calls it a bribe and threatens to send it to Weinblatt Councilman. He also threatens him, saying he had seen Larry stealing a pair of shoes from the Holocaust museum.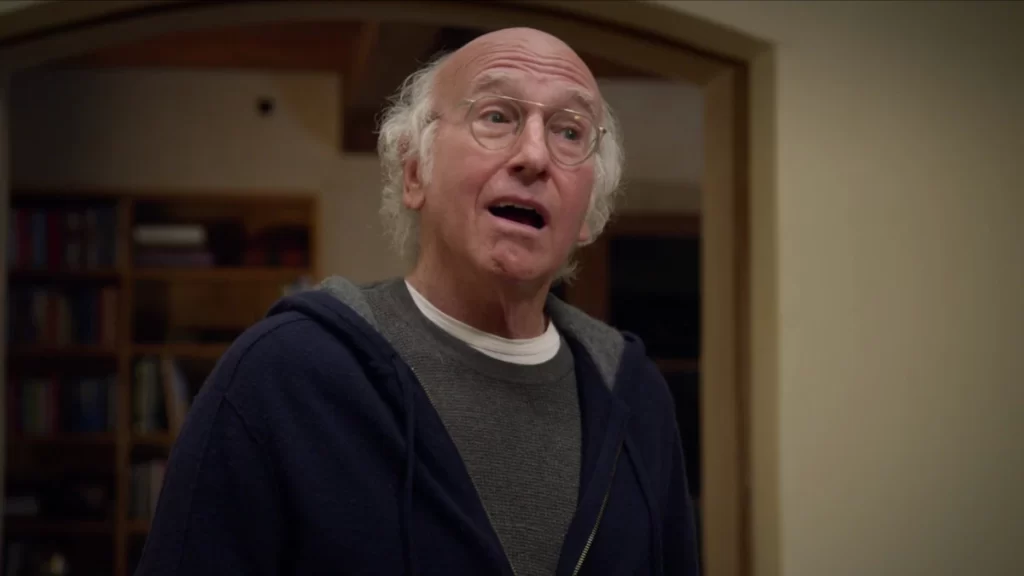 Larry now goes to Weinblatt's house to try and take the transcription that Vindman dropped at his place. He looks for the evidence in the house as the former's mother makes a cup of tea. Larry locates the document and daydreams about firing Maria Sofia for being a terrible actress and then kicking her father. He also imagines that Irma has left the house. However, his dream ends when Irma doesn't come to the council meeting, and the five-foot fence law is once again repealed. Panicked, Larry tries to run home and falls in the pool, which was without a fence! Larry is seen hitting his head in the pool while the envelope he was holding floats around in the pool.
Larry hitting dying in the pool was a perfect way to end the series 'Curb Your Enthusiasm' said Jeff Schaffer. The showrunner revealed they were prepared to end the series as if it were the last. However, Schaffer said that David was 'not ready to die' on the show. Hence, 'Curb Your Enthusiasm' will be returning for Season 12 soon.
Will there be a Season 12?
In an interview, Larry David confirmed that there would be a Season 12 of Curb the Enthusiasm. Spanning for over two decades now, 'Curb Your Enthusiasm' has premiered more than 100 episodes, and the audience is yet to be tired of this series. Fans can look forward to seeing some more of their favourite actors soon.