Cirkus is one of the most anticipated movies starring Ranveer Singh. The film is written by Rohit Shetty and Yunus Sajawal and directed by Rohit Shetty, a well-known figure in Bollywood. Bhusan Kumar and Rohit Shetty are the film's producers.
Table of Content
In this movie, Ranveer Singh takes on two roles. The last time Ranveer Singh and Rohit Shetty worked together was on the movie Simmba, which received positive comments and became a box office blockbuster in Bollywood. Ranveer Singh also played a cameo in the 2021 film Sooryavanshi directed by Rohit Shetty.
Continue reading to know more about this Hindi comedy movie.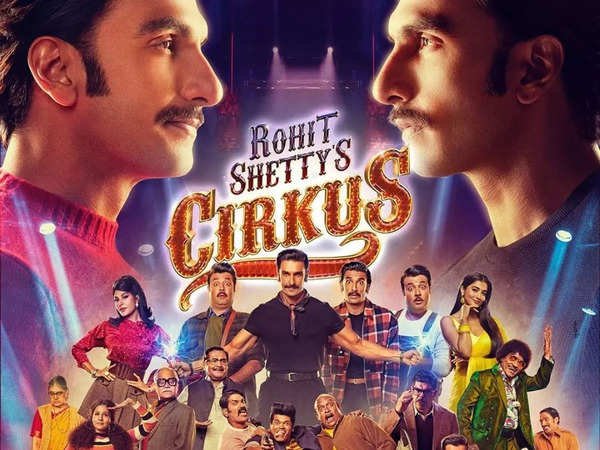 Cirkus Release Date
Recently, the makers of the film announced the release date.
This picture's theatrical release date has been set as December 23, 2022, just like other high-profile films that choose festival release. 
The movie was supposed to release on December 31, 2021, but a shoot delay forced a one-year postponement. Along with the release date, the makers unveiled the movie's first look poster, which includes Ranveer Singh in two roles among the rest of the ensemble.
Cirkus Star Cast
Ranveer Singh, the Bollywood powerhouse will play a double role, and the major character in the film, which is set in the 1960s. The actor and director Rohit Shetty previously worked together on the hugely popular cop drama Simmba, which was released in December 2018. This is their second time working together. The actor-director team is prepared to recapture the magic after a four-year break.
Along with Ranveer Singh, Pooja Hegde, Jacqueline Fernandez, and Varun Sharma will all play significant parts in the movie. Deepika Padukone and Ajay Devgn will also make guest appearances.
The movie also stars,
Johnny Lever
Vrajesh Hirjee
Sanjay Mishra
Vijay Patkar
Mukesh Tiwari
Brijendra Kala
Sulbha Arya
Anil Charanjeett
Murali Sharma
Ashwini Kalsekar
Tiku Talsania
Cirkus Movie Storyline
On December 23, 2022, Rohit Shetty's forthcoming comedy-drama Cirkus will be released in theatres. The upcoming Hindi comedy Cirkus is based on the 1982 Hindi film Angoor, inspired by Shakespeare's play The Comedy of Errors, and was helmed by famous lyricist and director Gulzar. Sanjeev Kumar and Deven Verma played the leading parts.
On May 10, 2022, a poster for this movie was made available on Twitter. However, the plot has not yet been revealed.
Cirkus Movie Budget 
The lead roles of Rohit Shetty's Cirkus are Pooja Hegde, Jacqueline Fernandez, and Ranveer Singh. The film, which had a budget of Rs. 180 Crores, is about a 90s circus company run by Ranveer's character, which shows the lives of its performers and makes a comparison between the circus of life and the life of the performers.
Although Ranveer Singh's most recent film, 83, flopped, he is all set to make a record in Bollywood with Cirkus.