The pandemic situation has proven to be problematic for all. It has almost brought the world to a standstill. Remote working isn't something new but due to pandemic the increasing risk of rising cases, everything has been brought to a halt.
Many businesses have adopted the method of remote working to boost business continuity. Although it's a battleground for the companies, it can surely help the businesses grow. Remote working can be best for short-term and determine long-term success of the company.
Although things have been normalized now and the lockdown is lifted, it is necessary to note that the virus hasn't vanished. With the lockdown being lifted, there is a huge risk of everyone getting infected, since everyone just wants to come out. The organization's should be careful while choosing their mode of work. If it is possible to allow some people to work remotely, the people should be provided flexibility.
Well, one of the surveys shows that around 76% of people around can easily finish their work with telecommunication. Moreover, it can be one of the best ways to boost communication. What else can be better than keeping your customers engaged and connected?
Some of the prominent ways to stay in constant touch with your customers by maintaining privacy include the following
Are your employees connected?
The first thing to do is to ensure all your employees are connected. The broadband access should be doubled and enough strategies and services should be applied by the businesses. If you haven't been able to serve your business's needs, you need to reconsider your work-from-home culture.
Use multiple forms of communications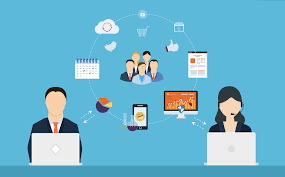 One of the best ways to stay connected with your audience is to offer them a secure platform. There are several chat apps and video conferencing apps in the market.
Hence, it is necessary for your employees to stay connected via these platforms the entire day.
Also, such apps help to make communication fast and easy which otherwise would've been done through email. Isn't that convenient?
Establish technical support as well
The IT team should be well equipped with solutions to access and view the technical problems of the customers and solve an emergency. A well-equipped IT team can have an important role in less concerns and questions. Also, your employees wouldn't be as frustrated as earlier which can be a huge downtime. You may also need to bring up cloud services to help your employees in the long run.
Accept digital documents
Gone are the days of hard documents and hence, people should now be focused on accepting digital documents as well. Hard copies are literally not possible in today's era. By digitizing the documents, the business moves go a proper direction with less risk of errors and management of multiple accounts that can help you in the long-term.
It is necessary to develop a supportive business that can thrive even in the times of economic crisis. It is time to step up the remote working game only to bring huge profits in business.