Bigg Boss Telugu Season 6 has returned to the screens with Nagarjuna Akkineni as its host for the fourth consecutive year. The reality show premiered on Star Maa Channel on September 4 as Nagarjuna introduced the contestants to the audience.
The house of Bigg Boss Telugu will have a mix of celebrities, social media influencers, and even some commoners.
Bigg Boss Telugu Season 6 Contestants List
1. Chalaki Chanti – A famous comedian, Chalaki is known for 'Jabardasth Show'.
2. Abhinaya Shree – Her most famous appearance is in the song 'Aa Ante Amlapuram'. She has worked on several Tamil and Telugu movies.
3. Arjun Kalyan – He is mostly known for working in Telugu movies and has acted in many web series. He rose to fame as the protagonist of "Pellikuturu Party.".
4. Baladitya – He is a multi-talented actor who is also a lyricist, host, dialogue writer, and dubbing artist. He has acted in Telugu cinema and television since he was a child.
5. Sudeepa Pinky – Sudeepa is a known face in the Telugu cinema and has worked in several Telugu movies such as 'Lucky', 'Legend', 'Amara Kaaviyam', 'Bindaas', 'Nachavule' and many more.
6. Arohi Rao – Arohi is a TV9 news channel Telugu anchor. She is known for 'iSmart Shankar' program.
7. RJ Surya – Fondly known as Konda Babu, RJ Surya is a radio jockey, writer, actor, anchor, and mimicry artist.
8. Inaya Sulthana – She is an actress who plays small roles in budgeted Telugu movies.
9. Geetu Royal – She is a social media influencer who is popular on Instagram and YouTube.
10. Sri Satya – She is a famous Telugu actress who plays lead roles in television series and web dramas.
11. Neha Chowdary – She is a presenter who works for Star Sports Telugu.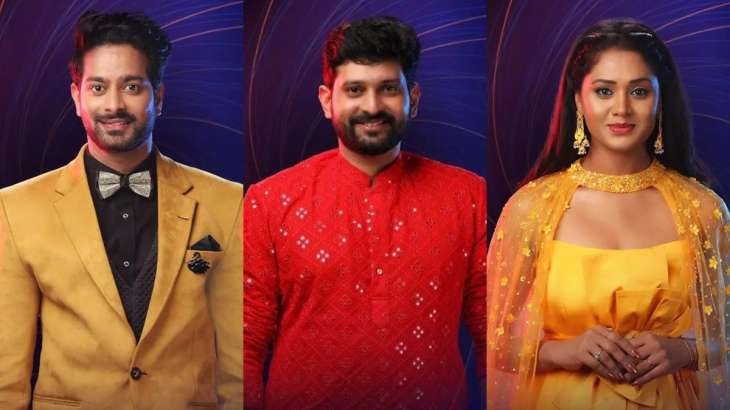 12. Vasanti Krishnan – She is a Telugu actress who works for both television series and movies. She is known for her role in 'Pandugadu'.
13. Keerthi Keshav Bhat – She is a television actress who works for both Kannada and Telugu screens. She became famous for her acting in the serial 'Manasichi Choodu'.
14. Rajashekhar – He is a Hyderabad-based model.
15. Faima – Known for the show 'Jabardasth Comedy'.
16. Adi Reddy – A known Youtuber
17. Revnath – A known singer who was a contestant for Indian Idol.
18. Rohith Sahni – He made his debut in the movie 'Chiru Godavalu'.
19. Marina Abraham – Best known for her role in the Telugu television serial 'America Ammayi'.
20. Shaani Solomon – Mostly seen performing comedy roles in Tollywood.
21. Shrihan Chotu – He is an actor, singer, and YouTuber.
Audiences can watch Bigg Boss Telugu Season 6 from Monday to Friday at 10:00 pm and 9:00 pm on Saturday and Sunday. The live stream for the reality show will be available on Disney+Hotstar.