The audience had high hopes for Akshay Kelkar as he looked to be the strongest player in Bigg Boss Marathi Season 4, and indeed the Nima Denzongpa Television Show actor took home a trophy, a gold bracelet, a cheque for Rs. 5,00,000, a whooping cash prize of Rs. 15,55,000 when he won the Grand Finale Bigg Boss Marathi 4.
Akshay Kelkar defeated Apurva Nemlekar, Rakhi Sawant, Kiran Mane, and Amruta Dongade and emerged as the winner of Bigg Boss Marathi Season 4. Here are some quick highlights for those who missed the Grand Finale:
The show began with highlights of contestants who left mid-way for health reasons. There were many other highlights flashed, including fights, evictions, romantic glimpses, and other entertaining scenes.
Mahesh Manjrekar – The show's host welcomed all the evicted contestants and asked their opinion on who would win the game.
Bigg Boss Marathi Season 4 Grand Finale Highlights
Mahesh then showed the finalists an AV of how their fans were supporting them. The finalists were emotional about seeing their families in the videos.
Rakhi Sawant performs on 'Tip-Tip Barsa Paani'
Rakhi Sawant received a special message from Salman Khan who wished her the best of luck from the Bigg Boss Hindi team.
Kiran Mane and Akshay Kelkar perform together on 'Main Hoon Don'
Vikas Patil offers 5 lakhs to the finalists – those who want, can take it and leave. He adds 2 more lakhs and then another 2 lakhs. Rakhi Sawant takes the 9 lakhs and walks out of the show.
Amruta Dhongade performs for the audience, which is followed by performances of several other Marathi television actors and actresses.
Bigg Boss Marathi Season 4 Awards and Elimination during Finale
In the first elimination, Amruta Dongade is eliminated, and she gets the award for 'Bigggest Crybaby'.
Rakhi Sawant gets the 'Best Tod-Fod Contestant,' and Prasad Jawade gets 'Fuska Bar' award.
Apurva Nemlekar performed a beautiful classical dance for the audience.
Kiran Mane gets evicted in the elimination round.
Two remaining finalists – Akshay Kelkar and Apurva Nemlekar, turn off the lights of the Bigg Boss Marathi house and are welcomed on stage by Mahesh Manjrekar.
Akshay Kelkar is awarded the 'Best Captain of the House' and is presented with Rs. 5,00,000.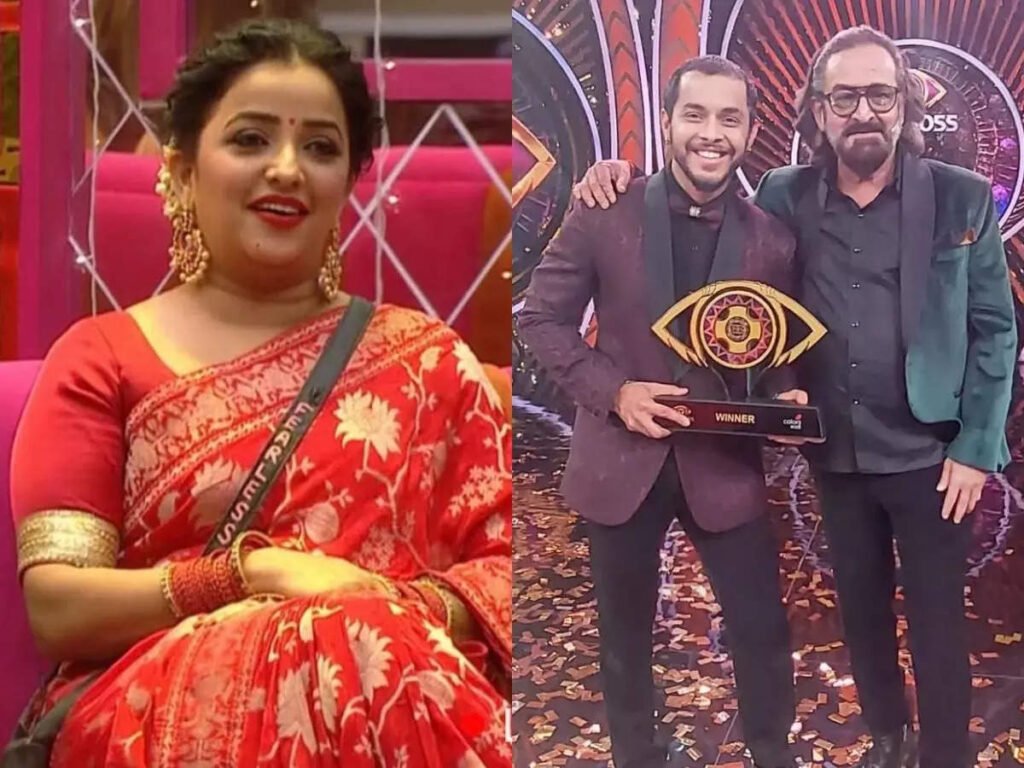 Bigg Boss Marathi Season 4 Winner
Mahesh Manjrekar makes the Big announcement where Akshay Kelkar is announced as the winner of the Bigg Boss Marathi Season 4. Akshay Kelkar is presented with the trophy, a gold bracelet, and a cash prize of Rs. 15,55,000.
We are now looking forward to the Season 5 of Bigg Boss Marathi!