The seventh season of Big Brother Naija, with the theme "Level Up," officially began on Saturday i.e. 23 July 2022. Twelve new housemates were unveiled.
Day two of the opening ceremony took place on Sunday, and the second group of housemates was welcomed inside.
Want to know all 24 housemates? Check the list below.
Big Brother Naija Season 7 Housemates
BBN 7 Housemate Bella
Bella defines herself as the life of the party and loves to have a good time.
BBN 7 Housemate Eloswag
Eloswag claims to be a dancer and to represent entertainment.
BBN 7 Housemate Groovy
By being as enjoyable and exciting as possible, Groovy intends to take it to the next level.
BBN 7 Housemate Beauty
Beauty believes that her honesty and "go with the flow" approach will get her through to the end.
BBN 7 Housemate Khalid
Khalid vows to bring charisma, intelligence, and a willingness to work as a team.
BBN 7 Housemate Ilebaye
Ilebaye vows to bring Biggie's House all the Gen-Z vigour.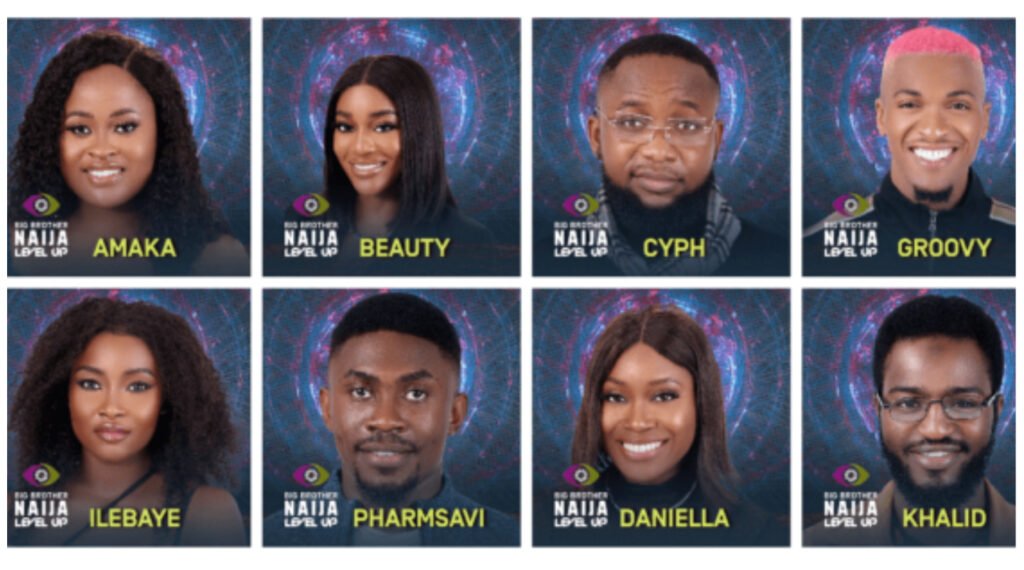 BBN 7 Housemate Cyph
Cyph always wanted to be known beyond the comfort of her room or friends. Thus, she signed up for Big Brother Naija.
BBN 7 Housemate Amaka
Self acclaimed Nicki Minaj of Nigeria, Amaka will elevate things to a new level.
BBN 7 Housemate Kess
Kess is a show stopping and jaw-dropping human being who takes pride in his talent.
BBN 7 Housemate Daniella
Daniella has come to leave her mark. She wants to ensure she is noticed in the House and that her presence is felt.
BBN 7 Housemate Pharmsavi
In the Big Brother Naija season, Pharmsavi claims to have "the cure for all crazy." He pledges to be energetic and entertaining while serving in the House.
BBN 7 Housemate Phyna
Phyna intends to level up by sending out vibes and ginger.
BBN 7 Housemate Bryann
Bryann vows to bring vibes, a lot of energy, and flair to Big Brother season 7.
BBN 7 Housemate Christy O
Christy O is prepared to bring positive feelings, enjoyment, and fantastic vibrations to the House. 
BBN 7 Housemate Adekunle
Adekunle intends to advance the situation by ensuring he has an opinion on everyone's affairs. 
BBN 7 Housemate Doyin
The master manipulator, Doyin intends to inject positivity and little contempt into Big Brother Season 7.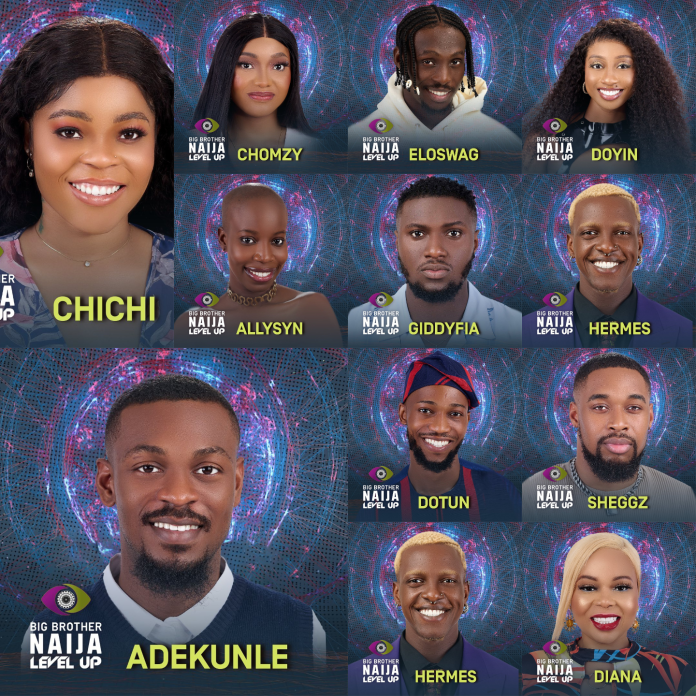 BBN 7 Housemate Allysyn
Since she is distinctive, different, and open-minded, Allysyn thinks she will stand out in the House.
BBN 7 Housemate Chomzy
Chomzy is compassionate and disapproves of those who gain satisfaction from demeaning others.
BBN 7 Housemate Dotun
Dotun is prepared to compete for the victory! His fierce competitiveness and forthright nature pose the greatest threat to the other Housemates.
BBN 7 Housemate Giddyfia
Giddyfia intends to stand out by being genuine and adaptable.
BBN 7 Housemate Diana
Diana intends to play with all of her might! Additionally, she is a manipulator at heart since her game plan is to win all her housemates' trust and then take advantage of it.
BBN 7 Housemate Hermes
Hermes never speaks poorly of anyone behind their back, but you can always count on him to be brutally honest.
BBN 7 Housemate Chichi
Chichi wants to up the ante by providing her uniqueness, honesty, and "the real stripper sensations."
BBN 7 Housemate Sheggz
Sheggz is genuine, honest, direct, and loving personality. He acknowledges that he would be shocked if anyone in the House detested him after the first meeting.
Who will take the prize at this year's competition? And who is your favorite?